Stock markets around the world are either in full flight correction (Australia) beginning, or wobbling along. Yesterday we had the Asian stock markets, with the ASX200 down 1.88%, Japan (Nikkei 225) down 1.52%, Hong Kong (Hang Seng) over 2.11% and Singapore 1.83%.
This action was continued through to Europe, with the German DAX down 2%, UK FTSE 1.9%, French CAC40 2.1% and Italian MIB over 3.3%.
Lastly in the US falls were not on the same magnitude, with the DOW down just over 1%, the broader S&P500 1.2% and tech stock NASDAQ down 1.5%
What does all this mean? It is quite normal for markets to correct – they can't go up 1% a day forever and need to reverse some of these gains before turning into a bubble.
What has been different in overnight markets is the nature of this sell off. Risk markets are normally highly correlated, which continues into currencies and bonds, and whenever risk is "on", stocks and non-USD currencies and gold rise, almost in lock-step.
When risk is "off", there is a flight of safety back to the USD and US Treasuries. Remember markets must equalise – there is no such thing as more buyers or sellers – they must mathematically be the same for anything to be traded. The influx of new money (via QE) subverts this equation, as does increased leverage through meta-money.
I've compiled some charts below that show where risk markets are at the moment, including commodities, currencies and stocks. These are daily/weekly charts that provide a technical look at trends complementing the fundamental macroeconomic view.
What's interesting to me, particularly for Australian investors, is that gold (and silver) have been resilient to this broad selloff, and have not fallen with their other risk "comrades", stabilising in value against the rising USD. Gold sold in AUD is rising in this case – $33 an ounce in the last 24 hours (I've used the Gold ETF traded on the ASX in the final chart below).
This sell off has all the hallmarks of an orderly correction – but it could turn into something much more. All markets – developed and emerging – are not experiencing benign bullish conditions, but are in a multitude of confusing sideways patterns. These are not investor's markets.
Equity Markets


Currencies

Bonds

Commodities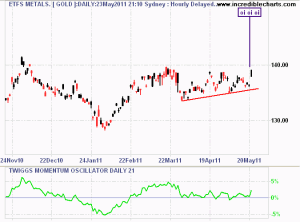 Disclosure: The article is not to be taken as investment advice and the views expressed are opinions only. Readers should seek advice from someone who claims to be qualified before considering allocating capital in any investment.
Latest posts by Chris Becker
(see all)