On Friday and over the weekend the consensus came down strongly in favour of a June rate rise. Those declaring June the day included Peter Martin, Terry McCrann and Michael Stutchbury (that gives you all the major papers). Amongst bank economists there is Westpac, RBS and ANZ, as well as, of course, the bullhawks, Adam Carr and Chris Joye.
Fundamentally, we at MB acknowledge the RBA's bias to tighten. In February this year Glenn Stevens made it obvious why when discussing the commodities boom:
…the nominal exchange rate has responded strongly. This helps to offset the expansionary effect of the increase in investment, and also gives price signals to the production sector for labour and capital to shift to the areas of higher return. In other words, firms in the traded sector outside of resources are facing a period of adjustment.
That is, the RBA wants to make room for resources investment and is happy to use interest rates, and by extension the currency, to do it.
However, we at MB have also been much more cognisant than other commentators of the weakness this adjustment is forcing on the housing-driven services economy. For obvious reasons, most others have an interest in an 'optimistic' view of housing.
It also became clear last week that the RBA itself has become more focussed on this weakness:
Overall credit growth remains quite modest. Signs have continued to emerge of some greater willingness to lend, and business credit has resumed growth after a period of contraction. Growth in credit to households, on the other hand, has softened recently, as have housing prices in several cities. The exchange rate has risen further and, in real effective terms, is at its highest level in several decades. This, if sustained, could be expected to exert additional restraint on the traded sector.
Beyond the biases, the reasoning of Michael Stutchbury seems to sum up the hawkish position best:
But the Reserve Bank's quarterly forecasts show underlying inflation rising to 3 per cent by the end of next year as the job market tightens. Critically, they also show underlying inflation breaking through the target to 3.25 per cent by late 2013.

To maintain his low-inflation credibility, Stevens must act now to prevent this from happening.
Late 2013 on both measures. That doesn't sound like he MUST act now to me. Here's the graph: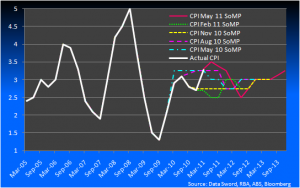 That's core CPI at 2.5% this time next year. Even if we accept a six month lag for monetary policy, there's no great urgency. And in my view, rates work more quickly these days on the giant debt pile.
There's an intense adjustment underway in the Australian economy. In my view the RBA wants the flexibility to be able manage it either if the boom sector accelerates or the weakening sectors get disorderly. The data flow will determine the decision.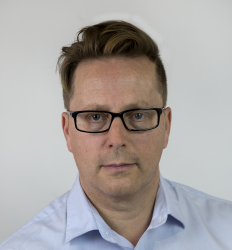 Latest posts by David Llewellyn-Smith
(see all)