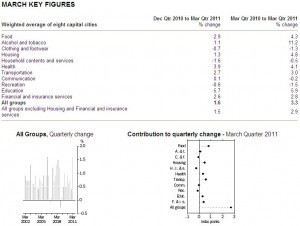 Find above details of today's ABS CPI release for the March quarter.
Broadly speaking, I have two observations. First, if you look at the above bar graph, it is entirely clear that this is an outlying result vis-a-vis the trend. Roughly 23% of the jump came from fruit and vegetables alone, which is clearly flood related and temporary.
Much more worrying, however, and far from temporary, was the 21% contribution from oil prices, which we saw last week are already hitting producer prices.
So, if fruit and vegetables are the only exceptional item then it looks rather like CPI has suddenly bottomed. Here's a graph of the eleven major components: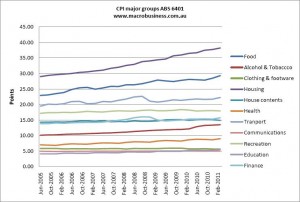 The food and transport jumps are obvious. You can also see a recent tailing up in a number of other sectors.
But the big story surely is the monster at the top that is housing. Talk about taking us all for a rise. Here's another graph of the housing sub-components: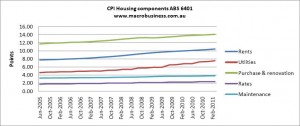 It's like the costs associated with a wedding. Anything to do with houses is basically just charge what you want. Utilities show no sign of slowing. Rents look pretty strong. Purchases are only for new homes and they're flying. And it's all completely uniterrupted by the GFC. More seriously, this looks like commodity boom fallout. Anything construction or infrastructure related is pouring on the costs as it competes for resources with resources!
Rant aside, the outcome of this CPI is troubling for interest rates. Employment has fallen below 5%, the point at which wages claims tend to accelerate, the NAB survey is suggesting that this is beginning to flow through to employers. Now the CPI appears to have bottomed and this is all despite credit, house price and consumer weakness. Moreover, it's before the expected capex boom in the resources sector has begun.  
I was expecting a rise in the August/September timeframe. On today's data it will come sooner.
David Llewellyn-Smith is Chief Strategist at the MB Fund and MB Super. David is the founding publisher and editor of MacroBusiness and was the founding publisher and global economy editor of The Diplomat, the Asia Pacific's leading geo-politics and economics portal.

He is also a former gold trader and economic commentator at The Sydney Morning Herald, The Age, the ABC and Business Spectator. He is the co-author of The Great Crash of 2008 with Ross Garnaut and was the editor of the second Garnaut Climate Change Review.
Latest posts by David Llewellyn-Smith (see all)