February's data for housing was obviously terrible. However if we can take AFG's latest report on mortgage issuance for March the market may still have a bit of a run left in it. Well at least in NSW.
Mortgage sales during March saw a recovery from the record lows of January and February, but figures were still 9% lower than those recorded a year ago, according to AFG, Australia's largest mortgage broker. The AFG Mortgage Index shows that the company processed $2,513 million of home loans in March – up 22% on the February figure of $2,053 million, but still 8.9% lower than the $2,760 million arranged in March 2010. AFG has 10% of the national home loan market and its figures are usually strongly indicative of ABS statistics published six weeks later (Source: ABS and AFG data).

New South Wales bucked the national trend, recording exactly the same figure for mortgage sales in March 2011 as March 2010. Elsewhere South Australia saw a slight year on year softening (-2.7%) with greater differences recorded for Western Australia (-10.9%), Victoria (-11.7%) and Queensland (-15.4%).

New South Wales also showed the highest level of investor activity, with 40.2% of all new home loans being processed for investors – well above the national average of 34.7%.

Mark Hewitt, General Manager of Sales & Operations says: 'After two months of extraordinarily subdued mortgage markets, we're now seeing a slight return of buyer confidence. The RBA holding off further rate rises has given some sense of normality, and while the lender wars haven't encouraged many people to switch, at least there is now a feeling that lenders are trying to be competitive. In our view, last month's banning of exit fees will have little, if any positive effect on the market in the short term, and will certainly hurt non-major lenders going forward. What's needed, right now, is a strong dose of economic confidence.'

The AFG Mortgage Index shows that refinancing has remained steady at 36.9%, and if anything has declined since last year, suggesting that consumers are sceptical there is any real benefit to changing lender.
AFG says it represents about 10% of the mortgage market and although they are a brokerage service I have noted many times that their reports are a good leading indicator for the ABS figures that are released 6 weeks later. If these figures are a correct representation of the housing credit market then it is only Queensland that is really suffering at this point.
However as usual nothing is that simple. This data is at odds with statements being made by the banks and other information I have been made aware of in regards to recent lending. Also, as I noted last month there are some mysterious trends in the AFG data that I am yet to explain. These trends get even stronger in this latest report and therefore make me even more curious. Firstly you will note that once again the average loan size is up across most states.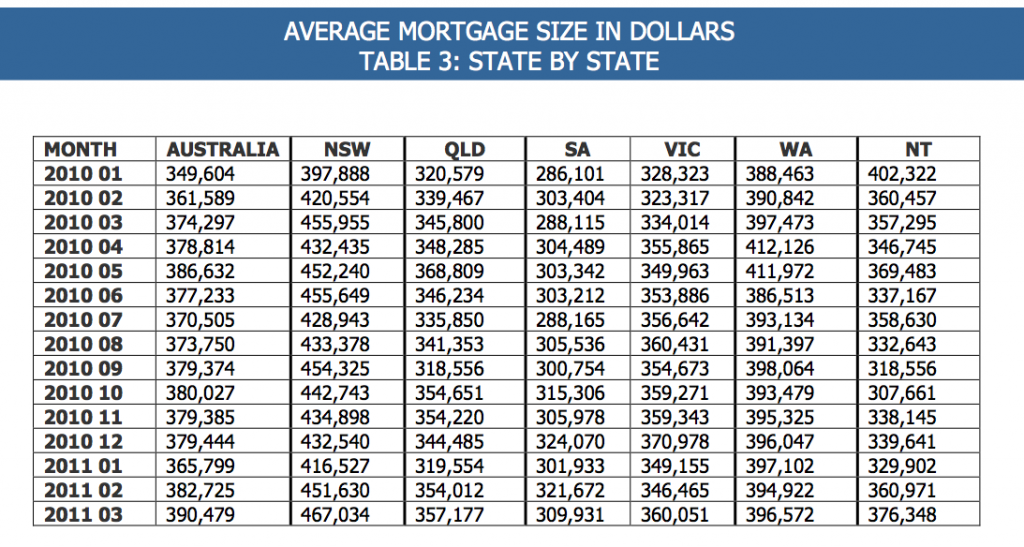 Yet the LVRs continue to fall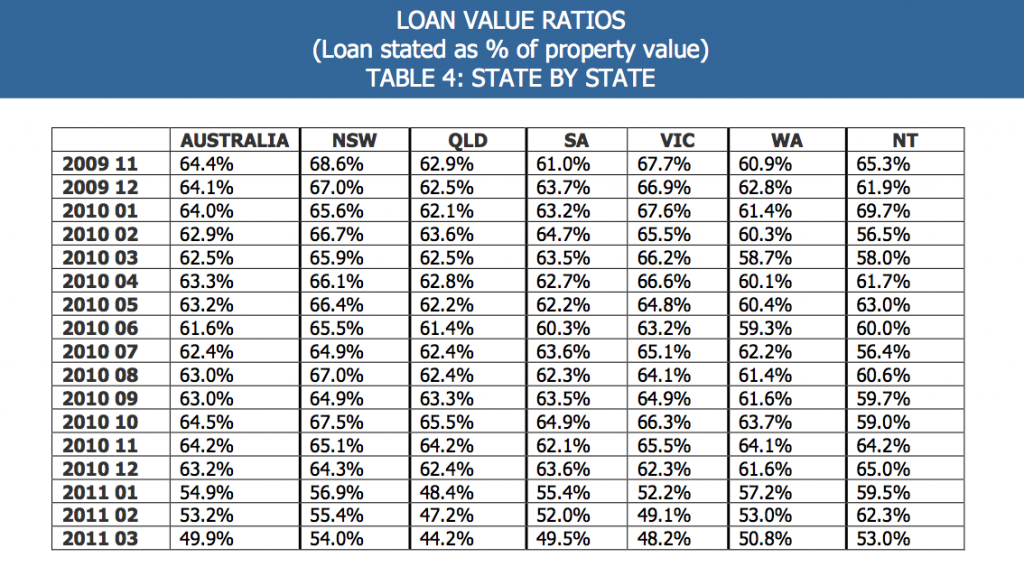 Which once again suggests that the loans being issued by AFG are for more expensive houses. If you look at the national average loan size and the LVR for March 2011 the data suggests that the average price of house where a loan was issued through AFG was $781,000, with the average in Queensland being $807,000. This makes little sense to me, and until I can get an answer on this I am still wary of the AFG datasets.
I do however note another interesting trend. The sudden rise in "honeymoon" loans (called Intro in the chart). That is a loan where there is a lower interest rate period at the beginning of the loan.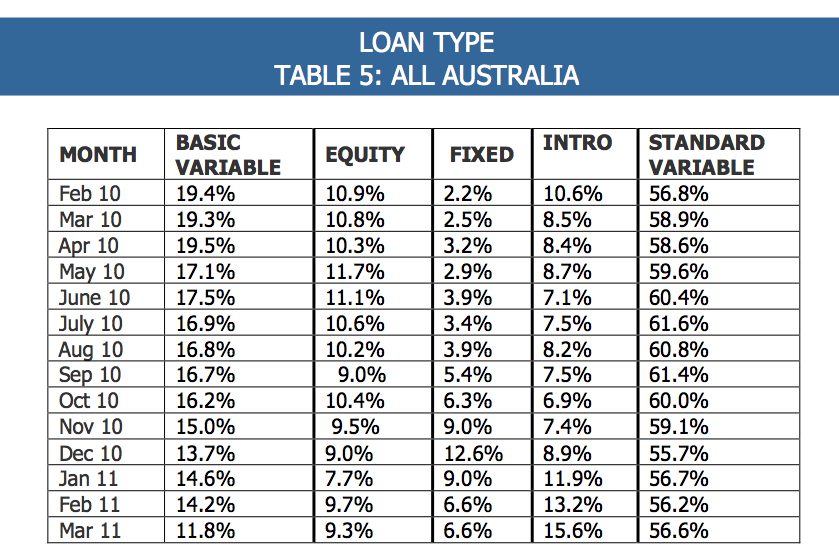 This may have something to do with the banks lowering their lending standards at the start of the year and/or being more active in their push to capture more clients with "sweeter" offerings.
Once again we will need to wait for the ABS data next month to see what is really happening, but this report is likely to keep the housing bulls a little fired up for the next month.