The AFG monthly mortgage report is something I follow. AFG claim to represent between 10% to 20% of the mortgage market and release their raw data every month in a fairly consistent manner. They are a brokerage service so they are able to get their data out earlier than most. As they are not an actual lender their data is not final issuance, but in the past I have noticed that their data is a good front runner for the ABS data that is released a few months later. 
AFG released their latest monthly mortgage report for February yesterday. It has some interesting information and a trend that is a continuation of something odd I noticed last month. 
Increased competition among mortgage lenders has seen the market share of non bank lenders rise to levels last seen before the GFC according AFG Australia's largest mortgage broker. Non bank lenders comprised around 21% of all home loans processed in February according to AFG data. This continues the trend reported by ABS statistics showing that the market share of non bank lenders increased to 15.4% in the December quarter, double its lowest level of 7.5% in the first quarter of 2009. 

But despite lenders fighting hard to win new customers, refinancing during February comprised 37.0% of all mortgages processed – somewhat less than the average 38.0% for the past twelve months. In addition, the AFG Mortgage Index shows that Loan to Value Ratios (LVRs), the value of loans expressed as a percentage of the value of properties, fell to 53.2% in February. This is the most conservative LVR figure AFG has recorded in six years, showing that mortgage buyers borrowed only around half the value of the properties they were buying or refinancing. LVR figures in the long term have tended to be around mid 60%. 

…

Overall mortgage sales for February showed that recovery from the summer of disasters has yet to occur, with the $2,053 million of loans processed down 9.7% on February 2010 ($2,275 million). New South Wales was the only state to show a modest increase on February 2010's figures (2.7%), with mortgage volumes in other states falling by 8.1% in Victoria, 8.8% in Western Australia, 16.3% in Queensland and 22.9% in South Australia compared to February 2010.
The LVR trend is something I commented on last month when I said 
One of the most dramatic things that you can see if you study the report in more detail is that the latest national LVR value fell 8.4% to 54.9%, the lowest value ever recorded by AFG. In Queensland it fell to 48.4%, a drop of 15% from December. 
The chart above is the loan to value ratio(LVR) trend for each state. You can see that something very significant occurred in January and apart from in the North Territory has not come back towards trend. If you look at the chart for loan volumes and total issuance you can see that the long term downward trend still holds.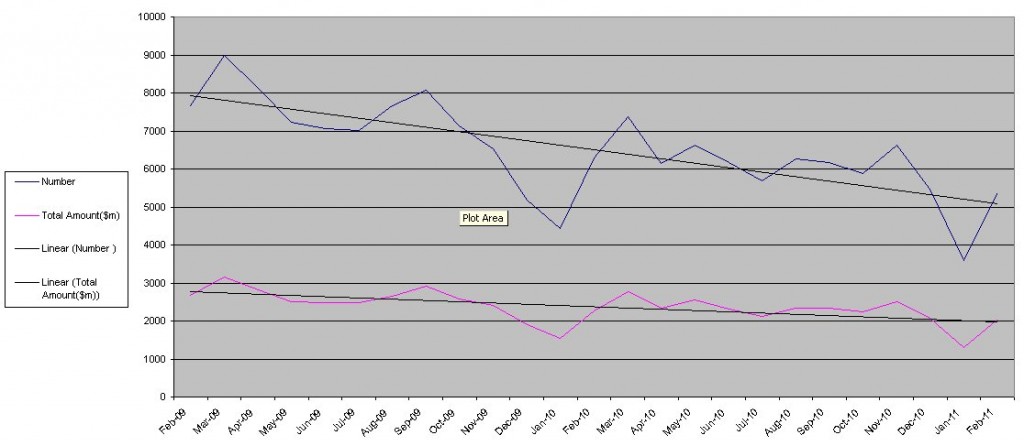 You can also see from the average loan size chart that there has been no significant move from the steady upwards trend.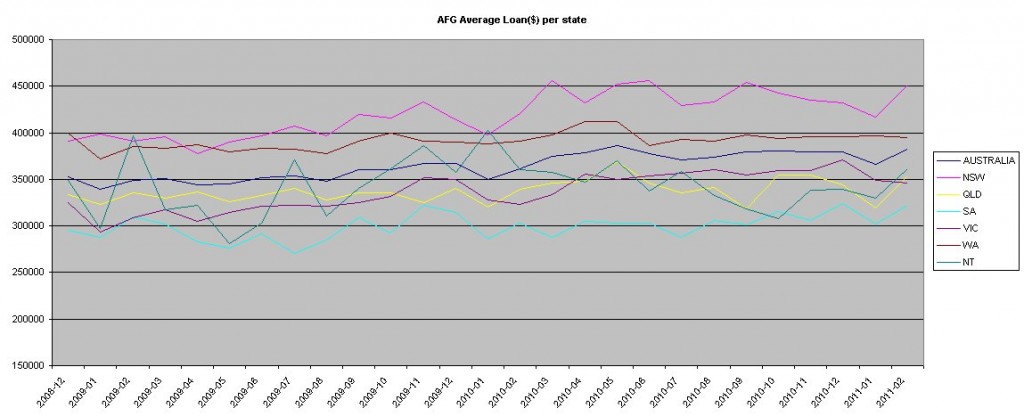 There also doesn't seem to be much of  a change in market composition,  first home buyers are up a bit and re-finance down a little. In fact these percentages are the opposite of what I would expect to see with the LVR falling so dramatically. If you view the average property value chart ( constructed from average loan size and average LVR ) you can see the large swing in the value composition.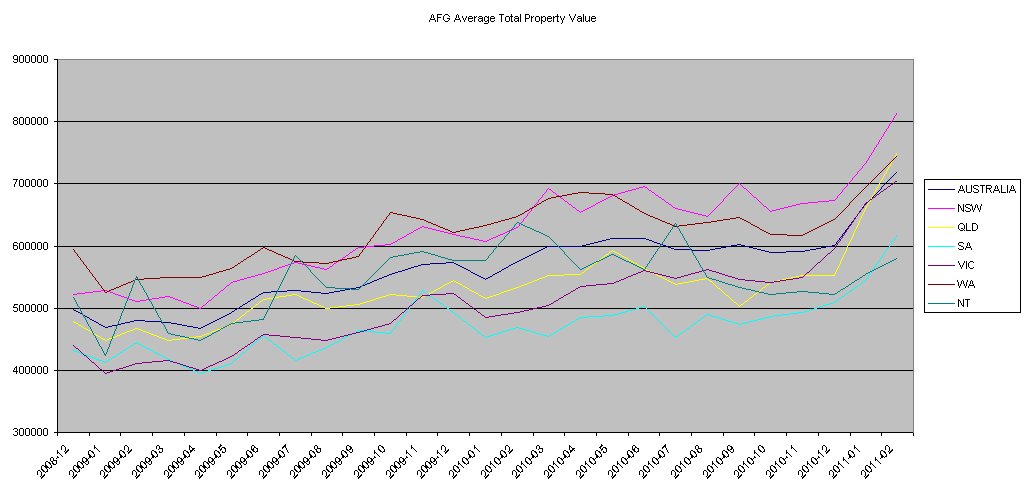 Given that other news is suggesting that the market is "struggling" at the moment it is very difficult to reconcile this data. Unless anyone can come up with a better suggestion I am sticking to my earlier theory that NCCP has wiped out the bottom of the market. The problem with that theory is that if that were true then I would have expected to see a big fall in the first home buyer percentage which is actually the opposite of what has occurred. That however does not change the fact that something very significant happened at the beginning of the year. If I am correct in assuming that the bottom of the market has been taken out then it will not be too long before the whole thing falls in a big heap. Falling volumes on large upward adjustments in price is a big concern , so for the market's sake I hope someone has a better theory than me.