I am amazed how quickly the housing story is changing in Australia. Just 8 months ago anyone mentioning the fact that housing was heading for a correction was met with howls of laughter. I know, I was one of them. Today however sentiment is very different, and it seems to have gotten so bad that NAB is now releasing opinion to the media about how it is going wrong.
The bull run in house prices is set to run out of steam as investors realise that credit costs are dwarfing anaemic yields, according to a senior banker. National Australia Bank finance chief Mark Joiner yesterday said the property market was fully valued and likely to languish.

"I don't think property can go up from here," he said.

"It's at the top of the range on affordability. It's well out of line internationally."

Mr Joiner's comments followed a speech in which he called for the Federal Government to further bolster the savings rate by delivering tax concessions to savers.

"Eventually people are going to realise that taking a 2 per cent pre-tax yield from renting a house that isn't going up in value doesn't make any sense, if you're paying 7 or 8 per cent for the associated loan," he said."
I know Mr Joiner is stating the obvious, but it is most interesting to me to actually hear those words from a bank representative. With the RPData producing capital gains charts like this: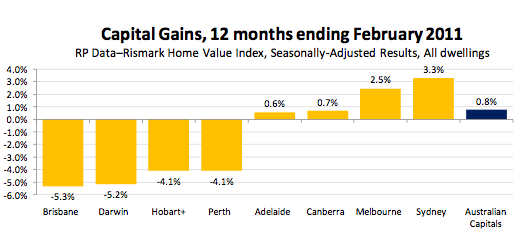 Only the brave would be leaping into this market, the rest would be sitting back and waiting to see what happens next. Recent joiners would surely be reassessing their positions. The only people sitting pretty are the long-termers who already have cash or near cash positive properties.
I do however think there is a much more worrying message from Mr Joiner. To me his follow-up statements have "moral hazard" and wishful thinking written all over them.
Mr Joiner said that despite the likely slowdown, banks were unlikely to sustain higher losses at the hands of defaulting mortgage customers.

The domestic share market was also likely to fall out of favour, he said, following an extensive bull run that had yielded "great stock market success (and) great property success".

"I talk to international investors and they really feel Australia has had its run," Mr Joiner said. "We had banks growing credit at 15 per cent per annum – that's not going to happen any more. We had a mining boom – a lot of that's priced in. I think they're looking elsewhere."

Speaking at a lunch in Melbourne, Mr Joiner said the Government should use its tax forum scheduled for October to "debate the importance of a stronger deposit market in Australia".

Tax concessions for savers would bolster the market, he said. "I would like to see (a situation where) interest earned on up to $20,000 of money on deposit was tax free, or taxed at a concessional rate."
So the housing market is going to fall in value along with the stock market and international investors are a "wake up" to the fact that Australia is about to stall, but banks aren't likely to have trouble. What ??? I really hope Mr Joiner has been misquoted because this reads like a fairy tale. Does he know how much foreign sourced debt the OZ banks have ?
After a decade of the banking system supporting the government in its incentivisation of anything but saving and productive investment it suddenly wants the government's help in doing exactly that because now it suits their needs. I think that is called hypocrisy Mr Joiner but if you are correct in your market predictions then I doubt they will have a choice.
I may have just found that "government intervention" I was looking for.