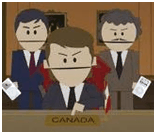 As regular readers will know, I am a close follower of the Canadian economy and housing market.
Like Australia, Canada is a commodity exporter and more or less dodged the global recession that recently shocked the developed world. As in Australia, there is also widespread debate about whether Canada is experiencing a speculative housing bubble or asset inflation based upon sound fundamentals.
So when a new research reports is released on the Canadian economy and/or housing market, I read it with interest as, more often than not, it provides a useful point of comparison to Australia.
Last week, Canada's weekly current affairs magazine, Macleans.ca, published an article entitled The Canada bubble, which questioned the underlying strength of the Canadian economy and the risks posed by a slowdown in the Chinese economy. Whilst reading this article, I was amazed at the parallels with Australia. In fact, I would even go as far as saying that you could replace the word "Canada" with "Australia" and the article would be equally as poignant.
Below are the key extracts from the Macleans.ca article, with key sections highlighted in bold. I have also added some charts for extra context.
There's arguably never been a time when forecasters have been so divided in their views of Canada's economy. That's partly due to the seemingly Herculean way we shrugged off the global recession while almost every other developed nation tanked and continues to struggle—a feat that can't help but arouse a bit of too-good-to-be-true anxiety….

The division of opinion has to do mostly with the two particular engines that have driven our success—resources and real estate. Both are cyclical. Prices rise and fall as supply and demand shift. Only that's no longer seen to be the case in Canada. Never mind that some experts now say the surge in commodities exceeds anything we've seen in two centuries, or that by many measures the housing market sits at multi-decade highs. Those who see good times ahead are convinced the phenomenal gains reflect a fundamental shift in the global economy. In short, it requires one to ascribe to the four most dangerous words in the world of investing: this time it's different.

As it is, the love-in for all things Canadian is in full swing…. Canada is the toast of international think tanks and world leaders. They praise our sound financial system, which seemingly avoided the traps that engulfed other nations' banks. Conservative legislators in America and Britain sing the virtues of our relatively sound government finances. Like a cherry on top, the Economist magazine once again just selected Vancouver as the world's most livable city, with Toronto and Calgary also making it into the top five.

Investors, both domestic and foreign, simply can't get enough of Canada. In 2010, non-residents poured $116 billion into Canadian investments, the highest level ever… Eleven years into the bull market in commodities, it's easy to forget just how much Canada has riding on strong resource prices. For one thing, the boom has boosted our paycheques. The rise in commodity prices was responsible for two-thirds of the 15 per cent gain in disposable income experienced in the last decade, Bank of Canada governor Mark Carney said in a 2008 speech. While Canada's soaring loonie has hurt manufacturers, it's also improved living standards by keeping inflation low. And rising commodity prices have also helped keep unemployment muted. As bad as Canadians think the recent recession was, in terms of the job market it was the mildest downturn of the last 30 years. In January, the Canadian economy added nearly double the number of jobs created in the entire U.S. economy, which is 10 times larger.
Note that although Canada has undoubtedly benefited from rising commodity prices, it pales in comparison to the terms-of-trade boost received by Australia (see below IMF chart).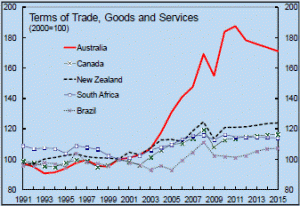 All of those benefits have fed directly into Canada's apparently Teflon housing market. When the Great Recession hit, prices dipped briefly, but quickly rebounded as home­buyers borrowed heavily to get into the market. In fact, relative to incomes, house prices in Canada are now nearly as overvalued as they were in the U.S. at the peak of that country's housing bubble…

As with soaring commodity prices, the strong housing sector has contributed in a big way to the country's boom-time mentality and sense of invincibility. It's been a crucial driver for labour markets… As house prices climbed, households have been more inclined to go shopping.

But the housing boom has also gone hand in hand with Canada's household debt boom. Over the last decade, Canadians have doubled their consumer and mortgage debt loads, to more than $1.5 trillion. For every dollar of disposable income households earn, they now carry $1.50 of debt, a level higher than in the U.S. [but still lower than Australia]. That's a worrying stress point that could undo the high-flying Canadian economy if it hits turbulence—in exactly the same way heavy debt loads left American households exposed. "Canada's success story is uncomfortably similar to the U.S. success story," says Robert Shiller, a professor at Yale University who accurately predicted the real estate crash in the U.S. "It might be offensive to Canadians, but we're like two peas in a pod."

What's different is that the U.S. didn't have the resource sector to fall back on. But how secure should we be in assuming the commodity boom won't turn into a bust? Not very, says Shawn Hackett, a commodity analyst in Florida who has dug into the sector's long history of booms and busts. He analyzed the 10-year average annual rates of return for commodity prices dating back to the early 1800s. At no time have prices risen as fast and as high as they have over the last decade without being followed by a sharp decline. "If history is any guide, we're higher than the 1980 top and much higher than the 1950 top," he says. "Unless we are going to do something right now that defies 200 years of the way the rules of engagement have been in commodities, we're due for a nasty spill."
Below is the chart that Mr Hackett refers to, which has been taken from another recent Macleans.ca article: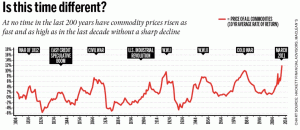 What has always happened in the past, and what Hackett expects to see again, is that as prices rise, consumers cut back while producers ramp up supply. The end result is a supply glut that drives prices back down.

Just as we've come to rely on rising commodity prices for our prosperity, a resource sector bear market would hit Canada particularly hard. For one thing, it could strip Canada of the cherished view we're more prudent than other countries. After all, Ottawa and the provinces vigorously drove up spending even before the stimulus measures of 2009 were announced. It's just that revenues, from royalty payments and corporate and income taxes, rose faster…

Investors would be hit hard, too… If commodity prices tank, the energy and mining companies that powered [stock market] returns over the last decade could act like an anchor on investor portfolios.

But it's Canada's housing market, and those who have overextended themselves with massive mortgages, that stand to lose the most. The housing sector has become inextricably tied to the broader story of Canada's elevated standing in the world. It's a powerful and psychological link, says Shiller, who explored how bubbles form in his book Irrational Exuberance. "Bubbles are mediated by price increases and new-era stories," he says. Any time you hear talk of a new era—such as Canada becoming the envy of the world, or that soaring commodity prices are here to stay—and it's used to justify rising prices, it's a good sign you're in bubble territory. If a commodity bust does occur, one of the key foundations of the housing bubble would crumble along with it…

Perhaps there's another reason to be anxious. Lately the term "Northern Tiger" has been used a lot to describe the Canadian economy. Given what happened to that other once-booming, now devastated "tiger," the Celtic one in Ireland, it's best not to get too used to it.
Although Australia and Canada are half a world apart, our economies seem to share an uncanny resemblance. In fact, reading this article is like looking in the mirror.
It's just a shame that Australia's mainstream media (MSM) refuses to run similar articles highlighting the risks posed to the Australian economy and housing market from a slowdown of the Chinese economy. If Canada's MSM can do it, why can't ours?
Thank goodness for the internet. Otherwise we'd all be in the dark.
Cheers Leith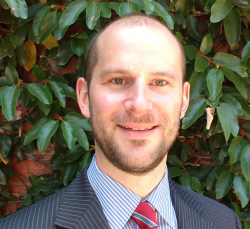 Latest posts by Unconventional Economist
(see all)