Right now we do not know what is happening in Japan's nuclear reactors. According to CNN, however, the news is very worrying:
A meltdown may be under way at one of Fukushima Daiichi's nuclear power reactors in northern Japan, an official with Japan's Nuclear and Industrial Safety Agency told CNN Sunday.

"There is a possibility, we see the possibility of a meltdown," said Toshihiro Bannai, director of the agency's international affairs office, in a telephone interview from the agency's headquarters in Tokyo. "At this point, we have still not confirmed that there is an actual meltdown, but there is a possibility."

A meltdown is a catastrophic failure of the reactor core, with a potential for widespread radiation release.

Though Bannai said engineers have been unable to get close enough to the core to know what's going on, he based his conclusion on the fact that they measured radioactive isotopes in the air Saturday night.

"What we have seen is only the slight indication from a monitoring post of cesium and iodine," he said. Since then, he said, plant officials have injected sea water and boron into the plant in an effort to cool its nuclear fuel and stop any reactions.

"We have some confidence, to some extent, to make the situation to be stable status," he said. "We actually have very good confidence that we will resolve this."

A state of emergency has been declared for the plant and two other reactors at the same complex, which holds a total of six reactors, he said. Three are in a safe, shut-down state, he said. "The other two still have some cooling systems, but not enough capacity."

But Ichiro Fujisaki, Japan's ambassador to the United States, told CNN's Wolf Blitzer in Washington that he did not know of any evidence of a meltdown.

"We are working on it," he said. "We are getting information every hour on this issue."

And Japan's chief cabinet secretary, Yukio Edano, raised another possible issue. "Some of the readings in the measurement equipment were not accurate," he said without elaboration.

He noted that since the inside of the pressure vessel has been filled with sea water, radiation levels in the area have not risen, implying that the problem was not worsening.

The detection of a cesium isotope indicates that the nuclear fuel cladding has failed, said Ken Bergeron, a physicist and former scientist at Sandia National Laboratories.

"Now we have to hope that the containment building will succeed in preventing major amounts of radioactivity" from escaping, he said.

As of Sunday morning, winds in northeast Japan were blowing out to sea at 5-15 mph, said CNN Meteorologist Taylor Ward. But they were expected to reverse direction by Monday night, he said. The Daiichi plant is located about 160 miles (260 kilometers) north of Tokyo.

"We're in uncharted territory," Bergeron said. "We're in the land where probability says we shouldn't be and we're hoping that all the barriers to release radioactivity will not fail."

"The bottom line is that we just don't know what's going to happen in the next couple of days and, frankly, neither do the people who run the system," said Dr. Ira Helfand, a member of the board of Physicians for Social Responsibility.

What we do know, he added, is that Japan's nuclear facilities are "way out of whack."
From Wikipaedia, the below map is of the areas that were declared unlivable following the Chernobyl meltdown in 1986. Roughly speaking, it was a 3oo mile no-go zone from end to end: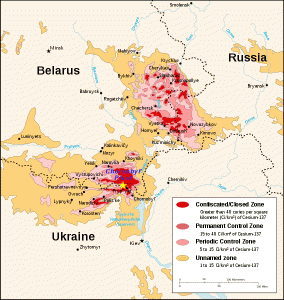 The second map is of Japan: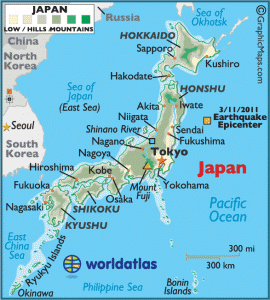 As you can see, Fukushima is not far from Tokyo and in the event of any meltdown, and depending upon prevailing winds, a large part of Japan's most popoulous geography could be rendered uninhabitable.
Some reassurance is to be found in the below CNN video, in which an MIT security analysts describes how the Japanese reactors do have concrete containment units that Chernobyl did not.
All of my hopes and sentiments go out to the Japanese.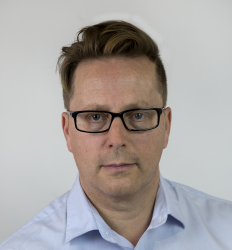 Latest posts by Houses and Holes
(see all)