A few days ago, Nobel Laureate Paul Krugman declared again that there is no 'financialisation' element to the current commodity price surge. He began:
I've been getting a fair bit of correspondence insisting that political unrest, in the Arab world and elsewhere, is being caused by … Ben Bernanke. You see, quantitative easing is responsible for rising food prices, which leads to riots, which — OK, there are a lot of broken links in that chain. But it surely is time to take a look at food prices and commodity prices more broadly.
Firstly, let's get some idea of the amount of money pouring into commodities as an investment class. The recent Oliver Wyman presentation at Davos explained the degree of this shift: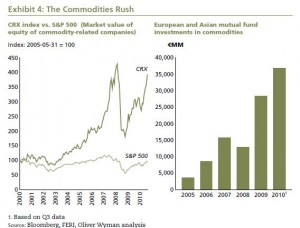 According to Krugman, however, these flows cannot affect real prices:
During the last commodity price spike, less than three years ago, many people laid the blame at the feet of speculators. I never accepted that as the prime cause, mainly because so many of the speculation-did-it people seemed confused about the difference between buying a futures contract and actually hoarding physical stocks; as a very useful analysis by Sanders and Irwin (pdf) puts it,

Index fund buying is no more "new demand" than the corresponding selling is "new supply."
In riposte, let's consider not how markets are supposed to work, but how they actually work. During the price hikes of 2008, Contrarian Investors Journal published the following excellent description of how trade in futures does affect the spot price:
What happens, if the Index Speculators push up the price of a commodity futures above its theoretical price? When that happens, there will be an arbitrage opportunity.

Let's say the price of a July futures is $110 when its theoretical price is $105 (i.e. spot price of $100 + carry cost of $5). In that case, you can sell the overpriced July futures at $110 and buy the underlying at $100. When the futures expires in July, you can then sell the underlying at $110. Your arbitrage profit will be $5 ($110 futures price – $100 spot price – $ carry cost).

What if the futures price is below its theoretical price? Let's say, the futures price is now $103 instead. You can short sell the underlying at $100, earn the carry cost $5 (e.g. interests) by holding the proceeds of the sale as cash. When the time comes to close out your short position in the underlying, you can buy the underlying at $103 when the futures expires. Your arbitrage profit will be $2 ($100 short sell proceed + $5 carry cost – $103 close out short sell position).

All these are at least true in theory. In reality, for whatever reasons, futures price can veer out of its theoretical price. It can even fall below the spot price! That phenomenon is called "backwardation."

And one last thing. Critics of Michael Masters' theory that Index Speculators are behind the price inflation of commodity prices will point to the fact that inventory levels had not risen considerably as a result.
So, this arbitrage between futures and spot prices gooses the price of both without causing sustained rises in inventories. Which is precisely the rationale Krugman uses to dismiss the unwholesome effect of speculation.
We can throw further doubt on the "no inventory increase" argument by looking at the various ways in which inventories can be manipulated. A fascinating investigative report in Der Spiegel some months ago contained this little gem about the copper market:
[Commodities analysts] can only make vague assumptions as to how large inventories are in the metal-processing industry. They have little more than a rough idea of what happens outside the commodities markets, in the form of direct transactions between producers and buyers. And they can hardly ascertain whether the news that the amount of copper in the London Metal Exchange's registered warehouses has declined by a few tons is simply the result — as one analyst recounts — of a forklift driver having moved a pallet of copper cathodes a few meters "for 50 quid."

According to the insider, there are warehouses with a long line running down the middle, marking the division between space allotted to official goods and to unofficial stocks. This highlights how easy it is to deceive the markets.

China, by far the world's largest copper consumer, is a mystery to the markets. In principle, Western traders are not admitted to the exchange in Shanghai. No one knows exactly how much copper is truly being consumed and how much is being stockpiled there. And no one is willing to rely on official figures.

As the Chinese example illustrates, suspicions of manipulation pervade the copper business.
These suspicions have recently aroused allegations that J.P. Morgan has been busy spruiking copper prices even as rumours swirl that its traders have cornered that same market. Barclays has recently been accused of cornering lead. And Hetco Brent.
Yet, instead of addressing any of these markets, Krugman focuses on only two: cotton and iron ore:
But Chinese demand isn't just a matter of fundamentals: all the evidence suggests that there's a lot of physical hoarding going on. Chinese farmers are apparently hoarding lots of cotton, while China is holding record stockpiles of iron ore.

So the case for a speculative component is a lot stronger this time around. But — and this is important — the speculation is not being driven by financialization, by all those index fund investors going long. Cotton hoarding seems to be taking place at the level of individual Chinese farmers and factories, with no indication that they're being influenced by the futures market. And iron ore hasn't been available for futures-market speculation: the first futures markets there came into existence just a few days ago.

For at least some commodities, then, we're seeing a real demand boom, which may be getting reinforcement from speculative hoarding, but with this speculation taking old-fashioned forms rather than involving Wall Street.
Well, one could ask, what might we expect to see  if "Wall St" were getting heavily into commodities speculation? How about soaring bonuses for metal traders? You bet. From Bloomberg:
After a year when U.S. President Barack Obama signed a law curbing risk-taking on Wall Street and pay at banks fell, metals traders are reaping bonus bonanzas.

The traders probably earned as much as 20 percent more last year than in 2009, with the most-profitable getting $2 million to $3 million, said Peter Henry, head of front-office search at Commodity Search Partners Ltd. The figure, confirmed by three other recruiters who declined to be identified because they aren't authorized to speak publicly, compares with no change to a drop of 10 percent in pay across commodities personnel.

"Metals traders are an exception when there's pressure on banks to cut remuneration," New York-based Henry said. They "are making more money than other parts of the banks and the bonuses reflect that to some extent," he said.
So, what about food prices. According to Krugman:
Not much evidence of hoarding, as far as I can tell. So this is straightforward supply and demand. Demand may be up to some extent because of that emerging-market boom. But if you look at the FAO reports it becomes clear that the key thing for cereals prices is that production is down in advanced countries, largely owing to terrible weather. And yes, it's likely that climate change has played a role.
Well, this blogger read the FAO reports. And yes, one does show a small drop in wheat production. However, another also says the following (h/t threedogsandakid):
In its 2009 Trade and Development Report, the United Nations Conference on Trade and Development (UNCTAD) contends that the massive inflow of fund money has caused commodity futures markets to fail the "efficient market" hypothesis, as the purchase and sale of commodity futures by swap dealers and index funds is entirely unrelated to market supply and demand fundamentals, but depends rather on the funds' ability to attract subscribers.
… The Groups recognize that unexpected price hikes and volatility are amongst major threats to food security and that their root causes need to be addressed, in particular:

a) The lack of reliable and up-to-date information on crop supply and demand and export availability;
b) Insufficient market transparency at all levels including in relation to futures markets;
c) Growing linkage with outside markets, in particular the impact of "financialization" on futures markets;
d) Unexpected changes triggered by national food security
situations;
e) Panic buying and hoarding.
Also included in the FAO report is a special feature on Agricultural Futures – Strengthening Market Signals for Global Price Discovery. (p61-66) It concludes,
"…several factors have contributed to increased global speculative volume in foodstuffs:• Markets liberalization and decline of price supports, particularly in the EU under the Common Agricultural Policy

• Deregulation of the financial service sector in the US that allowed proprietary trading by banks
• Declining margins in securities trading
• Diversion of foodstuffs into fuel products
• Rising demand for food in emerging markets
• Under-investment in agriculture due to prolonged low food prices
• Lack of price transmission to producers
• Sudden governmental interventions in the export market such as export bans, tariffs and quotas
• Ease of access to electronic market place
• Restructuring of primary exchanges from member organizations to for-profit corporations
In short, the FAO reports clearly identify the need to address the very issues Krugman claims do not exist.
Moreover, although you can date the current surge in wheat prices from July 2010 when the Russian drought triggered export falls, what about everything else? What about corn, soybeans, oats, canola: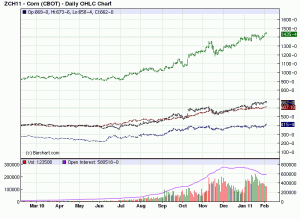 Truth is, it doesn't matter what commodity you look at. They're all rising.
Krugman followed up a few days later with an argument that global warming is responsible for food price rises. And no doubt it is. This blogger is not arguing that there aren't fundamental reasons for soft and hard commodity price rises.
Nor is it arguing that governments aren't now making matters worse through export restrictions and stockpiling. Which, as this blogger has argued before, is precisely what happens in strategic commodity markets when prices rise.
What these many pieces of circumstantial evidence suggest is that financialisation is increasing volatility. That is, that speculation is pushing price rises to greater extremes. The following chart of the copper price from Bloomsbury Metal Economics illustrates the point nicely: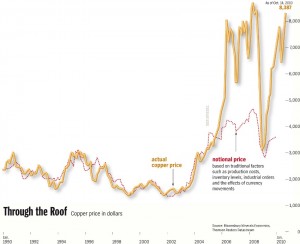 All bubbles have a kernel of truth. In the twenties, there was a mass production boom underway. In the nineties, there was a digital revolution. In the noughties, there was a Great Moderation (and universally lower interest rates).
In this blogger's view, we now have similar dynamics underway in commodities: A strong underpinning investment narrative, feeding into a mounting edifice of speculators and spruikers, leading to grotesque overexcitement in just about everyone. The entire complex looks primed for an epic blowoff.
So what about Mr Krugman? Can we surmise what's driving his, shall we say, conservative interpretation of events:
Oh, and what about Ben Bernanke? Well, to the extent that emerging markets are insisting on a fixed exchange rate against the dollar in the face of obvious overvaluation, that contributes to the boom and hence to demand. But I don't think it's reasonable to demand that the Fed stop fighting US unemployment in order to keep Chinese currency manipulation from leading to cotton hoarding by Chinese farmers.
So, it's not QEII. It's the currency pegs. Which is true, except it's not the whole truth. To this blogger's mind, it's not a coincidence that the commodities rally began as the globe fretted about a double dip recession in the US mid last year and thoughts of QEII arose. Nor is it a coincidence that every time Bernanke spoke in the second half of 2010, commodities spiked.
Krugman literally wrote the book on Depression economics and the need for loose monetary conditions when confronting demand shortfall in a post-bubble environment. He acknowledges the need for a lower dollar and global rebalancing (so does this blogger). It's not endearing, however, for him to shrink from the problems that this approach creates when it's done with the world reserve currency and relative pricing mechanism for global commodities.
Latest posts by David Llewellyn-Smith (see all)