The Federal Treasurer, Wayne Swan, is due to announce the Australian Government's reforms to increase competition in the banking sector on Sunday 12 December. In anticipation of this announcement, I want to take readers through some of the key proposals put forward in submissions to the Senate Inquiry into Competition in the Banking Sector, which is due to report on 31 March 2011, as well as the reasons why I think increasing competition for mortgage lending is a stupid idea that risks Australia's financial stability.
As an aside, the fact that the Treasurer is planning to hand down reforms prior to the completion of this Inquiry – or even better, a full scale Financial System Inquiry – beggars belief and is indicative of the poor state of governance and policy making in this country.
Anyway, back to the topic at hand.
Competition: the phony war:
The whole issue of banking sector competition has slowly bubbled its way to the surface following the demise of many non-bank lenders, and securitisation more generally, after the onset of the Global Financial Crisis (GFC).
In the early-1990s, these non-bank lenders entered the Australian mortgage market and began raising funds via securitisation on wholesale debt markets. The rise of these non-bank lenders in the mid-1990s caused an intensification of competition amongst mortgage lenders. With no formal regulator and no rules outside of regular trade practices and corporations law, they led the decline in Australian credit standards by introducing 'innovative' loan products like low-doc loans in 1997, then 'no-doc' loans in 1999, and more recently they were beginning to issue 'non-conforming' (sub-prime) loans just before the GFC intervened.
Faced with this new competitive threat, Australia's banks responded in kind by reducing their deposit requirements and tapping new sources of funding offshore, much of it short-term. Gone were the days of requiring a minimum 20% housing deposit and restricting home loans to an amount that could be repaid with 30% of a household's gross earnings. Instead, banks accepted 5% housing deposits and lent households an amout that, after loan repayments, left them with just enough money to ensure that they stayed above the Henderson poverty line.
The massive increase in the availability of credit sporn from this increased competition, combined with unresponsive housing supply, has resulted in the housing bubble that Australia experiences today. The problem is, this increased competition in the mortgage lending market has not improved housing affordability. If anything, it has helped make affordability worse as evident by the below chart showing the amount of total household disposable income (HDI) required to service mortgage interest repayments.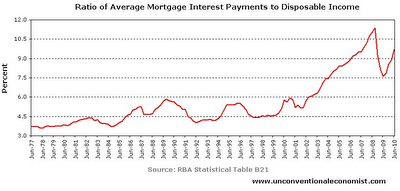 Despite the significant reduction of mortgage interest rates over the past 20 years, the ratio of total mortgage interest payments to HDI has increased from around 6% in 2000 to 10% as at June 2010 (after peaking at around 11.5% in 2008). Whilst this ratio may look benign on the surface, only 35% of households in Australia have a mortgage. Further, since only interest payments are shown, this chart does not show the extra repayment burden arising from higher mortgage principal. So the actual repayment burden on indebted households is much larger than that implied by this chart.
System failure:
The funding models used by the banks and non-bank lenders alike to fund housing were found to be unsustainable after the GFC. Both the banks and non-banks had a dangerously high reliance on short-term wholesale funding, which seized-up amid heightened risk aversion during the GFC. The non-banks and many smaller APRA-regulated institutions were also heavy users of securitised debt markets, which similarly froze-up post GFC. As such, the Government was called upon to guarantee banks' wholesale funding and buy up to $16 billion of residential mortgage-backed securities (RMBS) in order to ensure that credit continued to flow into Australia's housing markets, thus keeping the housing ponzi alive.
But after the big four banks raised their mortgage interest rates above the RBA official cash rate in November 2010, and the Shadow Treasurer, Joe Hockey, ridiculed the Government for not taking action to reign-in the banks for their 'blatent gouging of consumers', the Senate Inquiry into Competition into the Banking Sector was formed. Amid growing pressure, the Treasurer also vowed to release his reforms to enhance banking competition prior to Christmas.
The key proposals:
To date, over 100 submissions have been provided to the Senate Inquiry into Competition in the Banking Sector. From the cross-section of submissions that I have read, there appears to be two main proposals being put forward by the industry:
increased Government support to the RMBS market; and
amending the Banking Act to allow the issuance of covered bonds.
On the first point, the overwhelming majority of industry submissions strongly encourage the Government to step-up its support of the domestic RMBS market, either via increasing its direct purchases of RMBS or by guaranteeing the performance of the underlying mortgage security, as is the case in Canada.
The Credit Union Australia (CUA) submission is indicative of the type of argument being put forward by the industry:
Currently, one of the major factors restricting competition within the Australian banking sector is the difficulty CUA and other customer-owned financial institutions have in accessing reasonably priced funding from both domestic and overseas markets…

The Australian Office of Financial Management (AOFM) has supported us in our endeavours to continue using securitisation as part of our funding strategy; however this support has been restricted due to the AOFM's current investment mandate that only allows it to invest in A rated notes.

While investors have been returning to the higher rated notes, lower rated notes in securitisation issues remain difficult to sell at reasonable margins and it would greatly assist if the investment mandate was expanded to provide the AOFM with the ability to invest in these notes. In addition, this would free up capital that CUA and other customer-owned financial institutions would have to hold against the securitised assets thus providing increased capacity to undertake greater levels of home lending…

In order for smaller lenders to retain support in accessing securitisation markets, CUA urges the Government to introduce a new, wider mandate for the AOFM to enable it to provide continued support…

CUA believes these actions would significantly enhance the ability of customer-owned financial institutions to compete with the major banks and ultimately provide greater competition in terms of products and services for consumers.
The second proposal – amending the Banking Act to allow the issuance of covered bonds – is being put forward predominantly by Australia's major banks. Covered bonds are senior debt instruments issued by a bank, usually of five-to-ten year durations, and backed by a dedicated group of home loans known as a "cover pool." If the issuing bank becomes insolvent, the assets in the cover pool are carved off from the issuer's other assets solely for the benefit of the covered bond holders. This 'ring fencing' of a portion of a bank's loan book for the benefit of covered bond holders is why covered bonds are currently banned in Australia under the Banking Act (1959), which requires that depositors get paid-out before all other creditors in the event of default by a bank.
The banks are keen to have covered bonds introduced into Australia as they would enable them to raise funds more easily and cheaply from offshore, thereby enabling them to issue more loans and earn higher profits.
Covered bonds are currently all the rage in the USA, where they are seen as a ready alternative to securitisation, which has lost favour following its key role in the GFC. Covered bonds are considered safer than securitisation since the loans are kept on the bank's balance sheet, thereby ensuring greater care is taken by the issuer in assessing a borrower's borrowing capacity as well as requiring capital to be held against potential losses.
The Reserve Bank of New Zealand (RBNZ) is looking to introduce legislation that enshrines the rights of foreign covered bond investors to mortgages written by New Zealand banks ahead of local bank depositors, and gives the banks the ability to issue covered bonds worth up to 10% of their total assets, based on the value of assets securitised. This limit would be an increase from its previous guideline of 5%. The Bank of New Zealand (owned by Australia's NAB) became the first New Zealand bank to issue covered bonds, issuing NZ$425 million worth to domestic institutional investors in June 2010. Westpac New Zealand also recently issued its first covered bonds.
Why proposals to increase bank competition are a bad idea:
I oppose these measures to increase bank competition for three main reasons:
(i). they are unlikely to lower interest rates on mortgages:
Even if these measures are successful in lowering bank funding margins, they will do little to lower interest rates on variable rate mortgages. This is because the RBA sets the cash rate based on end-user borrowing costs. Had the gap between the RBA cash rate and standard mortgage rates not widened as they did following the GFC, there is a high probability that the RBA would have raised the cash rate by more than it has over the past 12 months.
Put simply, variable mortgage rates are unlikely to be significantly affected by changes in the level of competition.
(ii) they are likely to further increase the availability of credit:
As indicated by the above chart, previous measures to increase competition have led to a significant loosening of credit standards and a substantial increase in the amounts that households could borrow for housing. The resulting increase in debt levels has been capitalised into house prices, thereby reducing housing affordability.
Increased government support of the RMBS market, or further offshore borrowing by the banks via covered bonds, will increase the overall amount of funds available to be lent for housing. In turn, this increased availability of credit and competition is likely to: further erode credit standards; increase household debt levels and house prices; and reduce housing affordability.
(iii) they place taxpayer funds at risk and reduce financial stability:
Increasing government support of RMBS and covered bonds would further push the risks of mortgage lending onto the Australian taxpayer.
In the case of RMBS, the taxpayer would be required to absorb any losses incurred on non-performing loans. And given the AOFM's ridiculously generous eligibility criteria on RMBS – 95% Loan-to-value-ratio; $750,000 loan size; 10-year interest only – the risk of loss in the case of a housing market correction is beyond hypothetical. The risk of default would be even higher if the Government decides to become an investor and price leader in subordinated tranches (i.e. lower quality / higher risk) of RMBS, rather than restricting itself to AAA-rated senior debt, as it does now.
In the case of covered bonds, with bank assets ring-fenced and covered bond holders ranking ahead of depositors, Australian taxpayers would likely be called upon to cover any depositor losses in the event of a bank's failure. So the increased protections afforded to investors under covered bonds would come at the direct expense of the taxpayer.
Reflating the housing ponzi:
It is clear to this blogger that the Government's focus on banking competition is a distraction from the real issue at hand: that Australia's housing market has become highly unaffordable due to: easy credit funded, to a large extent, from offshore; investor speculation; and supply-side constraints. And now that house prices are correcting, thanks mainly to households reaching 'peak debt' as well as the banks finding it increasingly difficult to expand credit by borrowing offshore, the Government is once again looking to intervene in the market to reflate the credit/housing bubble.
What you, the reader, needs to ask yourself is whether this is how you want our banking system to operate: borrowing large sums from foreigners and channelling lending towards housing in place of productive enterprises, with the taxpayers picking up the tab if things go wrong? Is such an approach to banking in our national interest?
It's a shame that our political leaders and mainstream commentators are not asking these important questions.
Cheers Leith
Leith van Onselen is Chief Economist at the MB Fund and MB Super. Leith has previously worked at the Australian Treasury, Victorian Treasury and Goldman Sachs.
Latest posts by Leith van Onselen (see all)