SQM Research managing director, Louis Christopher, has released his annual "Boom & Bust" Report, which forecasts falling home prices for five capital cities next year, alongside the strong possibility of a negative result nationally.
Rising interest rates over 2022, 2023 and potentially 2024 are pushing mortgage holders and prospective homebuyers to the limit.
Therefore, SQM Research anticipates an increase in distressed selling activity, with only the most cashed-up buyers willing to enter the market.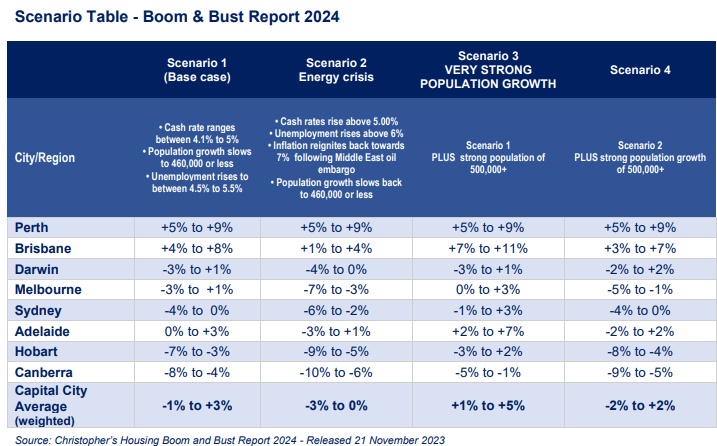 Advertisement
SQM's base case predicts a -1% to 3% change in average weighted dwelling values at the combined capital city level.
Price increases are only forecast for Perth and Brisbane, with each market being propelled by a recovering Chinese economy that is expected to increase demand for base commodities like iron ore and coal.
By contrast, the sharp deterioration in housing affordability throughout the majority of the rest of Australia, which SQM attributes to ongoing interest rate hikes that have reached restrictive levels and an anticipated slowdown in the economy, will result in moderate to modest price corrections in Sydney, Melbourne, Hobart, Canberra and Darwin.
Advertisement
Values in Adelaide are expected to remain stable or experience a slight increase.
SQM's forecasts are based on two key contingencies:
The rate of net short term and longer-term migration is expected to peak next year and then ease so that total population growth for 2024 falls back to circa 460,000 people.
The rate of inflation is expected to continue to ease to back to between 3 to 4% by the end of 2024.
If immigration does not decelerate as predicted, SQM's base-case projections of a moderate downturn are unlikely to come to fruition.
Advertisement
Conversely, housing price declines might be more severe should inflation surge and the RBA is forced to increase the cash rate above 5%.
SQM has developed a scenario predicated on a second energy crisis influenced by events unfolding in the Middle East.
A scenario of this nature could compel the RBA to increase interest rates more significantly through 2024, and Australia would almost certainly enter a severe recession.
Advertisement
Asking rents to continue rising:
SQM also forecasts that asking rents will increase by 7% to 10% nationwide, with Perth experiencing the most significant surge of 12 to 15%.
Although a deceleration in population growth to 460,000 people is expected, this will be accompanied by a significant reduction in dwelling completions to 153,000 units by 2024.
Advertisement
Indeed, construction data from the Australian Bureau of Statistics (ABS) suggests that Australia will experience its lowest completion rate since 2012.
The persistent shortfall of supply against demand will, therefore, cause further strong rental inflation in 2024.
Commenting on his forecasts, SQM Research managing Director, Louis Christopher, said:
Advertisement
"Another year of anticipated strong population expansion (albeit slower than 2023) plus an ongoing shortage of new dwellings, will limit the fall in housing prices to single percentage digits and the price falls should just be limited to mainly Sydney, Melbourne, Canberra and Hobart".
"Nevertheless, with expected slowing employment growth and the corresponding rise in unemployment, tipped to be towards 5% by the year end 2024, this negative will more than offset another year of strong migration".
"The interests rate rises of 2022, 2023 and possibly 2024 will finally start to bite homeowners and would-be homebuyers alike".
"Distressed selling activity is expected to jump, especially in NSW where we are already starting to see a new trend upwards in that data set". 
The full report can be purchased from SQM Research.