The life continues to be squeezed out of Australian renters, with SQM Research recording a further decline in Australia's rental vacancy rate to only 1.0% in October:
"The nationwide rental crisis is deepening, with a notable reduction of 2,353 dwellings in available rentals, bringing the total vacancies to 30,307", the media release reads.
"This underscores the growing crisis in the housing rental market".
Advertisement
SQM's rental vacancy data aligns with both CoreLogic's and PropTrack's, which also recorded national vacancy rates of 1% in October.
Meanwhile, SQM continued to record rapid growth in asking rents, which rose by 15.5% across the combined capital cities in the year to November.
National house rents rose by 15.0% annually, whereas unit rents surged by 15.9% over the past year.
Commenting on the results, SQM Research managing director, Louis Christopher, warned that high rental inflation will remain for the foreseeable future as record population growth collides with falling dwelling construction.
Advertisement
In turn, Christopher has called for a "cap on migration rates":
"After a minor reprieve earlier this year, we are back to the record low in rental vacancies of 1.0%. Vacancies have been tightening again across the nation. They are tightening in our regions as well as our cities".
In such an environment, the prospect of an easing in rents over the next six months I very unlikely to occur. And most likely, market rental increases will continue to rise between 10 to 15%".
"Such rises will continue to work against the RBA's objective of bringing back inflation to 2% to 3%".
"Given 2024 is very likely to see a fall in dwelling completion to about 153,000 dwellings, the only real prospect of having some relief in the rental market next year is a cap on migration rates".
"I have no doubt the runaway population growth Australia has had, since the start of 2022, is directly contributing to our rental crisis and towards other price rises in the greater economy".
The Albanese government's extreme immigration program is literally destroying the lives of Australian renters while also driving up inflation, which is smashing mortgage holders as well.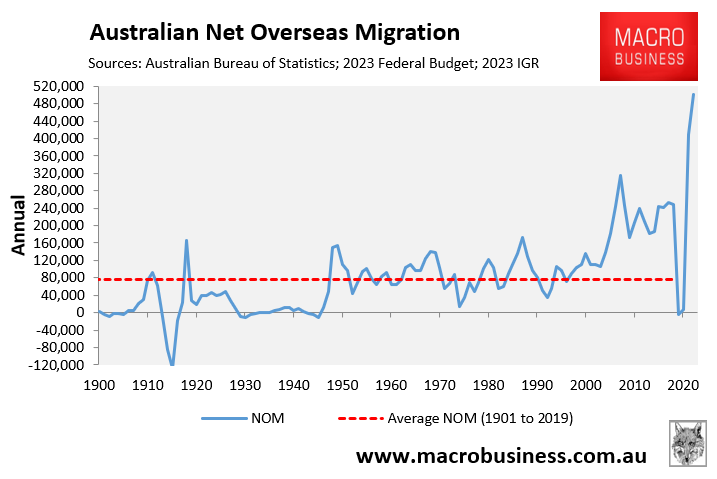 Advertisement
The rental and inflation crises will remain so long as the Albanese government continues to pump record volumes of people into Australia, overwhelming the supply-side of the economy.
Never before have we seen a federal government do so much damage to living standards so quickly.