Last decade saw a record number of apartments completed across Australia, most of which were high-rise:
The boom in high-rise apartments has brought with it a multitude of costly construction defects – including flammable cladding, cracking, water leaks, and balcony defects – that has cost owners and state governments a fortune to repair.
Building regulation consultant, Bronwyn Weir, warned that "thousands and thousands of apartments have serious defects in their buildings. [The problem] is enormous".
Advertisement
"We have what is now you know, a systemic failure that is quite difficult to unravel".
"Some of these buildings could potentially be a write-off", she said.
For example, the Strata Community Association NSW reported in October 2021 that around 40% of newly constructed apartment complexes in the state had significant defects.
The study was instigated in response to the discovery of major structural flaws at Opal Tower and Mascot Towers in Sydney, which forced the evacuation of residents.
Advertisement
A parliamentary inquiry in NSW also uncovered serious structural defects in recently built apartment complexes.
This year, the NSW Fair Trading issued more than 30 work rectification orders across building sites, including for "potential serious defects".
Engineer Leith Dawes warned that purchasing an off-the-plan apartment was like a game of "Russian roulette".
Advertisement
In July, owners of 276 apartments in the Inner West Vicinity complex in Sydney were forced to pay $50 million to rectify building defects.
Similar shenanigans is happening in Melbourne following the city's high-rise apartment boom last decade.
Like in Sydney, defective and combustible apartments mushroomed across Melbourne, which is causing both owners and taxpayers significant financial pain.
Advertisement
This year, large numbers of recently built apartments were discovered with balcony defects, along with other systemic structural issues.
Groundhog Day continues with The SMH reporting that the once renowned "world's best tall building" – the One Central Park apartment complex in Sydney – is riddled with defects only a decade after construction finished:
"A decade after it was completed, One Central Park has had to make urgent safety repairs after a planter box fell onto the footpath last year, and flammable cladding was discovered on its walls"…
Advertisement
"While nobody was injured by the falling planter, structural engineers have recently begun to assess the safety of hundreds of others lining the walls".
"The planters have been strapped with rope in a bid to avoid further failures, and some 33 have been removed as engineers investigate bolts that the owners claim were defective"…
"The owners did not have any hand in the design and construction of the building and are blameless for any issues … although, sadly, the owners are saddled with and must address any issues that arise," said the owners' legal representative Alex Ottaway".
The Albanese government has a target to build 1.2 million homes in five years, with most of these homes slated to be high-rise apartments in established suburbs.
The 2023 Intergeneration Report also projected that Australia's population would balloon by 14 million people in just 40 years off permanently high net overseas migration, which would require the construction of millions of apartments in high-rise complexes.
A prolonged period of rapid apartment construction will deliver similar results to last decade.
Advertisement
Build quality will suffer, resulting in the construction of thousands more substandard high-rise apartments across our major cities.
Huge volumes of defective high-rise slums will be built across Australia to accommodate the turbo-charged net overseas migration of the federal government that few Australians actually want or support.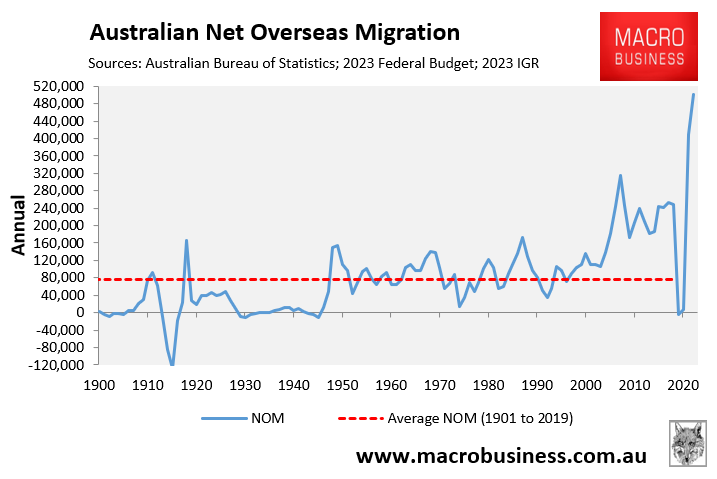 Advertisement
Rather than proceeding down a high-rise slum future, the federal government should lower net overseas migration to a level commensurate with the nation's ability to deliver high-quality housing and infrastructure, alongside the natural environment's carrying capacity (including water supplies).