Infrastructure Victoria released a plan last month to double the number of medium and high-rise buildings in Melbourne's CBD, proposing 130 new towering developments.
The advisory body also wants targets to be set for constructing new homes in established areas.
The plan comes as Victoria's population is forecast to grow by 4.5 million people to more than 11 million over the next 30 years, driven by permanently high net overseas migration.
Melbourne's population has already increased by 1.7 million people since the 2001 Census – the strongest growth in the nation:
Advertisement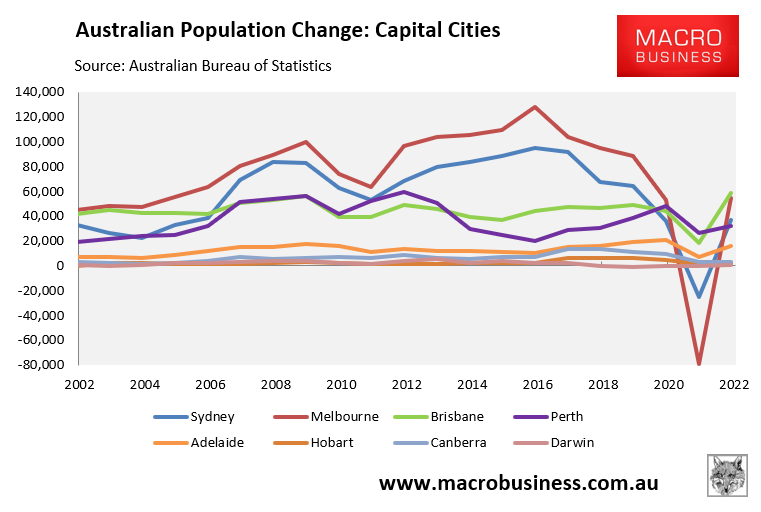 As a result, Melbourne has become a permanent building site as it has attempted, in vain, to keep pace with the city's rapacious growth.
It never works, though, with traffic congestion, infrastructure bottlenecks, and living standards worsening every year.
Advertisement
To add insult to injury, the Victorian government has sold off almost every public asset to fund infrastructure investment for population expansion.
In turn, Victorians are drowning in state debt and paying ever-rising taxes and user fees.
Advertisement
The Age recently noted the loss of amenity that would arise under the state government's plan to shoehorn one million homes into established suburbs:
"Considering there are currently about 2.1 million dwellings in Greater Melbourne, hitting the target will require roughly one new dwelling for every two existing homes within the city's boundaries".
"Having taken about 188 years to get to our current situation, accommodating 50% more houses within existing boundaries in the next 20 years represents a major policy challenge".
Architect Michael Smith also penned an opinion piece in The Age arguing that Victoria's planning overhaul puts politics ahead of the public good:
"There are two separate objectives to consider: providing affordable housing and allowing existing local residents to protect themselves from excessive impacts".
Advertisement
"Both objectives provide benefits, but this fundamentally poor policy is telling us that we have to choose a side".
"We need a careful redesign and rebuild of our planning system, rather than a quick political fix".
"A state policy that is limited to playing well politically, rather than what will actually make our built environment work for the greater good and well into the future is something we should all be objecting to".
The Victorian government's faux concern about housing supply and affordability is contradicted by its desire for more immigration (population growth) into Melbourne.
Former Premier Daniel Andrews told Italian-language community newspaper Il Globo earlier this year that he had been lobbying the federal Albanese government for more immigration:
"I've always been a very strong supporter of more skilled migration".
"And the new federal government have taken some important steps towards increasing the amount of permanent skilled migration, but I think they might need to do more again".
"Prime minister Albanese knows this. I've spoken to him about it personally and part of it also is clearing the Visa backlog".
The Victorian government and Infrastructure Victoria also seem to have amnesia about the problems caused by last decade's high-rise apartment boom: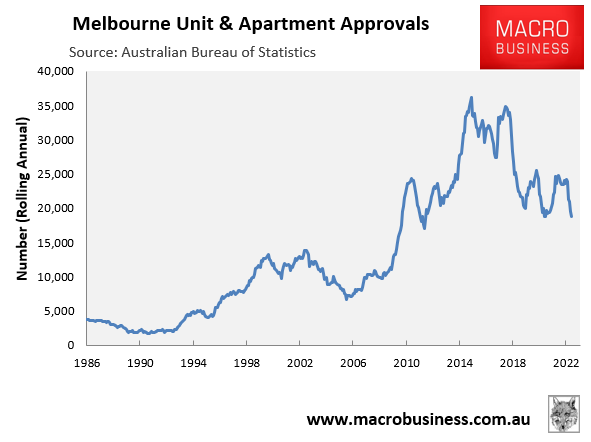 Advertisement
Defective and flammable apartments mushroomed across Melbourne, which the state is still attempting to repair at great cost to both owners and taxpayers.
The Age recently reported on large numbers of recently built apartments with balcony defects, which follows other systemic structural issues.
Another rapid construction of apartments to accommodate Melbourne's unprecedented immigration-driven population growth will deliver similar results.
Advertisement
Build quality will inevitably decline, resulting in the construction of thousands more substandard high-rise apartments throughout Melbourne.
Congestion will also increase across Melbourne's economic and social infrastructure, restricting residents' access to hospitals, schools, parks, and other public services.
Melburnians will also be forced to spend additional time stuck in congested public transportation and traffic.
Advertisement
Rather than proceeding down this path, the Victorian government should lobby the federal government to lower net overseas migration to levels proportionate with the nation's ability to deliver new housing and infrastructure.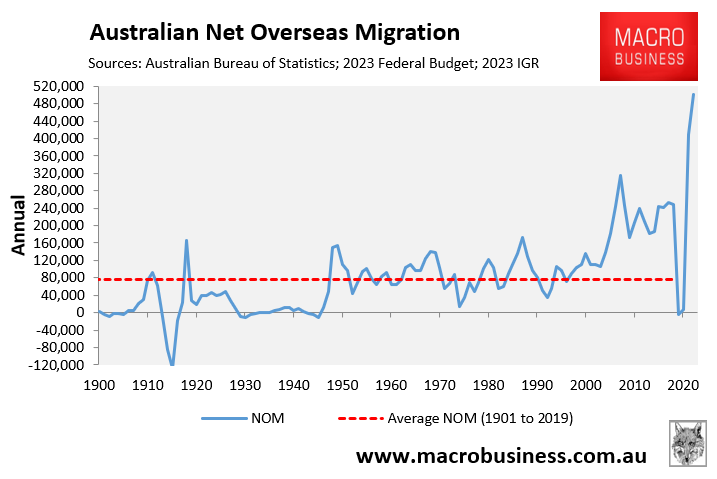 Mass immigration has never been approved by voters, and the overwhelming majority of Australians are opposed.
Advertisement
Our politicians must stop crush-loading our housing, infrastructure, water supplies, and living standards by inundating our cities with record volumes of people.