Reading the iMSM is like drinking from a mirage in the desert. The water is sand.
Albo crawled his way to Beijing, where he stood up, they say:
Albanese and Wong seemed very comfortable when they emerged from their formal meeting with Chinese President Xi Jinping on Monday night.
There was no lecture from Xi about the AUKUS alliance. There was no request from Xi for a shift in Australian policy, at least according to Albanese. "It wasn't transactional," the prime minister said after the meeting.
The outcome is a success, no question. There is less friction in Australia's relationship with its biggest trading partner. At the same time, Australia has held its course on foreign policy without crumbling to Chinese pressure.
Omitted everywhere is one small detail of what the CCP got from the visit:
Annual ministerial meetings on foreign, strategic and economic matters will also resume, while new reciprocal three to five-year multi-entry visas will kickstart business travel and help bring more Chinese students and tourists to Australia.
Advertisement
Beijing has not capitulated on its Australian influence campaign. It has shifted its strategy back to where it was before corruption scandals and COVID blew it up.
That strategy is to slowly but surely occupy Australian democracy with Chinese nationals.
It was working a treat before overreach and plague: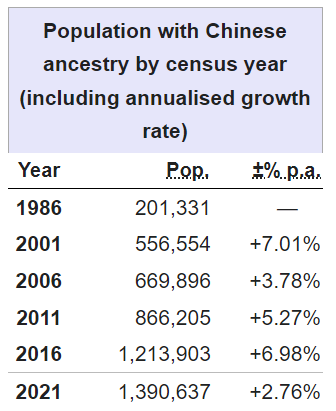 Now, it will resume full throttle.
Advertisement
This "silent invasion" strategy, fills politicians' (especially Labor's) kit bags with cash, dominates university mindsets, bribes businesses and the media, and carves out electorates favourable to Beijing.
It also inflates house prices, capturing the balance sheet of households and media conglomerates.
I might have said that the Morrison years were a victory against this, but the evidence is against such a conclusion now.
The beauty of the 14 conditions of end democracy was it exposed the CCP's malign plan for Australia. It has no intention of invading. That is expensive, impractical and unnecessary for a nation so marginal.
Advertisement
Beijing's plans are more nuanced. It wants a compliant client quarry state operating within the Greater Chinese Empire that never objects to anything the CCP does elsewhere.
Which means no freedom of expression, no liberalism and no democracy (other than a fake version with gulags in the Pilbara to enforce the illusion).
Within this strategy, the last election was a tremendous victory for Bejing. The Chinese diaspora abandoned the LNP as punishment for standing up to Beijing, and now the ALP has delivered the coup de grace of resumed occupation.
Advertisement
It is the same reason the LNP, and the Dutton "China hard man", have shut up about Beijing ever since. Fear of Beijing influenced electorates.
And now Bejing's plan is protected by the full-force Australian media immigration censorship as well.
Another decade or so of Chinese immigration and Beijing will control Australian "democracy" via 6-8 federal seats whose denizens are manipulated via carrot and stick.
Advertisement
Albo is the Manchurian candidate.