Recent information from the Australian Treasury, the real estate industry, the property portal Juwai IQI, and PropTrack indicates that the demand for Australian housing from abroad has increased dramatically.
Since the reopening of Australia's borders in late 2021, the proportion of Australian homes sold to foreign purchasers has increased significantly, according to the most recent Residential Property Survey of real estate professionals conducted by NAB: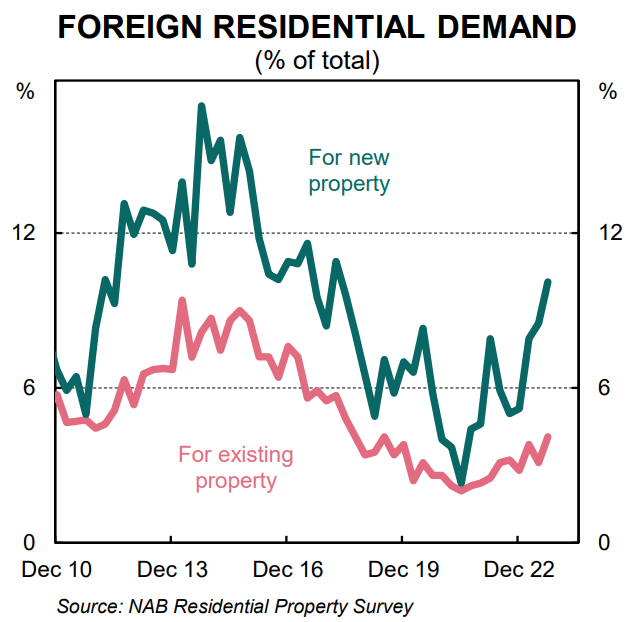 According to offshore searches on realestate.com.au, foreign buyer interest in Australian housing has reached all-time highs, with China being the leading country:
Advertisement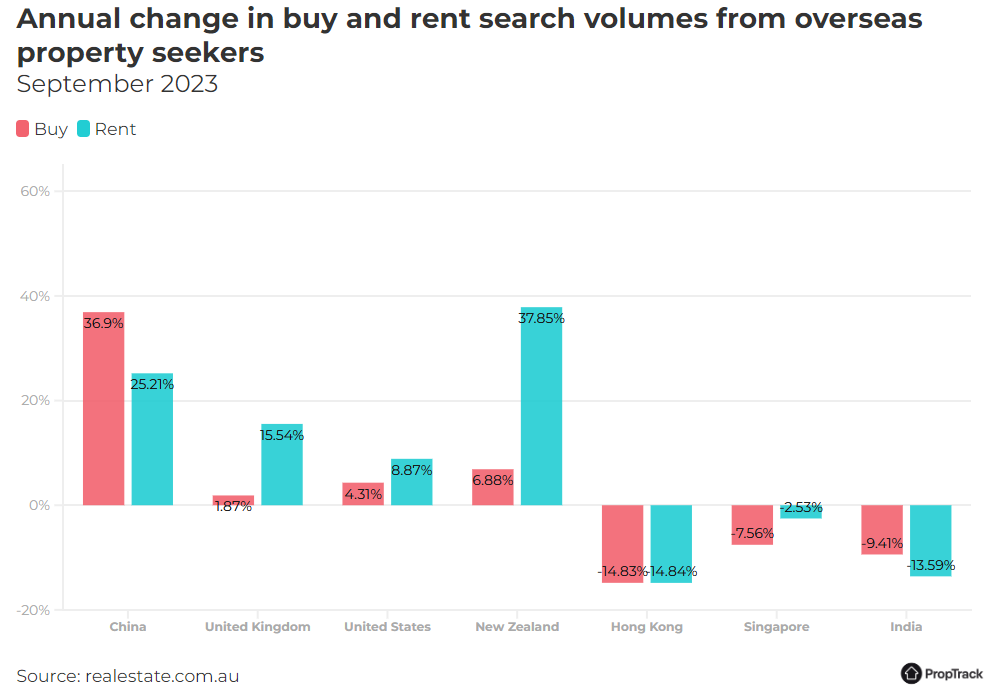 The Australian Treasury also disclosed this month that approvals for foreign acquisitions of Australian residential properties surged by 40% in the fourth quarter compared to the same period last year. The highest-volume purchasers were from mainland China, Hong Kong, Taiwan, and Vietnam.
According to the property portal Juwai IQI, Australian residential real estate is the top destination for Chinese purchasers.
Advertisement
In the third quarter, inquiries from Chinese buyers via Juwai increased by 158%, marking the second consecutive quarter of double-digit growth.
David Platter, a spokesman for Juwai, stated to The AFR in September that the company had "been working with a lot of Chinese ever since the borders opened. Presumably as flights continue to increase we will see buying increase".
"These people are upper-middle-class and wealthy from a Chinese standpoint. They are buying townhouses, houses and large apartments at $1.5 million, $2 million, $2.5 million and up", he said.
Advertisement
The observations made by Juwai have received support from local agents who primarily engage with Chinese purchasers.
Peter Li, general manager of Plus Agency, informed The AFR that enquiries from international buyers have quadrupled and sales have doubled since last year. He also anticipates sales to increase.
"International buying will definitely increase during the next year. There is more activity in terms of flights, so it's increasingly easier to get in and out of Australia", he explained.
Advertisement
Similarly, Alex Bragilevsky, the buyer's agent in the affluent suburb of Toorak in Melbourne, reported that he has "facilitated $135 million of real estate deals [in Toorak] in the past six months", with 90% of his clients originating from China.
"They come to Melbourne on a private jet, and I'll meet them at the airport with a nice car. Then we go out and look at real estate", he told The AFR.
David Morrell, director of Morrell and Koren, characterised the situation involving foreign buyers as "nuts" in an interview with news.com.au.
Advertisement
"We are seeing jumps of $2-3 million dollars on properties", he said.
"We have a market place that is disproportionately being sold to Chinese buyers, relative to the rest of the population".
He warned that "what's happening in Toorak is only a look at what is happening under the blankets, across the country".
According to a recent migration map by The Visual Capitalist, Australia is projected to see the most significant influx of affluent migrants (+5,200) this year, whereas China is expected to incur the most substantial loss (-13,500) of affluent migrants:
Advertisement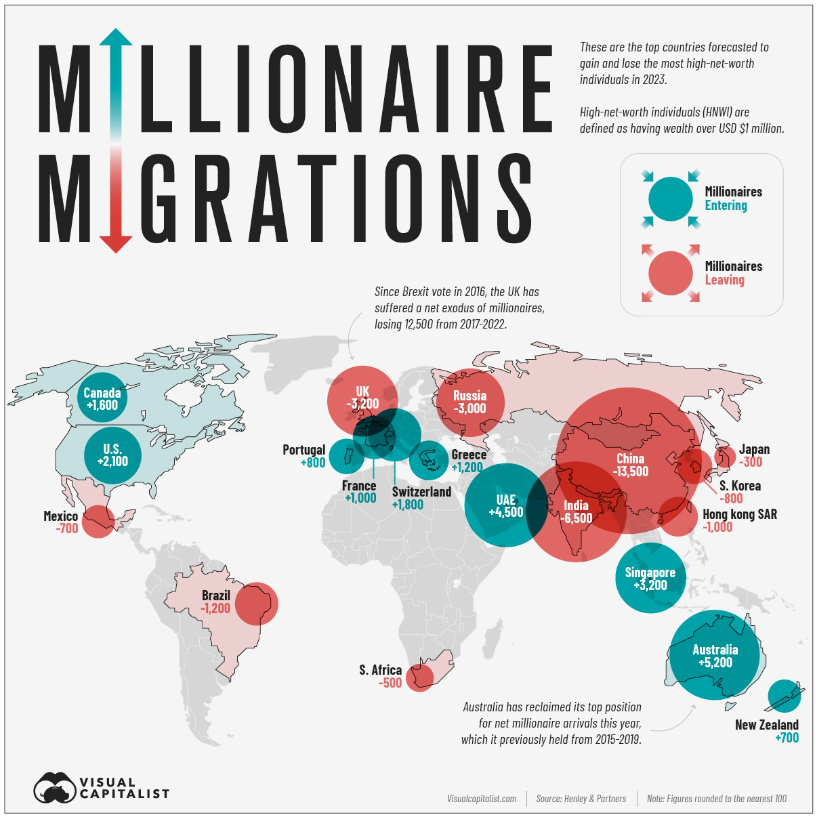 A considerable proportion of these migrant millionaires will arrive in Australia and purchase our homes.
How did we get here?
Advertisement
The convergence of multiple factors has made Australian real estate a honeypot for foreign purchasers.
In 2009, the former Rudd Government made the ill-advised decision to allow temporary migrants to acquire Australian homes.
The subsequent surge in temporary migration, especially among international students (with China accounting for the largest proportion), has increased the demand for residential properties in Australia from overseas buyers:
Advertisement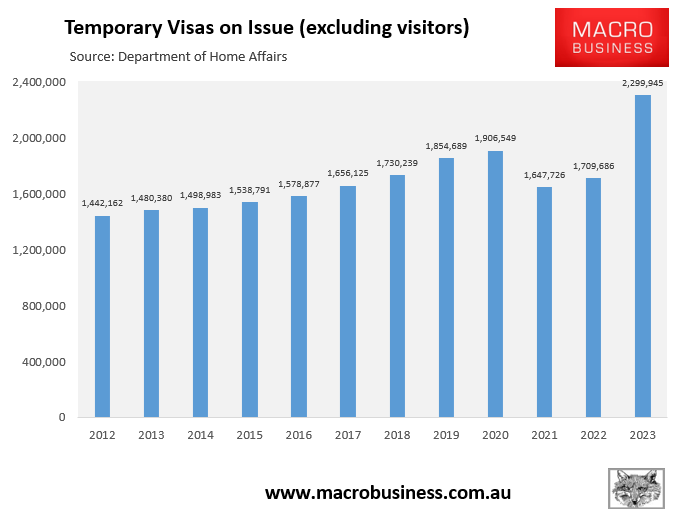 Second, Australia's housing market has become the primary conduit for laundering illicit funds due to the country's anti-money laundering (AML) regulations being among the laxest in the world.
Australia agreed in 2003 to implement extensive 'Tranche 2' global anti-money laundering (AML) regulations pertaining to real estate gatekeepers, which including accountants, lawyers, and real estate agents.
Advertisement
However, the federal government has repeatedly delayed the implementation of these rules in response to significant opposition from the very industries that would be impacted by them.
The Financial Action Taskforce (FATF), the global AML regulator headquartered in Paris, issued a warning in 2015 that substantial amounts of money were being laundered through residential homes in Australia, especially from China.
But the FATF's request that Australia adopt Tranche 2 AML regulations in order to subject real estate gatekeepers to regulatory oversight was ignored.
Advertisement
Prior to the onset of the COVID-19 pandemic, FATF issued a second warning that substantial amounts of money were "suspected to be laundered out of China into the Australian real estate market".
The Australian Transaction Reports and Analysis Centre (AUSTRAC) also warned the government that "laundering of illicit funds through real estate is an established money laundering method in Australia".
Over the past two decades, billions of dollars are believed to have been laundered through Australian residences, predominantly by Chinese nationals.
Advertisement
Furthermore, the 'golden ticket' visa, an initiative launched by former Labor Treasurer Chris Bowen in 2012 has contributed to the facilitation of money laundering.
China comprises around 90% of successful 'golden ticket' visa applicants. A minimum investment of $5 million is required for the Significant Investor Visa program, which has been approved for more than 20,000 Chinese nationals.
These 'golden ticket' visas confer permanent residency in Australia automatically. And unlike other visa categories, they do not require English language proficiency.
Advertisement
For years, anti-corruption advocates have called for the abolition of these visas, asserting that they are used by corrupt officials to launder funds and enter Australia.
The abolition of the 'golden ticket' visa program has also been advocated by Australia's Productivity Commission, which has identified the visa as a conduit for laundering 'dirty money' into the country.
Similar 'golden ticket' visa programs have already been discontinued in other developed nations. This, coupled with Australia's lax AML regulations, has rendered Australia's homes an attractive target for money laundering.
Advertisement
The time has come to plug the loopholes:
Like Groundhog Day, the Albanese Government is currently engaged in another round of industry consultation regarding the Tranche 2 AML laws.
The potential application of these regulations could subject over one hundred thousand real estate gatekeepers to AML scrutiny. This has incited further opposition from the impacted industries.
Advertisement
Similar stakeholder consultations were thwarted by these vested interests in 2008, 2010, 2012, 2014, and 2017.
Thus, there is apprehension that if they are successful once more, the implementation of the global AML regulations that Australia agreed to establish in 2003 would be put on hold indefinitely.
It is imperative that the Albanese Government end the twenty-year cycle of obstruction and enforce the Tranche 2 AML regulations once and for all.
Advertisement
Additionally, the government should implement the Productivity Commission's recommendation to discontinue the 'golden ticket' visa program and prohibit the purchase of established Australian homes by temporary migrants.
Otherwise, foreign buyers will continue to outbid Australian citizens and permanent residents for housing, and the country's housing market will continue to attract and conceal illicit funds from offshore.