The impossibility of meeting the federal government's target of building 1.2 million homes over five years, as well as a 43% reduction in Australia's carbon emissions, were exposed in a single article published over the weekend in The AFR:
"Surging concrete costs are a key driver of the 70% leap in overall warehouse costs that industrial builders and their clients have suffered since early 2020″…
"The cost of installed concrete has jumped almost 50% on a per square metre basis since 2020″…
"The housing industry is already warning of the impact the country's decade-long, $80 billion infrastructure spend will have by drawing in skilled workers and materials and putting at risk the development of housing the country desperately needs"…
"Concrete, a product more subject to local market dynamics, leaped from about $84 per installed on-site square metre in early 2020 to $130 in mid-2023. That had since come back 4% to $125″…
"The concrete costs were already putting off some developments and the likely pick-up in costs once activity resumed in high-rise housing development would increase demand and cost for projects".
The 1.2 million housing target is centred on apartment construction in existing suburbs. But how will this target realistically be met when one of the key inputs – concrete – has soared in cost?
This takes us to Australia's emissions reduction targets: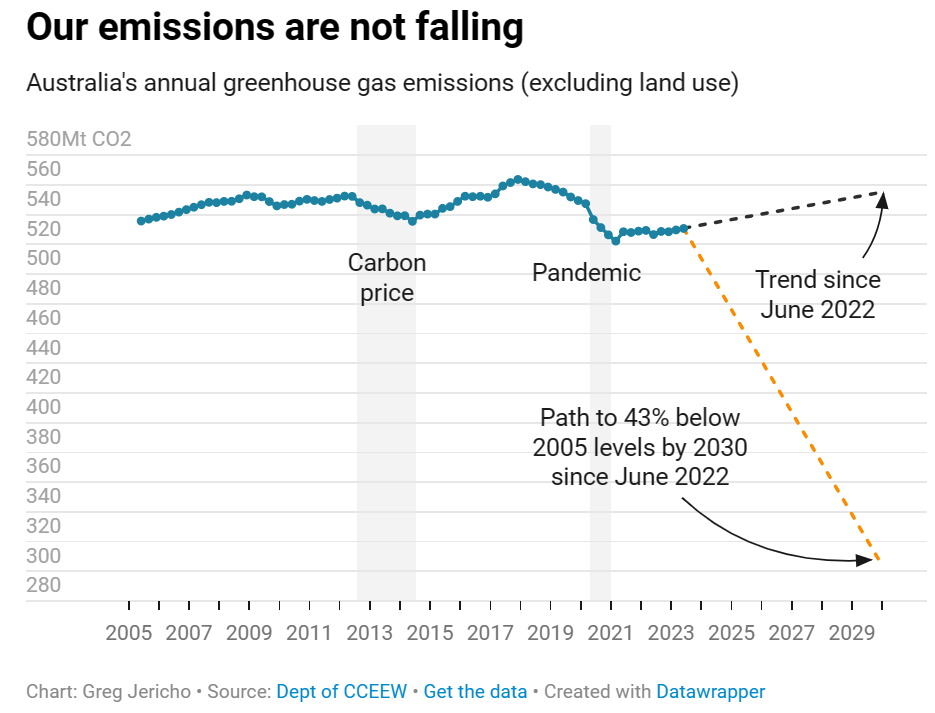 Concrete is an essential input into housing, commercial property and infrastructure construction, and accounts for around 8% of the world's carbon emissions.
Advertisement
It is said that if concrete were a nation, it would be the world's third-largest emitter behind China and the United States.
Building construction, operation, and maintenance are estimated to account for roughly one-quarter of Australia's greenhouse gas emissions.
How can Australia realistically meet its 2023 emissions reduction target, let alone 'net zero' by 2050, when its population is projected to grow by 14 million people (over 50%) in just 40 years?
Advertisement
This population increase will require around 5.5 million homes to be built (when accounting for demolitions), along with masses of commercial properties and infrastructure.
Millions of tonnes of concrete and other building resources will be required, which will send Australia's carbon emissions higher.