Data from the Australian Bureau of Statistics (ABS), published in The Australian, shows that the average mortgage is now $598,867. This is nearly $245,000 higher than in 2013: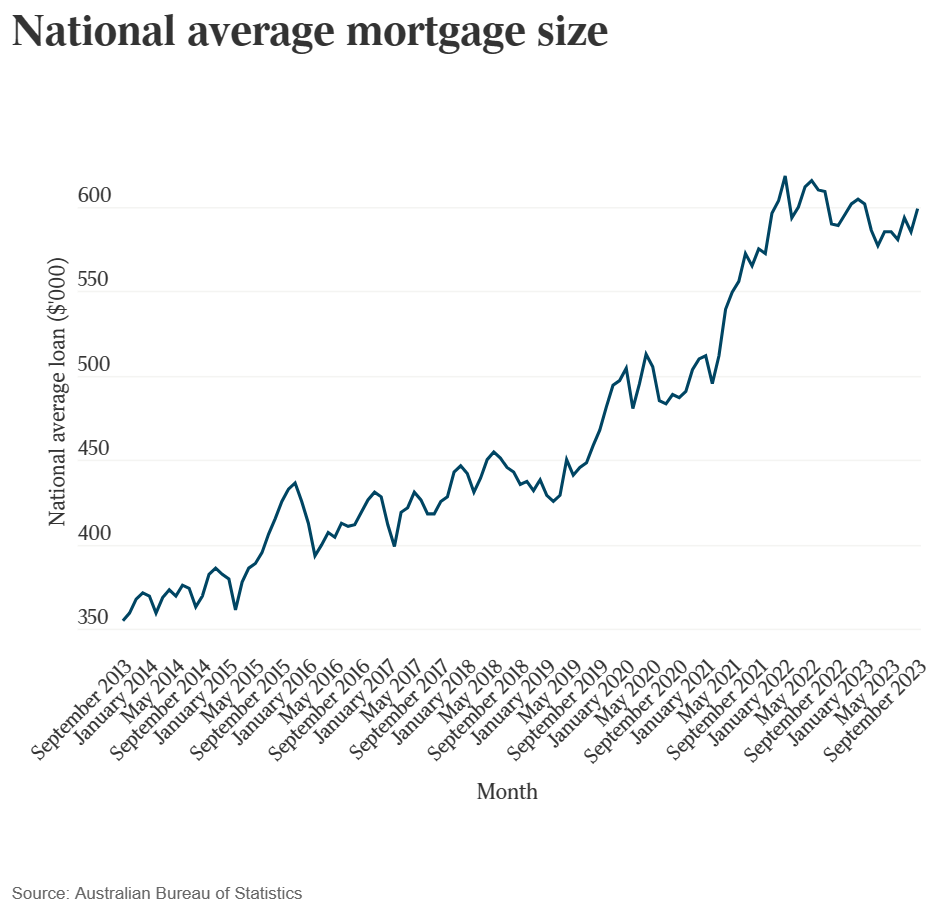 Separate data from Canstar shows that the average mortgage repayment has risen from just $2,570 a month to $4,151 since the Reserve Bank started increasing the cash rate in May 2022.
This surge in mortgage repayments has lifted the share of aggregate mortgage debt repayments to a record high share of household income:
Advertisement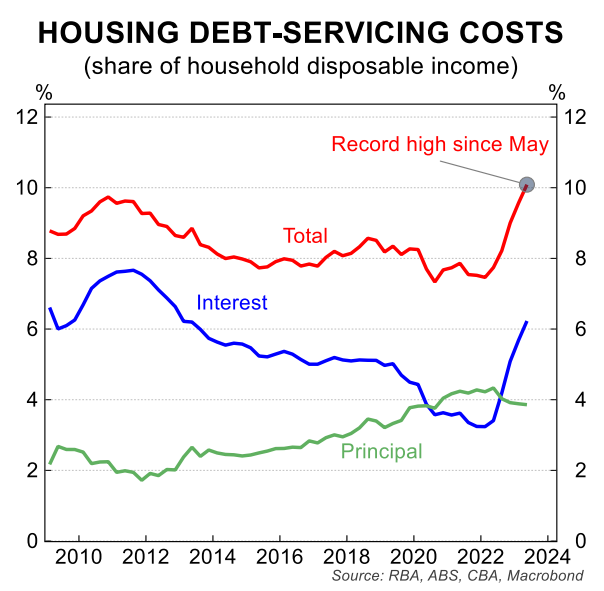 The above chart from CBA captures the situation before last week's 0.25% interest rate hike from the RBA, which will obviously push mortgage repayments higher.
ANZ Bank CEO Shayne Elliott says stricter lending regulations have made it harder to get a home loan than at any time in the last three decades.
Advertisement
Elliott contends that people must now be "better off" and "essentially rich" to get a home loan, which has big social and political consequences:
"If you want a loan you have to be better off, and essentially rich", Elliott told The Australian.
"There's big social consequences and political consequences".
Advertisement
"Is that a society we want where people can't get a home loan or get a loan to start a business?"
Elliott also warned that the housing situation will get worse as immigration demand continues to outstrip supply:
"New housing requires significant material and labour which are in short supply and competing with the climate transition".
"So the cost of construction will likely rise as these targets and higher immigration force more demand into the sector".
"Immigration is a really big driver of housing demand and from our perspectives, from one of the largest providers of home loans in the market, it's a material driver".
The next chart tells the tale. Australia's population is swelling at a record pace while actual housing construction is collapsing: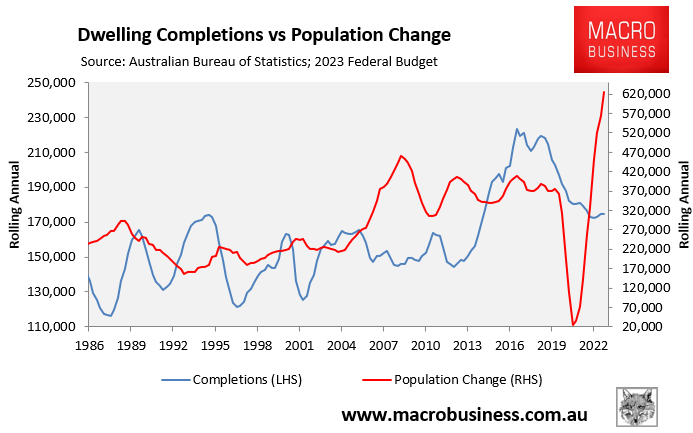 As CBA reported on Friday, Australia's housing affordability is already the worst in generations when repayments on a newly purchased home are compared against household income:
Advertisement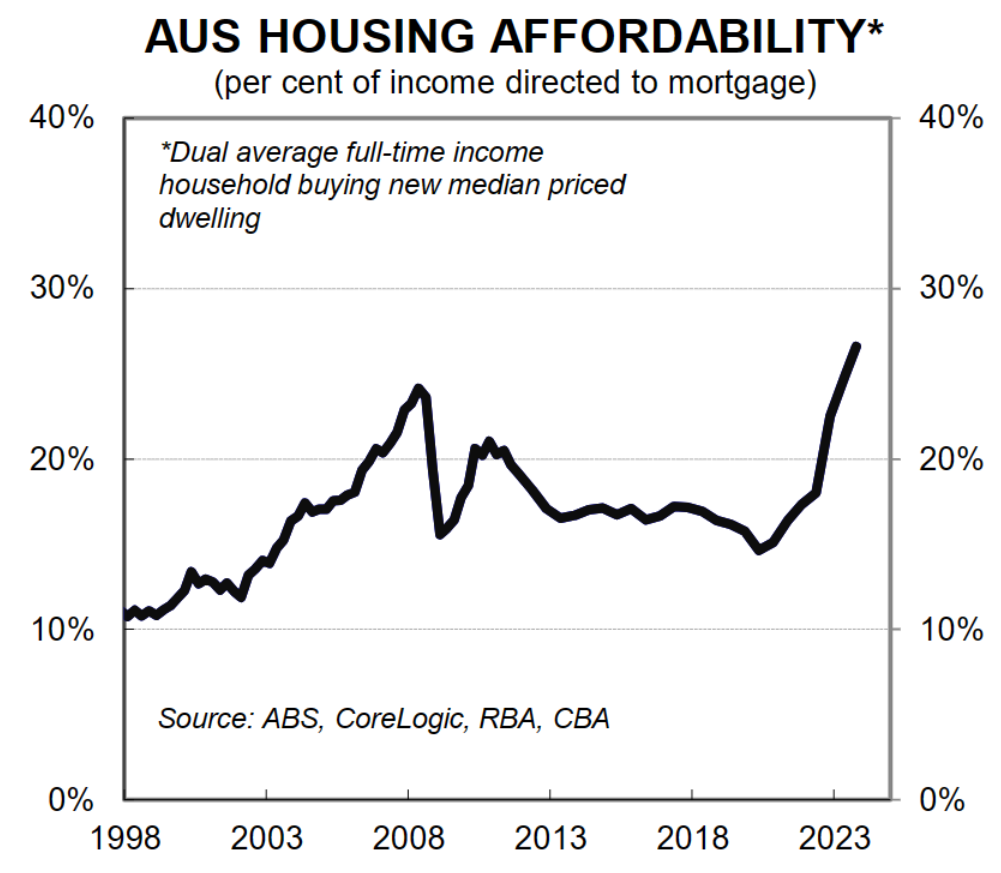 The situation will obviously worsen if Australia's population continues to grow like a science experiment via mass immigration, pushing up rents, inflation, house prices and interest rates.
It represents the death of the Australian Dream and a social and inequality disaster for the nation.
Advertisement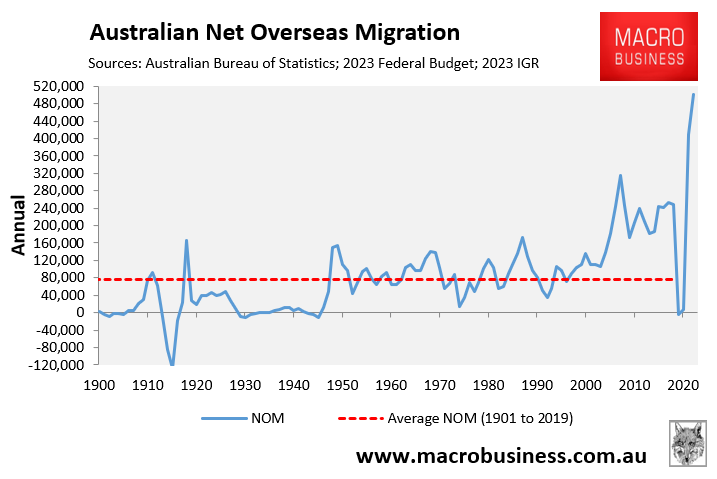 The solution rests with cutting net overseas migration from its current unprecedented level of around 500,000 per year to a level that is below nation's ability to supply homes and infrastructure.