BetaShares chief economist, David Bassanese, this week posted the below on Twitter asking why there aren't greater restrictions on foreigners purchasing Australian homes: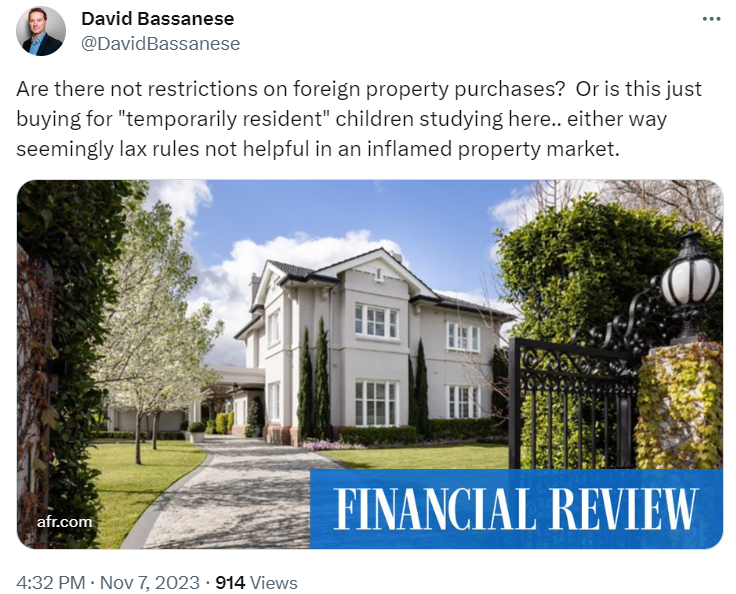 The article Bassanese refers to notes:
"Wealthy Chinese buyers are taking private jets to Melbourne to purchase mansions in Toorak – the city's most expensive suburb – on the spot, says Toorak buyer's agent Alex Bragilevsky".
"Mr Bragilevsky… says 90% of the work he now does is for Chinese buyers".
"I've facilitated $135 million of real estate deals [in Toorak] in the past six months", he told The AFR. "All these buyers were Chinese".
"The Chinese will pay over the odds for single dwellings", he said.
Advertisement
It is not just prestige homes that overseas buyers are targeting.
Recent data from the Australian Treasury, real estate professionals, Juwai IQI and PropTrack all show that foreign interest in Australian homes is surging.
NAB's latest Residential Property Survey of real estate insiders reported that the proportion of Australian homes sold to foreign buyers has increased sharply since Australia's borders was opened in late-2021:
Advertisement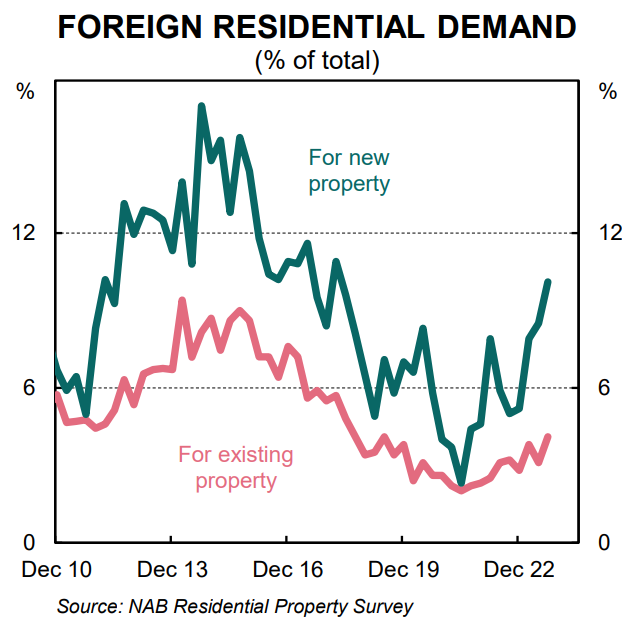 Overseas searches on realestate.com.au, reported by PropTrack, also showed that foreign buyer interest in Australian housing is at all-time highs, led by China: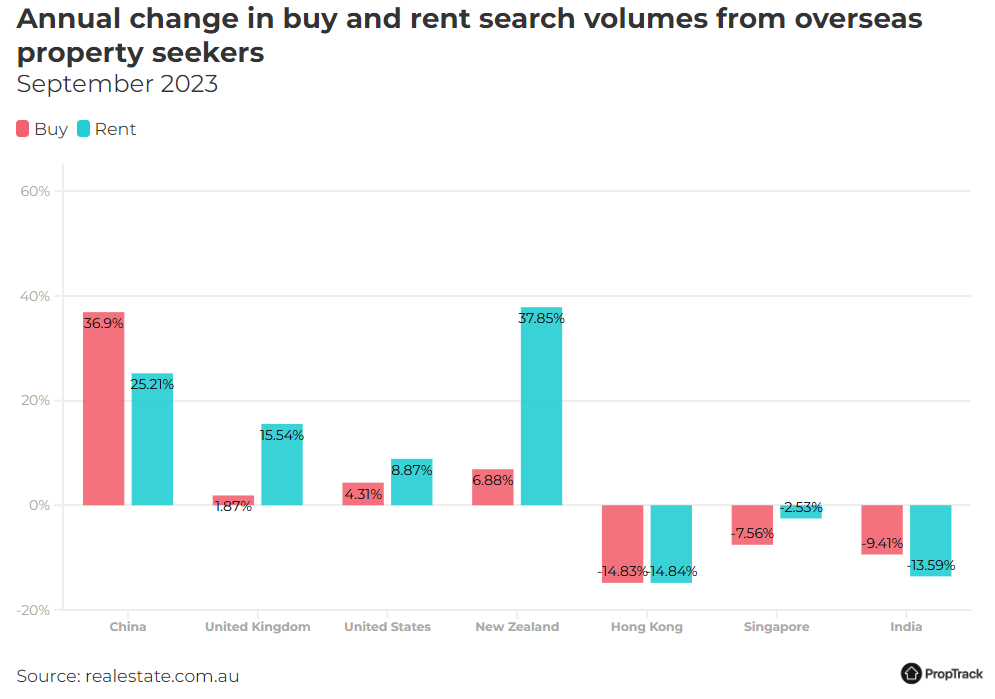 Advertisement
Both surveys follow in the footsteps of property portal Juwai IQI, which ranked Australia as the number one choice for Chinese buyers.
Chinese buyer inquiries through Juwai surged 158% in the third quarter, which was the second consecutive quarter with double-digit growth.
Juwai spokesperson David Platter said the firm had "been working with a lot of Chinese ever since the borders opened. Presumably as flights continue to increase we will see buying increase".
Advertisement
"These people are upper-middle-class and wealthy from a Chinese standpoint. They are buying townhouses, houses and large apartments at $1.5 million, $2 million, $2.5 million and up".
Meanwhile, the Australian Treasury last week reported that approvals for foreign purchases of Australian property increased by 40% in the last quarter versus the previous year, with buyers from mainland China, Hong Kong, Taiwan, and Vietnam leading the way.
Peter Li, general manager of Plus Agency, told The AFR that foreign buyer inquires have quadrupled from last year, and sales have doubled. He also expects sales to rise further.
Advertisement
"International buying will definitely increase during the next year. There is more activity in terms of flights, so it's increasingly easier to get in and out of Australia", he said.
A recent map by The Visual Capitalist on the migration patterns of the world's millionaires in 2023 forecast that Australia will experience the highest influx of millionaire migrants (+5,200), while China will suffer the greatest loss (-13,500):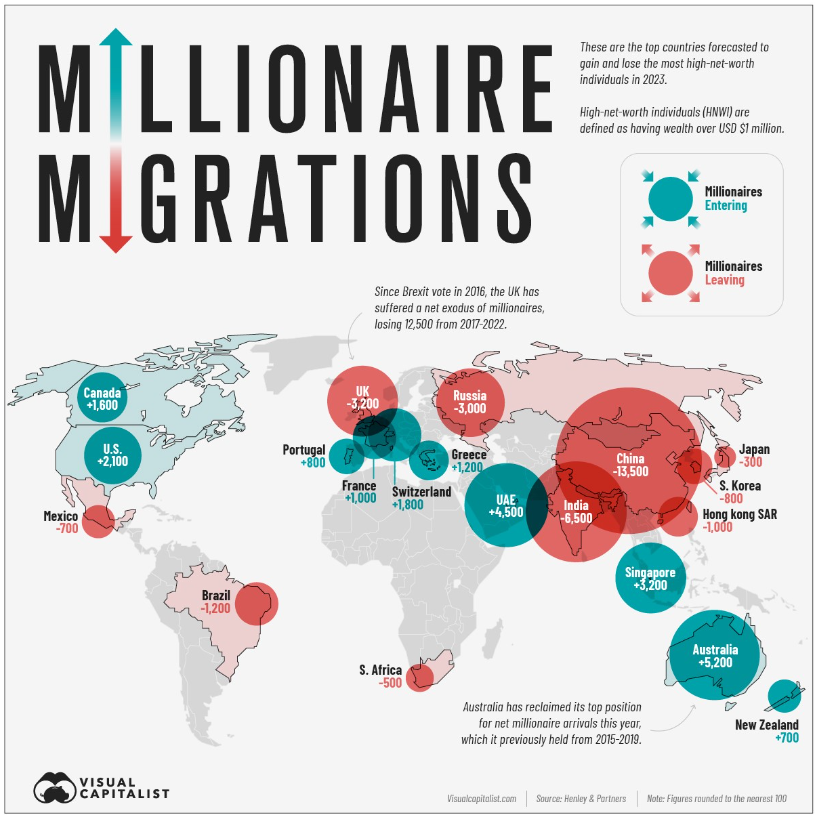 Advertisement
Many of these migrant millionaires will presumably have found their way to Australia.
Who can blame them when Australia has the weakest anti-money laundering rules in the world? We are also running the largest immigration program in the nation's history.
The natural consequence is that Australian housing has become a honeypot for foreign buyers, particularly Chinese.
Advertisement
Regrettably, Australian homes are no longer for Australians.