A survey by the Australian Retailers Association (ARA) in collaboration with Roy Morgan shows that 30% of shoppers will cut their Christmas gifting budgets in 2023, amid the cost-of-living crunch.
Some 61% of shoppers will look to maintain last year's spending, while 9% intend to spend more.
The average gifting spend is tipped to be $646 per person, down from $700 in 2022.
Toys and games will be the most sought after gifts (mentioned by 20% of respondents), followed by the classic staple of gift cards (18%), and clothing shoes and sleepwear (16%).
Advertisement
The survey also found that around 76% of Australians will purchase Christmas gifts this year, down 3% on 2022.
Meanwhile, 36% of Australians will buy their Christmas gifts online.
"Many Australians are under significant financial pressure, and their Christmas gifting behaviour will reflect this", ARA CEO Paul Zahra said.
Advertisement
The outlook for Australian retailers would be much worse if not for the Albanese government's record immigration-driven population growth.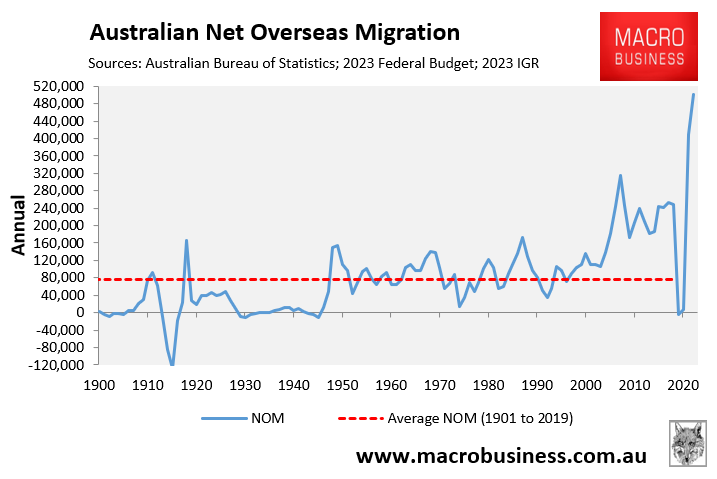 While individual resident households are pulling back hard on their retail expenditure, this is being mostly offset by record numbers of new households being added to the economy:
Advertisement
The same goes for overall consumer demand. According to the latest RBA Statement of Monetary Policy, resident Australian households have reduced their overall spending: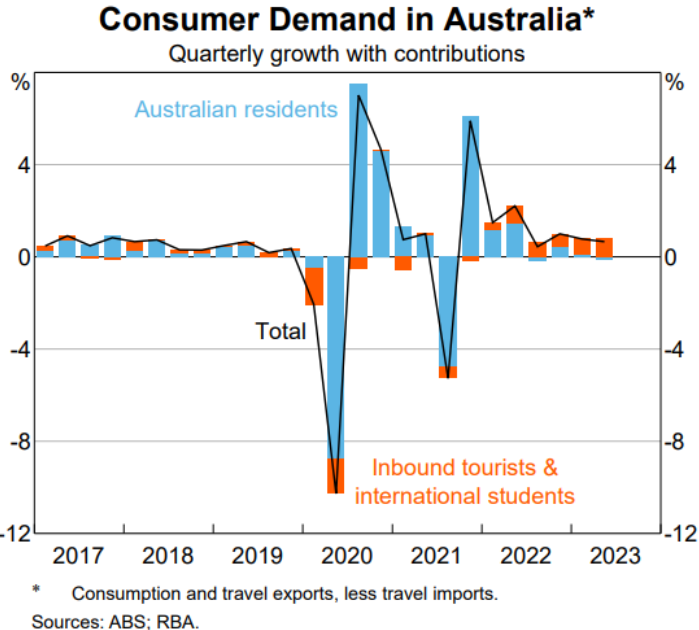 Advertisement
However, this has been more than offset by the record boom in temporary migrants (including visitors):
No wonder Australian retailers love mass immigration so much.
Advertisement
While the RBA's interest rate hikes have worked to reduce individual consumption, this is being more than offset by record levels of immigration and population growth, which have lifted aggregate demand across the economy.
The overall economic pie continues to grow via record immigration, while every Australian's slice of the pie continues to shrink.