International student visas on issue in Australia hit an all-time high 664,178 in September, which is around 110,000 higher than the pre-pandemic 2019 peak: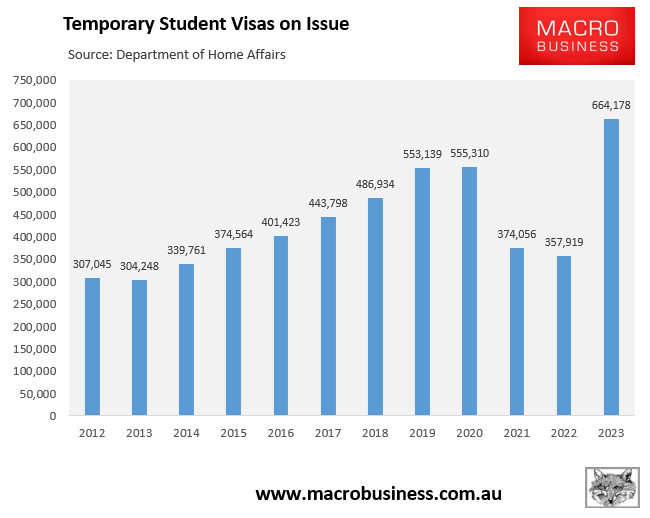 Earlier this year, the Albanese Government signed two migration pacts with India specifically designed to turbo-charge arrivals of Indian students and migrants into Australia.
Under the Mechanism for Mutual Recognition of Qualifications, "Indian qualifications will be recognised in Australia" for the purposes of study and general employment.
Advertisement
This mutual recognition of qualifications extends to secondary school, vocational, and university qualifications, many of which can be gained via India's many sham ghost colleges.
Prime Minister Anthony Albanese also signed the Australia-India Migration and Mobility Partnership Agreement, making it easier for Indian students, academics and professionals to live, study and work in Australia.
The Agreement includes the following generous provisions for Indian 'students':
Advertisement
Five-year student visas, with no caps on the numbers that can study in Australia.
Indian graduates of Australian tertiary institutions on a student visa can apply to work without visa sponsorship for up to eight years.
India is the largest and youngest nation in the world, with around two-thirds of its 1.4 billion population aged under 30.
India's unemployment rate of 10.1% in October is also around triple Australia's, while Indian youth unemployment is sky high at more than 20%.
Advertisement
Thus, there is a gigantic underclass of younger and poorer Indians that will be desperate to flee to Australia to work and live long-term, which has now been made much easier by the Albanese government.
Not to be outdone, Prime Minister Anthony Albanese signed a visa deal with China during his latest visit that will grant easier access to Chinese seeking to study, work and live in Australia long-term:
"Anthony Albanese has given the green light to a new Australia-China visa deal to make it easier for visitors and business people to travel between the countries…"
Advertisement
"New reciprocal three to five-year multi-entry visas will kickstart business travel and help bring more Chinese students and tourists to Australia".
So, this year alone, the Albanese government has signed migration deals with two nations of around 2.7 billion people combined.
In turn, Labor has locked in permanently high net overseas migration, along with permanent housing, infrastructure, and water shortages, and a degraded environment and living standards.