The latest temporary visa data from the Department of Home Affairs shows that there were a record 661,000 student visa holders residing in Australia in August 2023: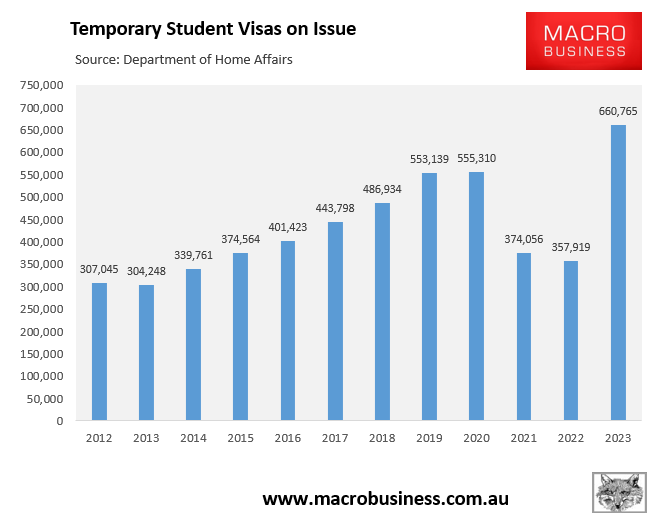 There were also a record 194,000 graduate visa holder residing in Australia in August: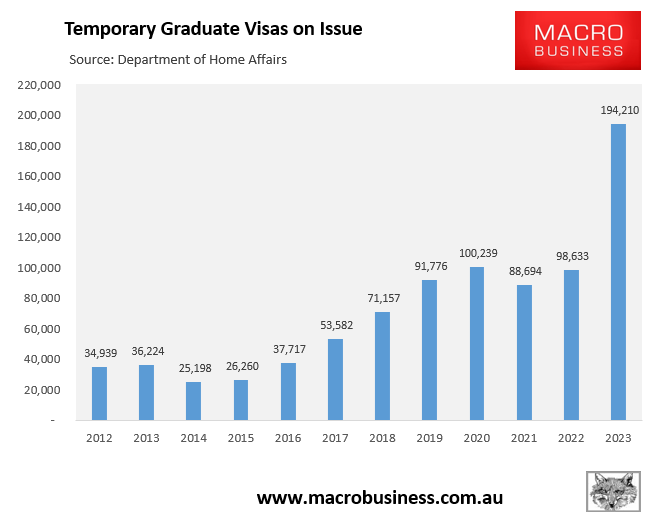 Advertisement
These extraordinary visa numbers mean that around one in 30 people in Australia in August were on either one of these visas.
This partly helps to explain Australia's current rental crisis and why the vacancy rate across the combined capital cities has plummeted to a record low 1%:
Advertisement
Anyone hoping to see international student numbers fall to sensible and sustainable levels would be disappointed to IDP's latest Emerging Futures 4 survey, which lists Australia as the world's preferred study destination owing to its generous work rights for international students:
"Australia has experienced a two per cent increase in students selecting it as their first-choice destination, putting it on par with Canada, which saw a two per cent decline since the previous Emerging Futures survey in March 2023".
"Australia saw increases in perceptions of several important factors, including 'graduate employment opportunities' and 'post-study work policies'".
Australia offers the most generous work rights to international students in the world. It has also become even more generous via changes implemented by the Albanese Government, as explained by the Grattan Institute:
"Recent changes have made Australia's post-study work rights more generous. Since 1 July 2023, the duration of post-study work rights has been extended by two years for Bachelor and Masters degrees that are in areas the government has identified as in shortage".
Advertisement
"Standard work rights have also been extended for all PhD students (from four years to six years). In 2021, post-study work rights were extended for Masters-by-coursework students (from two years to three years), and for the Graduate Work stream (temporary extension from 18 months to two years)".
"Australia's post-study work rights are now clearly more generous than other countries (Table 1.2)":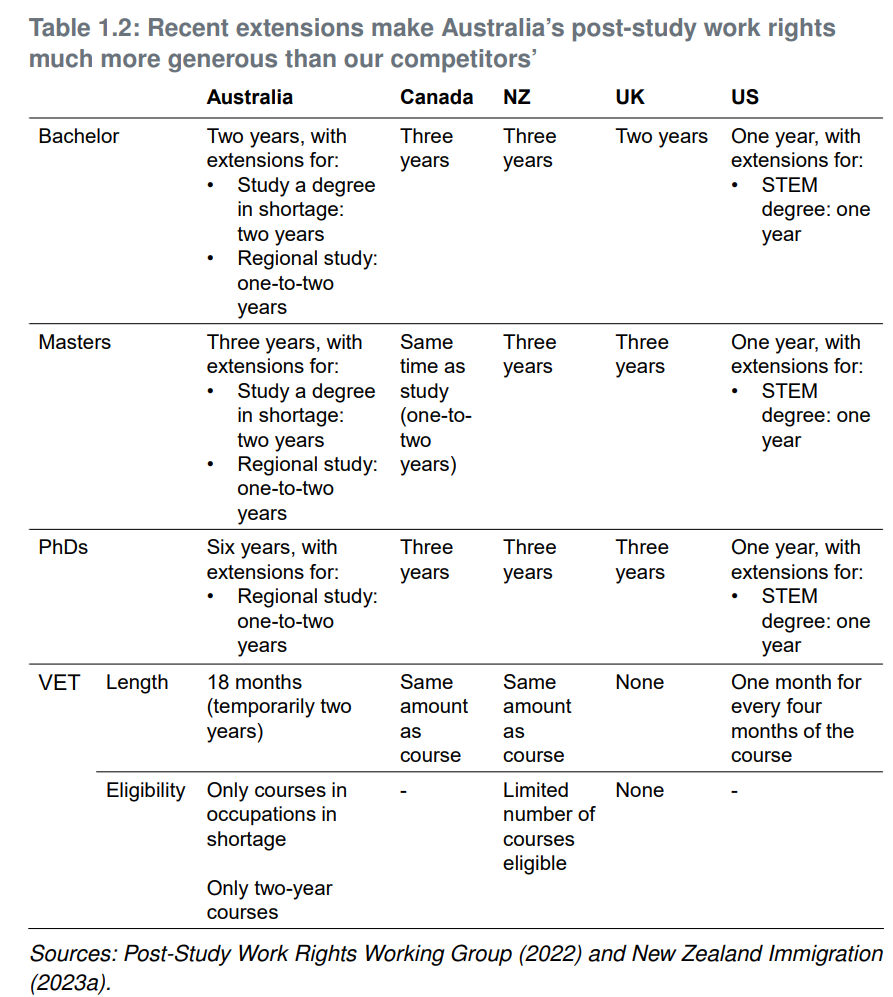 It is commonly known that many students from poorer nations like India and Nepal choose Australia over other destinations because it offers greater pathways for employment and residency.
In turn, Department of Education data shows that the recent boom in student visa holders has been driven by these nations:
Advertisement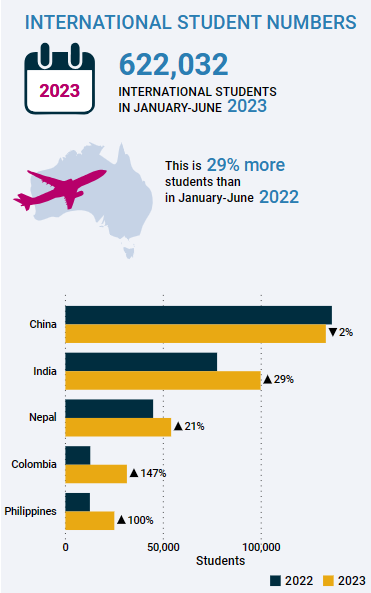 Therefore, the news that Australia is now the preferred study destination of international students, owing to its generous work rights, suggests that student visa numbers and Australia's net overseas migration will continue to swell.
The Albanese Government also this year signed two migration pacts with India that, among other things, grants:
Advertisement
Five year student visas for Indians, with no caps on the numbers that can study in Australia.
Indian graduates of Australian tertiary institutions on a student visa can apply to work without visa sponsorship for up to eight years.
Australia will recognise Indian vocational and university graduates to be "holding the comparable AQF qualification" for the purposes of admission to higher education and general employment.
These migration pacts will further increase the flow of Indians seeking to work and live in Australia long-term.
It is a disaster for Australia's rental market and infrastructure, which will be swamped under an endless migrant deluge.
Advertisement