On Friday, AMP chief economist Shane Oliver posted the below chart on Twitter showing the marked deterioration of Australia's rental market.
Vacancy rates have fallen to a record low and rental prices are soaring at a near double-digit rate nationally:
The latest ANZ CoreLogic Housing Affordability report shows the proportion of household income required to rent the median dwelling rose to 31.4% nationally in the June quarter from 30.8% in March:
Advertisement
The news is no better for those seeking to purchase their first home.
CoreLogic data shows that house prices have risen by 4.9% nationwide and 8.8% across Sydney since the market bottomed out in February. In turn, the length of time required to save a 20% deposit on the median priced home has risen to 12.3 years across Sydney, up from 11.8 years in the March quarter.
Advertisement
CoreLogic also shows that a 20% deposit on the median priced home now equates to 148% of median household income, compared with a historic five-year average of 136%:
The proportion of household income required to service a mortgage has also risen in recent months to 45.5% nationally and 56.7% across Sydney: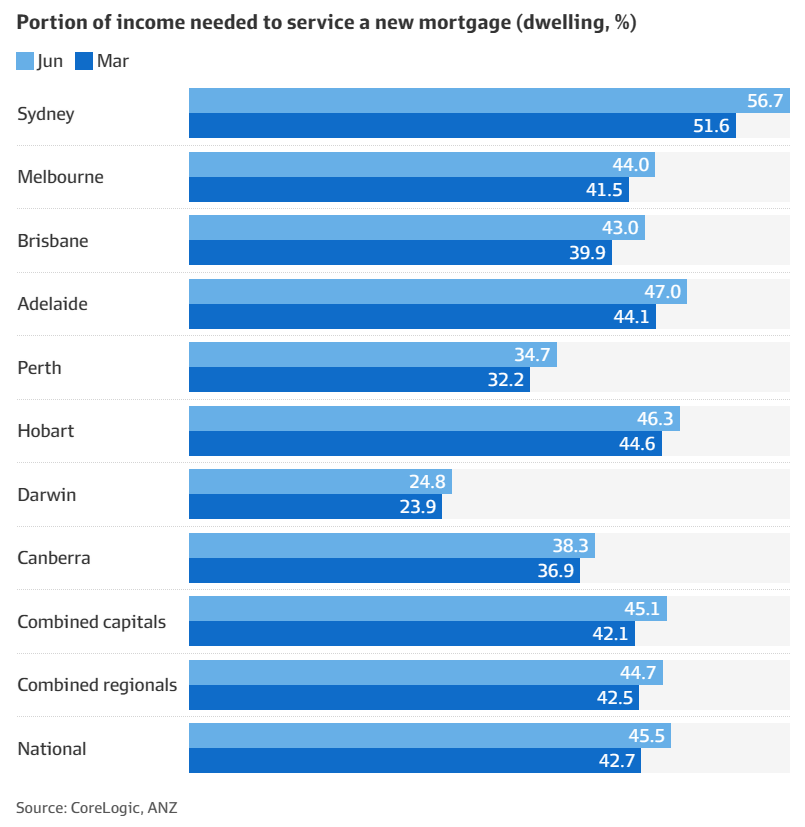 Advertisement
Commenting on the results, CoreLogic head of research, Eliza Owen, said "this is one of the most challenging times for first-home buyers that we've seen in the data historically".
"Property prices are expected to keep rising as interest rates stay on hold, and they could increase faster once interest rates start coming down next year, which means first home buyers would need to save a bigger deposit, which would take a lot longer".
"This speaks further to the idea that the median household can't afford an average dwelling unless they're getting a serious windfall from mum and dad that helps them with a larger deposit".
"If you don't have financial support from your family, it's increasingly likely that you miss out on ownership and that's where we see issues of inequality exacerbated through these trends", she said.
The recent deterioration in housing affordability has been driven by the federal government's mass immigration program, which sent net overseas migration to an all-time high 454,300 in the year to March, driving the overall population up by 563,200:
Advertisement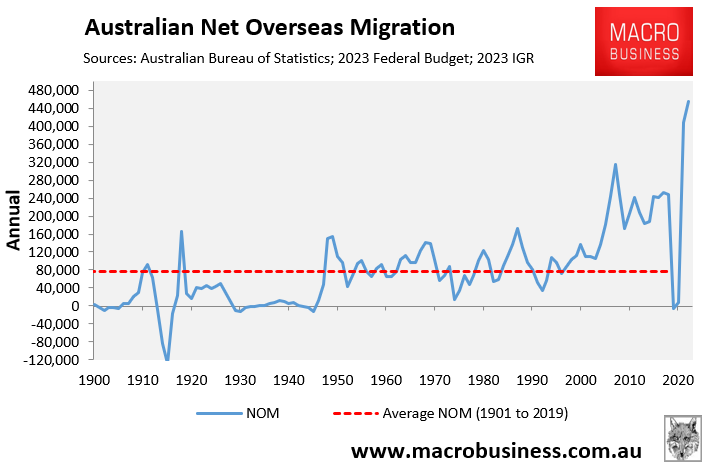 The Albanese Government has deliberately chosen to engineer a housing shortage, which is hitting younger and poorer households the hardest.
It's a wonder younger Australians aren't rioting in the streets.
Advertisement