Big Four bank ASB has delivered a stinging assessment of the New Zealand economy warning that the Reserve Bank's aggressive 5.25% of interest rate hikes has pushed the economy deeper into recession:
"The Q2 NZ Retail Trade Survey left little doubt that Kiwi households are rapidly clamping their wallets shut".
"Total retail volumes fell for the third consecutive quarter and are down 3.5% on year-ago levels. Core volumes (which exclude vehicles and fuel sales) contracted 5.1% on year-ago levels".
"Consumers are cutting back on discretionary spending – otherwise known as the nice-to-haves".
"The fact that consumers are cutting back is not surprising and we've been warning for some time that 2023 would be a challenging year for consumers and by extension the retail sector".
"However, we have been slightly surprised by the extent of the pullback so far in 2023. The retail data also reinforce our suspicions that the New Zealand economy remained in recession in Q2 2023".
"At best, we see quarterly economic activity flitting between small positives and negatives over the remainder of 2023".
"In per capita terms the economic downturn will be much more pronounced".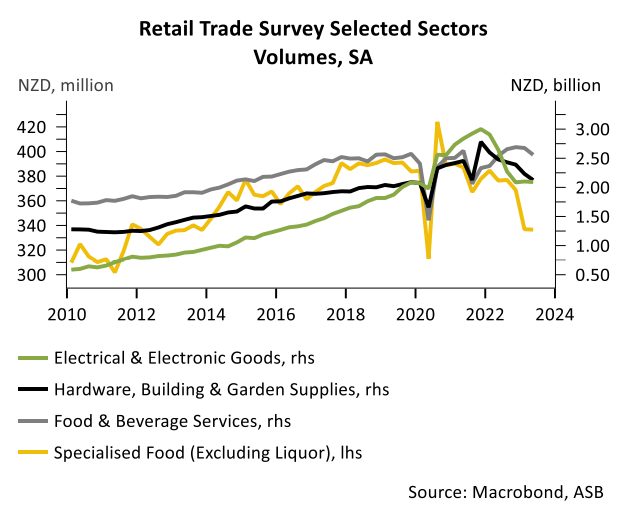 The latest ANZ-Roy Morgan consumer confidence survey, released today, also shows that the "good time to buy a major household item" sub-indices has collapsed, which traditionally correlates to lower retail sales: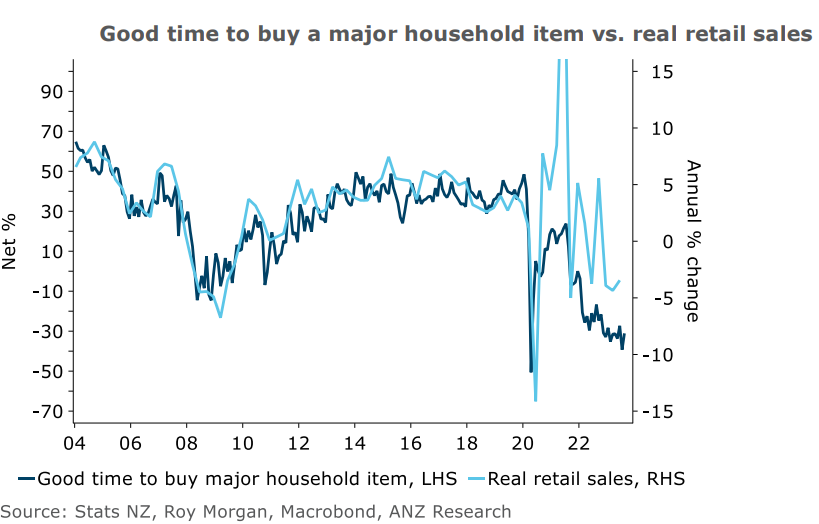 Advertisement
"Consumers remain wary, with overall confidence stuck in a moribund 10-point band for the past 18 months", ANZ noted.
While the Reserve Bank has kept the official cash rate on hold since June, average mortgage rates continue to rise as borrowers roll off fixed rates onto higher variable rates: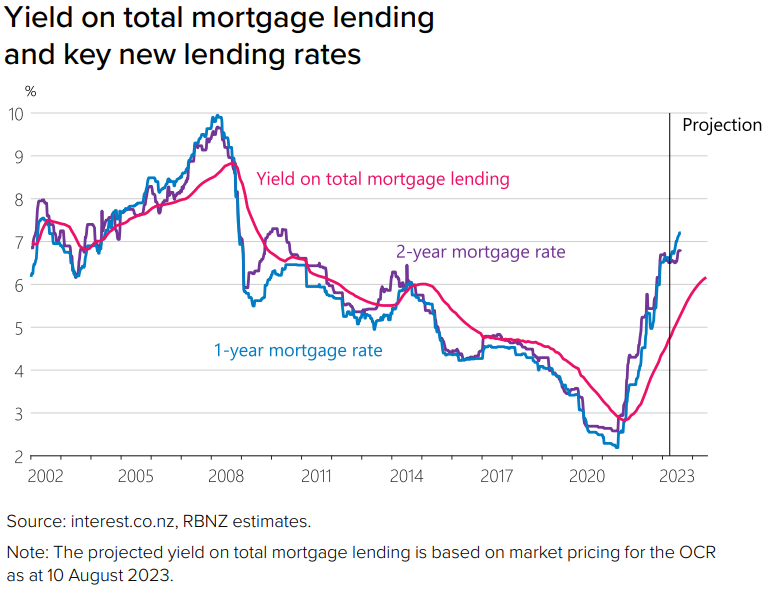 Advertisement
This suggests that consumer spending will remain soft for the foreseeable future.
The only thing preventing New Zealand from plunging into a deep "technical" recession is the strong rebound in net overseas migration.
New Zealand's population increased by 2.1% in the year to June 2023, which has supported aggregate GDP growth.
Advertisement
However, Kiwi households are facing a multi-year per capita recession, alongside declining living standards.