According to Statistics NZ, the New Zealand economy grew 0.9% in the June quarter, beating economists' expectations and moving the country out of recession.
Moreover, thanks to revisions to the March quarter result, the economy was never in a 'technical recession' – defined as two consecutive quarters of negative GDP growth.
March quarter GDP was revised up 0.1%, bringing the total to 0.0%, or flat.
GDP declined 0.7% in the final three months of 2022, was dead flat in the March quarter, and grew by 0.9% in the June quarter. This meant there was no technical recession after all:
Advertisement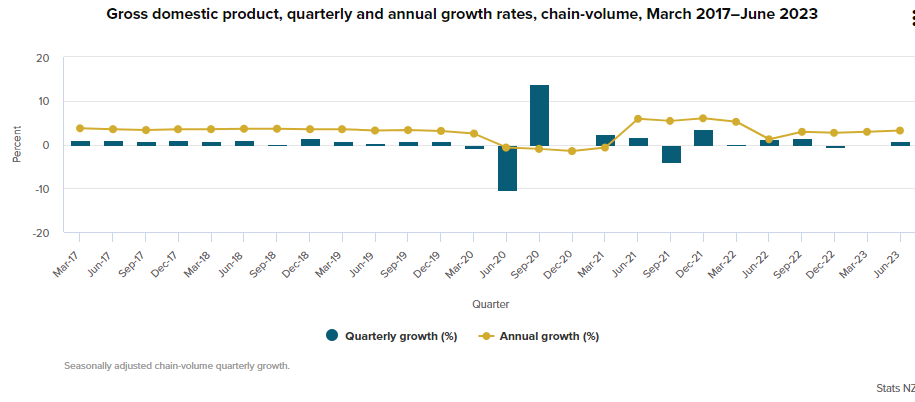 "Technical recession or not, there is absolutely no doubting that economic conditions are tough for many", Doug Steel, a BNZ economist, said in a note.
He is right. New Zealand's GDP has been driven by record levels of immigration-driven population growth:
Advertisement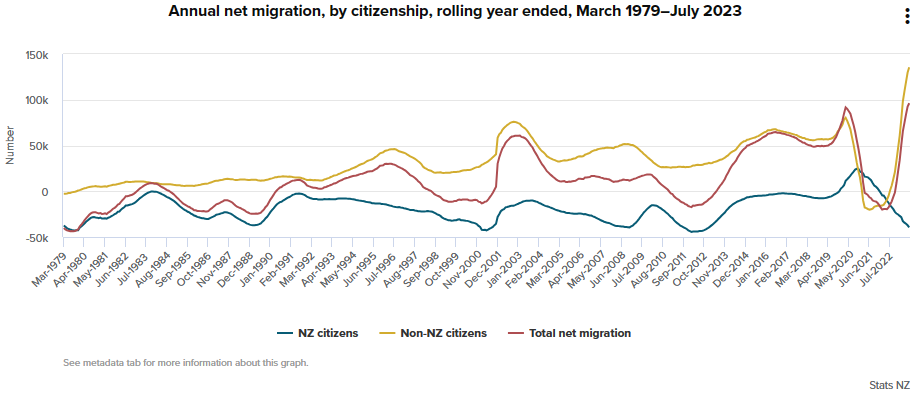 Despite the rebound in GDP over the June quarter, per capita growth remains sickly.
The next chart shows that New Zealand's real per capita GDP fell by -0.9% and -0.7% over the December and March quarters, before recovering slightly by 0.2% in the June quarter:
Advertisement
To add insult to injury, New Zealand's per capita real gross national disposable income (NDI), a better gauge of living standards, fell by 2.0% and 0.2% respectively over the December and March quarters, before rebounding by 0.1% in the June quarter: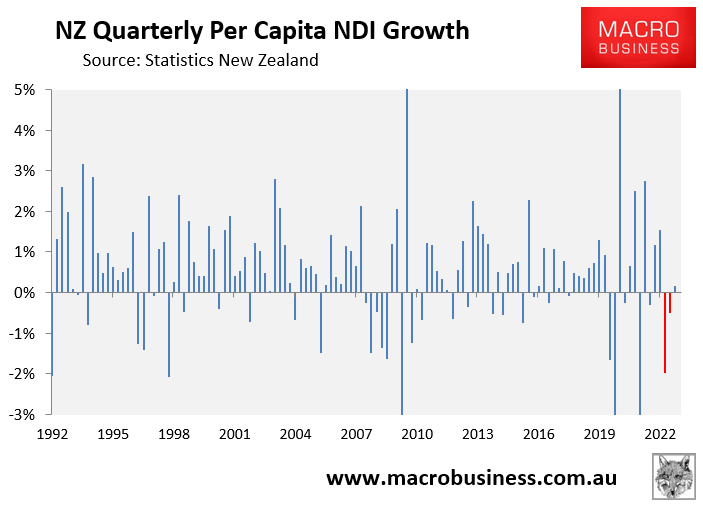 Advertisement
The above explains why it feels like a recession for New Zealanders, ever though the overall economy has grown.
The driver of the slowdown has obviously been driven by the Reserve Bank's aggressive monetary tightening, which has driven the official cash rate up by 5.25% since late 2021.
The prognosis for New Zealanders is also bleak.
Advertisement
The Reserve Bank forecasts that negative GDP growth will resume in the current quarter, with the economy expected to contract -0.3% in the September quarter and another -0.1% in the December quarter.
As a result, the economy is expected to enter a 'technical' recession in the second half of this year.
Given that New Zealand's population is rapidly growing and both political parties have pledged strong immigration policies ahead of next month's election, the per capita recession will likely run into 2024.
New Zealand, like Australia and Canada, has decided to grow its economy via lazy population expansion rather than improving productivity and living standards.
Advertisement