The Real Estate Institute of New Zealand (REINZ) has reported a second consecutive monthly rebound in New Zealand house prices.
The REINZ House Price Index, which adjusts for differences in the mix of properties sold each month, recorded a national increase of 0.9% in August. This followed a 0.7% increase in July, with the index now up 2.1% over the quarter:

In response, a bunch of economists and housing market analysts are now predicting a solid rebound in home values.
Advertisement
Among the major banks, Westpac is forecasting price rises of 8% in 2024, whereas Kiwibank economists are tipping a 6% rise in values.
ANZ economist Andre Castaing and senior economist Miles Workman said the housing market "has now convincingly turned a corner and has returned to its usual upwards trend".
ASB economist Nat Keall said the bank expects "house prices to continue ticking higher from here, but don't expect house prices to claw back sufficient ground to reach their previous peak until early-to-mid-2025".
Advertisement
The rebound is being driven by a worsening demand/supply imbalance.
Statistics New Zealand this week reported that net overseas migration has surged to record highs, with 92,600 net migrants landing in New Zealand in the year to July, driving by 135,600 non-New Zealand citizens: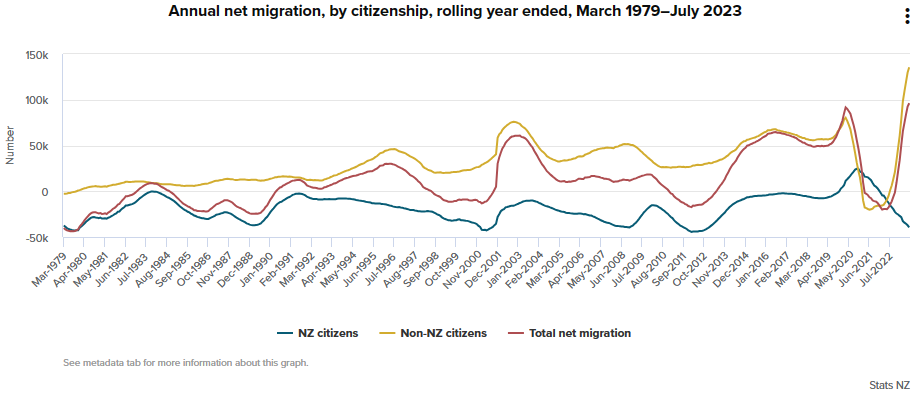 Advertisement
The demand/supply imbalance will only worsen from here, according to Kiwibank chief economist, Jarrod Kerr:
"The residential construction boom is cooling quickly. The number of dwellings coming to market will fall back from very high levels. The growth in demand, with a migration boom, will once again outstrip supply in coming years".
Therefore, after a record 5.25% increase in the official cash rate by the Reserve Bank, house prices are rebounding on the back of unprecedented levels of immigration, which has collided with falling housing construction.