New Zealand's March quarter national accounts were released on 15 June and report that GDP fell by 0.1% in the March quarter, following a 0.7% drop in the previous quarter.
As a result, New Zealand saw two quarters of "negative growth", putting the country in a "technical recession".
Per capita outcomes were much worse.
Real GDP per capita declined 1.1% in December and 0.7% in March due to New Zealand's high population growth (see red bars in chart below):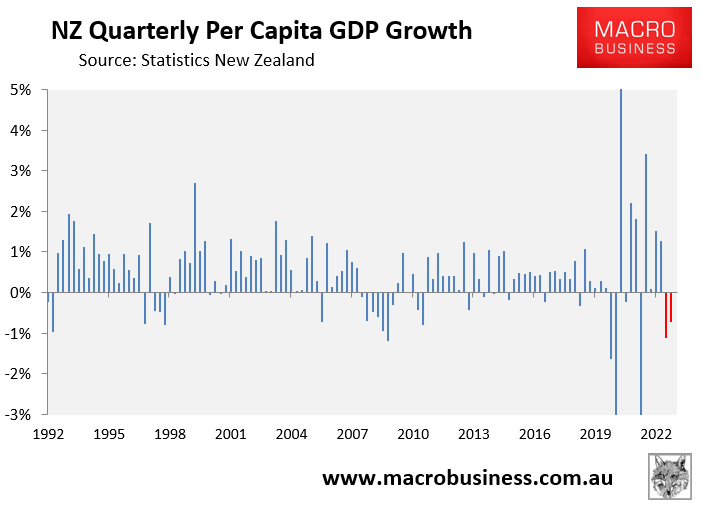 Advertisement
To make matters worse, New Zealand's per capita real gross national disposable income (NDI), a better gauge of living standards, fell 2.2% and 0.9% in the December and March quarters, respectively.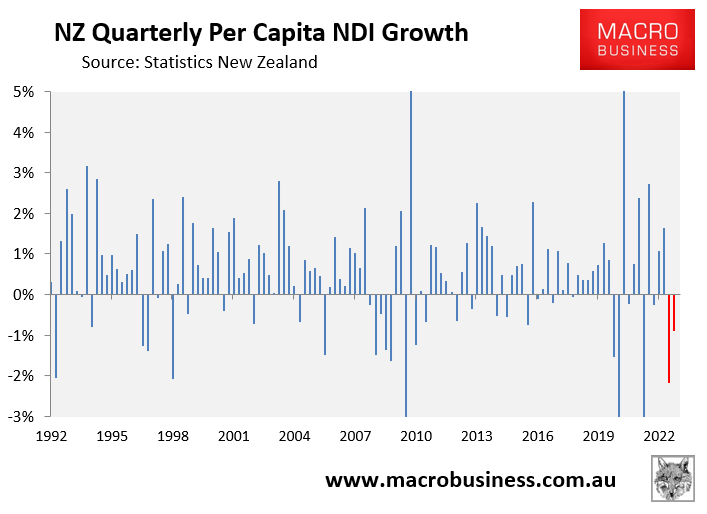 This week, Statistics New Zealand will release the June quarter national accounts. Economists forecast that the economy will exit recession, with growth in the range of 0.4% to as much as 0.8% tipped for the second quarter.
Advertisement
For its part, the Reserve Bank is picking that GDP will have grown 0.5% in the June quarter.
The problem is, New Zealand's population grew by 0.6% in the June quarter, driven by record net overseas migration: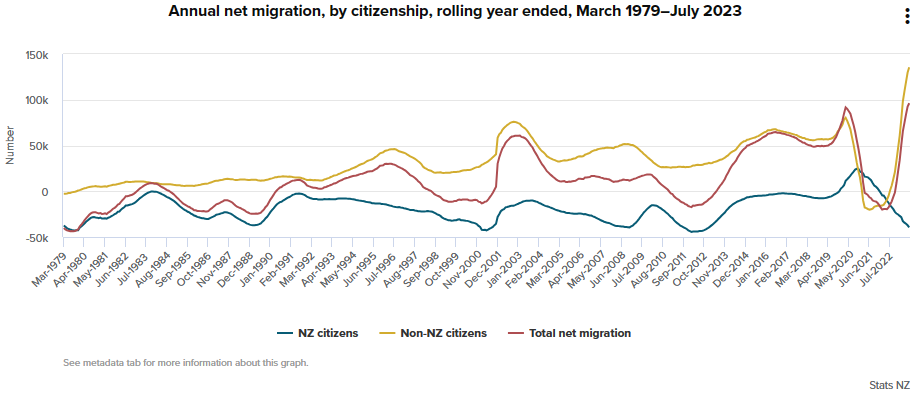 Advertisement
This means that the per capita recession will very likely roll on.
"A weak underbelly is expected to be particularly evident in the per capita data, which is expected to post another quarterly contraction (-0.2% quarter-on- quarter) as population growth of 0.6% q/q outpaces headline activity", ANZ senior economist Miles Workman, who is picking 0.4% GDP growth for the June quarter, said.
"In annual growth terms, the widening gap between headline and per capita growth shows New Zealand is back to its pre-pandemic trick of population growth bolstering growth in headline GDP".
Advertisement
The outlook for New Zealanders remains poor, too.
The Reserve Bank predicts that negative GDP growth will resume in the current quarter, with the economy contracting -0.3% in the September quarter and another -0.1% in the December 2023 quarter.
Thus, the economy is forecast to enter another 'technical' recession in the second half of this year.
Given New Zealand's population is expanding at a rapid pace and both sides of politics have committed to high immigration policies, this also means the per capita recession will roll on into 2024.
Much like Australia and Canada, New Zealand has chosen to grow its economy through lazy population growth rather than improving productivity and living standards.
Advertisement