On Friday evening I was interviewed by Sky News' Erin Molan to discuss Australia's population growth, as estimated in Wednesday's national accounts, which saw the nation expand by an estimated 620,000 people over the 2022-23 financial year:
This record 2.8% expansion in the 15-plus population is placing great strain on the nation's rental market and infrastructure, as well as contributing to the recent lift in the unemployment rate.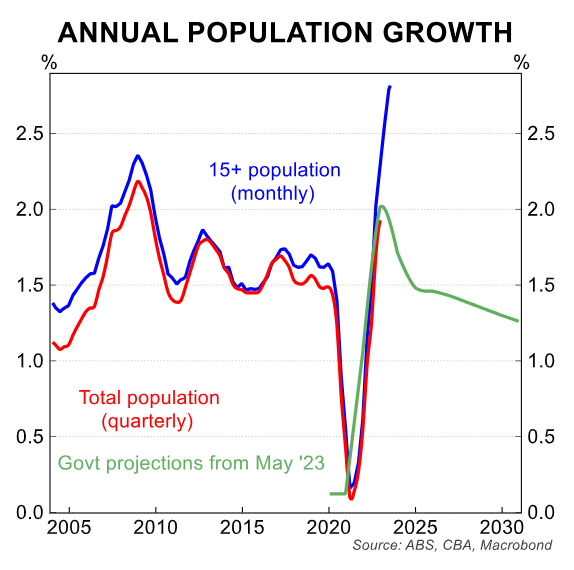 Advertisement
In the interview, Erin Molan asked me to explain what was behind the population surge and why we are running a record immigration program in the midst of a serious housing crisis?
Below are the highlights (video at the bottom).
---
Erin Molan:
Advertisement
Australia's population has grown by over 600 000 people in the past financial year. That's the highest number in history and a hundred thousand more than what the May federal budget projected.
Joining me now is MacroBusiness Chief Economist Leith van onselen. Leith, what is driving this surge?
Leith van Onselen:
Yes Erin, it's across the board increasing immigration, across all the visa categories. But the main contributor has actually been overseas students.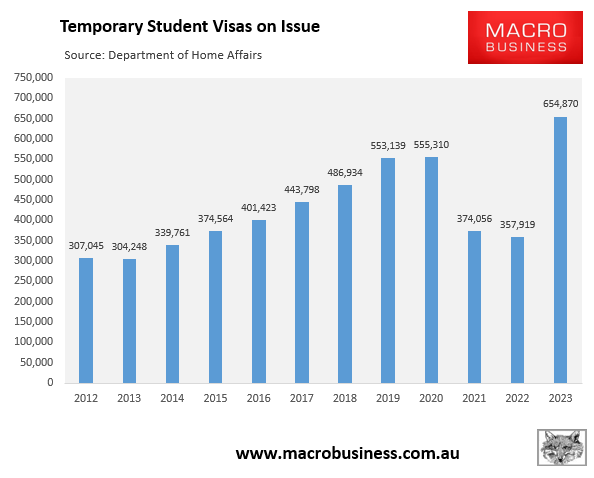 So the the number of overseas students and also people on graduate visas in Australia has increased by just over three hundred thousand in the last financial year. So that's that's effectively what has driven this migration surge.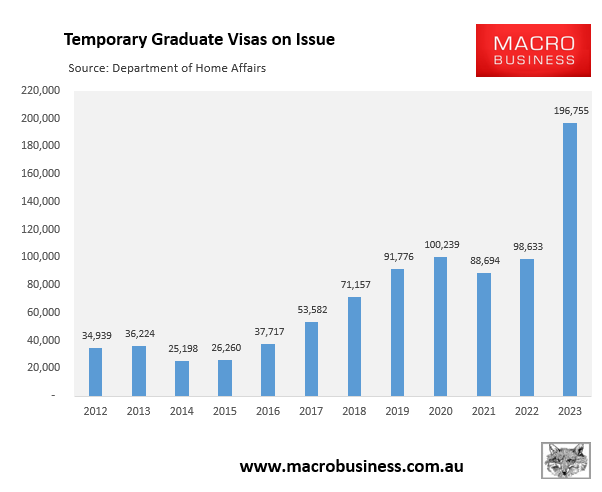 There's now about 850 000 people in Australia currently either on a graduate visa or on a student visa. And that basically means that one in 30 people in Australia right now is either is on one of those visas. So, it's an extraordinary number.
Erin Molan:
When we are in the midst of a rental crisis, Australians are struggling to find a home, why are we taking in so many more people?
Leith van Onselen:
Well it's a good question. It's probably one better targeted at the federal government.
Look, we've obviously got record low vacancy rates at the moment. We've got rents rising at a double-digit pace across the capital cities. We've got more people being forced into group housing. We've got more Australians becoming homeless. 
Sadly, the Albanese government is adding to the problem every single day by running the biggest migration program in this nation's history. And the worrying thing is this isn't going to change.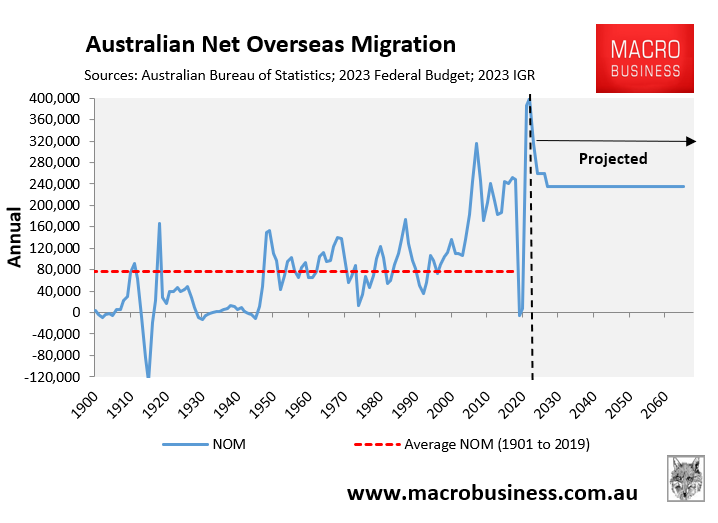 Last month's Intergenerational Report said that Australia's population is going to grow by 14.2 million people over the next 40 years. Now just to put that into perspective, that's like adding a Sydney, Melbourne, Brisbane and Adelaide to Australia's current population in just 40 years.
Advertisement
Now all that's going to do is guarantee that Australia has permanent housing shortages for basically the next 40 years. We're going to keep having the same problem.
Erin Molan:
How does the [immigration] number compare to, say, what the former government we're doing?
Leith van Onselen:
It's way higher. Last year we brought in nearly 400 000 migrants. That was the 2022 calendar year. We're going to easily exceed that this year based on these figures in the national accounts.
The former government's biggest year was about 260 000, I think, in 2017. So this is way bigger than what the former government did. This is unprecedented. We've never seen population numbers like these.
---
The interview also discusses outgoing RBA governor Phil Lowe's final speech alongside the outlook for Australian interest rates.
Subscribe to my YouTube channel to view my various media interviews.