Australia is experiencing the biggest surge in international student arrivals on record, as illustrated in the next chart: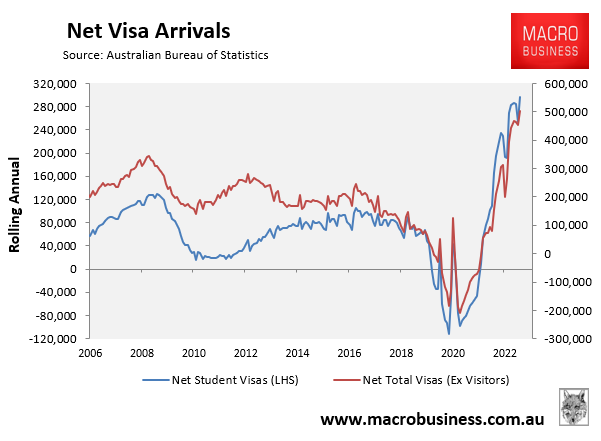 According to the ABS' monthly visa arrivals data, a record 297,000 net international students landed in Australia in the year to July, which is the primary driver of Australia's record immigration numbers.
The impact on Australia's rental market has been obvious with rents soaring across Australia.
Advertisement
In turn, the number of Australians experiencing rental stress has surged, as shown below by Digital Finance Analytics: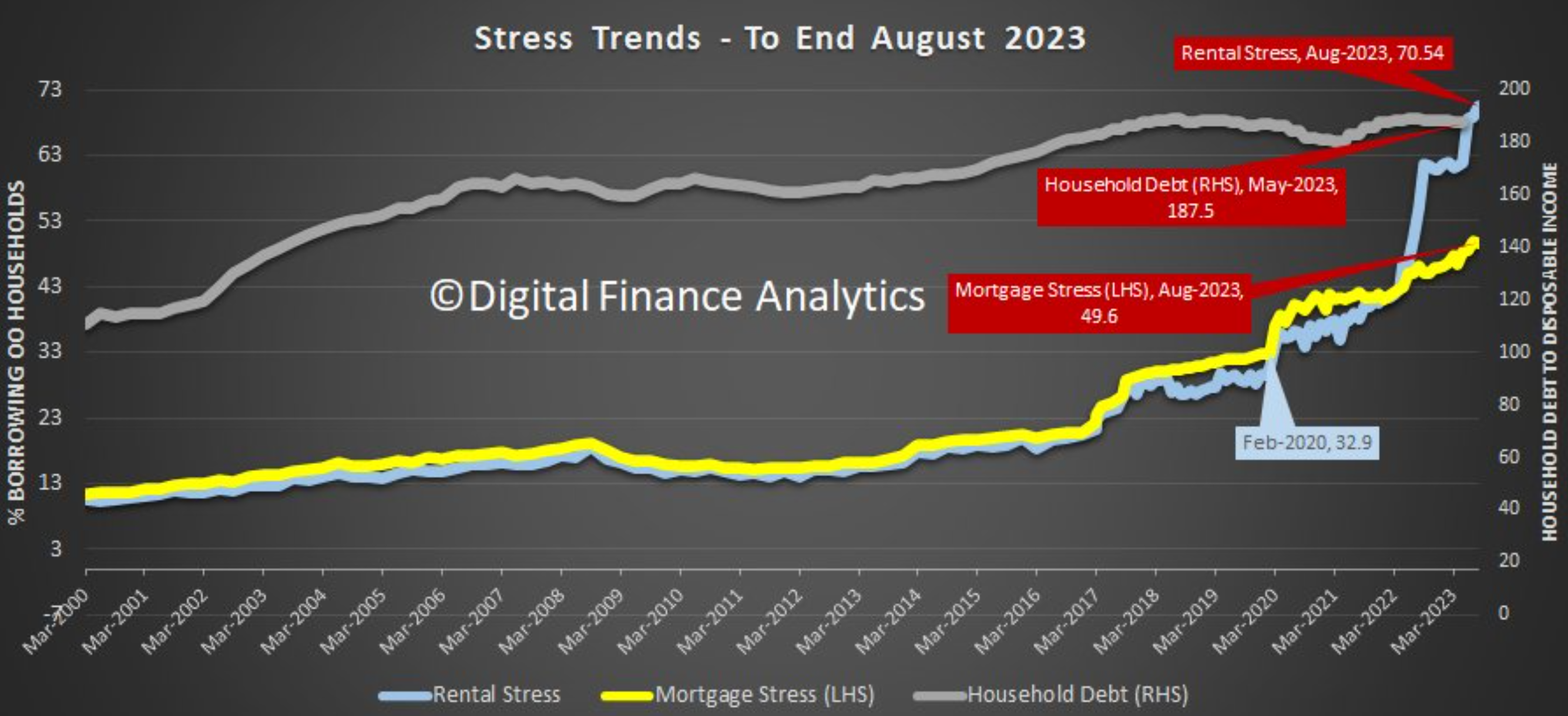 According to National Shelter, there has been a 50% increase in homelessness since 2020 and a 103% increase in people living in "improvised homes" and "rough sleeping":
Advertisement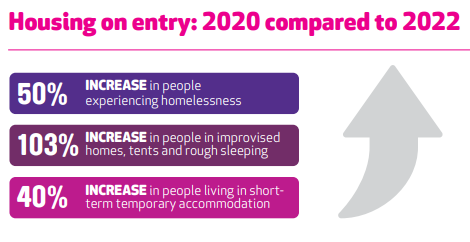 The Institute of Public Affairs (IPA) Deputy Executive Director, Daniel Wild, has broken down the population growth by international students, the net migration, and natural population increase to delineate the effects on the rental market.
IPA found that the net intake of international students took up approximately 70% of new housing supply that came onto the market in that financial year across the nation on average. This drove up rents by $1,040 over the year on average.
Moreover, from 2025 to 2028, the IPA expects that international students will take up approximately one quarter of Australia's net new housing supply.
Advertisement
Rents increased by 4.4% on average in the 2023 financial year, according to IPA. The demand pressures from the international student intake accounted for about 80% of the average rent rise nationwide.
That is, rents would have grown by only 0.88% if international students had not been present.
A 4.4% rise in rent equates to an increase of approximately $24 per week, of which approximately $20 per week is due to demand pressures from international student intake.
Advertisement
"Australia's intake of international students is well above comparable countries, and on a per capita basis, it is well over double the United Kingdom and approximately eight times that of the United States", Daniel Wild said.
"While international students may provide benefits to the bottom line of universities, the question needs to be asked as to how this is improving the experience of Australian students and the wider community".
"While universities do provide some accommodation for students, the majority of students are in the private rental market, which is driving up costs for Australians. Universities must do significantly more to house those they entice here", he said.
IPA also warns that there has been no planning for the schools, the roads, the hospitals and the houses that would be needed to accommodate the planned 1.5 million migration surge over five years, as laid out in the federal budget.
Advertisement
While the IPA's conclusions are spot on, their claimed 4.4% rise in rents is way undercooked, with rents growing by at least double that amount: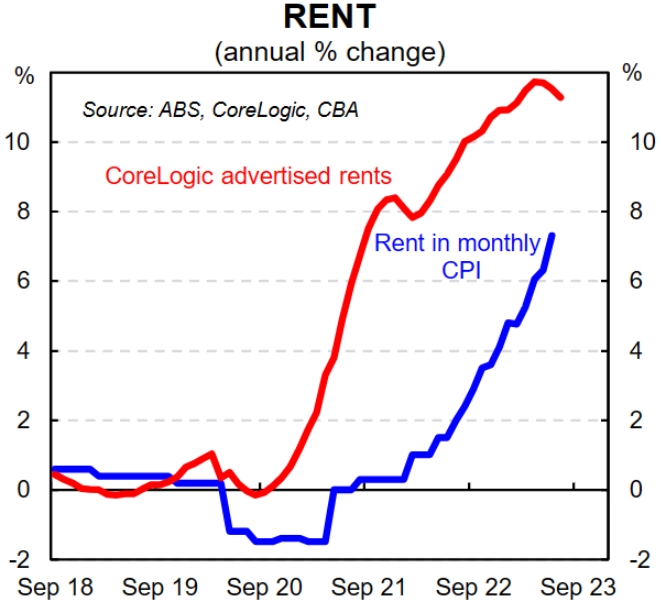 Thus, the impact of the boom in international students has actually been much worse than estimated above by the IPA.
Advertisement