The weekend's auction market saw a 2023 record 2,550 homes go under the hammer.
Despite the surge in listings, the national preliminary clearance rate rose by 1.9% to 72.0%:
Sydney's preliminary clearance rate rose by 1.9% to 74.4%, whereas Melbourne's rose by 0.9% to 70.5%.
Advertisement
Despite the strong result, leading Sydney auctioneer Tom Panos warned that the increase in stock over the remainder of this year will pressure the market and likely suppress price growth:
"Stock is building up the heat of the market it's no longer there. It's still good, but I've been saying it for quite some time, stock levels are going to grow at a faster rate than buyer levels are going to grow".
"That's what we're seeing and what we're going to see increasingly between now and Christmas, stock levels will go up. Buyer level will not match the amount of stock going up".
"So, if you're a vendor that ends up going to auction and you get a figure that is close to the reserve but not quite there, you obviously take it. That's what you do in this marketplace".
Panos also explained why caution should be used when reading preliminary clearance rates like those listed above:
"When you see the auction results in the press, you will see a word saying preliminary results. What preliminary results means is these are the first set of results that have come through. And then what you'll see is there's another number when you look at CoreLogic data which is called auctions collected".
Advertisement
"Auctions collected are basically the auctions that when the data company had their telephone operators ring, the agent picked up and gave the result. There's a very big proportion of properties that are called uncollectibles".
"Uncollectibles means the auction was supposed to take place but the data company hasn't been informed. Why hasn't the data company been informed? Sometimes the agent's busy and doesn't return the call".
"But generally speaking, if a property hasn't sold and the agent doesn't feel comfortable, they won't actually provide that information. They won't return the call. They'll reject the call".
"That means the data company has not been able to collect that information. So, when you get the results on a weekend, it says preliminary results and it gives you an auction clearance rate typically around say 70%".
"By the middle of the week, when the data companies have actually got the results, that number always goes down". 
"The numbers are not 100% accurate on weekend results and the clearance rates are lower".
Tom Panos is right of course. I tend to focus on the trend, which shows that auction clearance rates have trended lower as volumes have risen: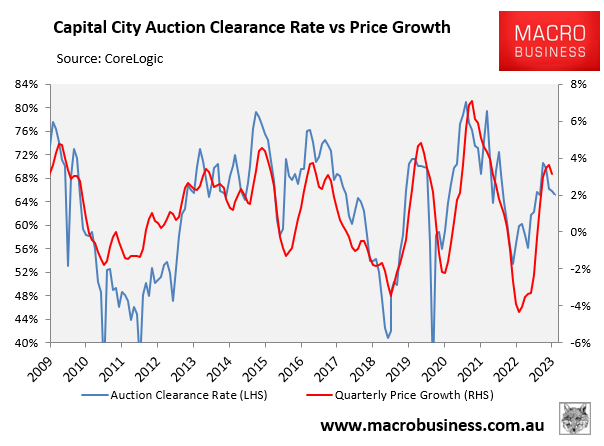 If Panos is right and the number of homes listed for auction continues to rise, this suggests that price growth will soften.
That said, record net overseas migration will continue to support the market. And if the RBA cuts interest rates next year, then we could be off to the races again.
Advertisement