Dingo Bowen is fighting the federal opposition's nuclear push:
After Bowen, unprompted, released departmental figures claiming a shift from coal-fired power to nuclear would cost $387 million, the opposition leader said Bowen had become "unhinged".
Dutton suggested nuclear power should only form part of the energy mix in Australia, as it does in Canada, and that the government's own plans to build 28,000 kilometres of poles and wires to transmit wind and solar power would cost around $1.5 trillion.
As community resistance towards large-scale transmission projects and wind farms builds, the Coalition believes its nuclear push has started to appeal to voters and that the government is concerned.
Dutton's small modular reactors (SMRs) have several shortcomings. The most pressing is that they do not exist. There are only two prototypes worldwide.
They might exist in economic form if a lot of them are manufactured. But, for now, only China and Russia are operating them, neither of which you would want to buy from.
There is a lot of research so that new options may become available.
Advertisement
Other drawbacks include NIMBYs and nuclear waste. Though the latter could be turned into a new industry, the former is unlikely to be happy. Nor are NIMBYS likely keen on 80+ SMRs operating directly adjacent to cities, within fallout zones.
Also on the downside, the notion that we need immensely expensive new transmission systems for renewables is silly. As batteries develop, they will be installed in every building and house, requiring less transmission.
To assume the scale of transmission investment proposed by Dutton is to assume batteries will never arrive, which is clearly false.
Advertisement
Neither can you compare cheap Canadian energy to Australian. It is 60% super cheap and clean hydro!
The advantages are that SMRs are dispatchable power and can operate efficiently to support renewables. SMRs are very clean once operational.
Australia also has a lot of uranium, so powering the energy and transport grids on local fuel would resolve Australia's monstrous oil vulnerability.
Advertisement
That said, renewables will achieve the same energy independence. And uranium supply is highly concentrated, so without a proper market structure, we would be even worse off than under the gas cartel.
The killer argument is still cost. Nuclear could be cheap if we took away all of the safety precautions but who is up for that?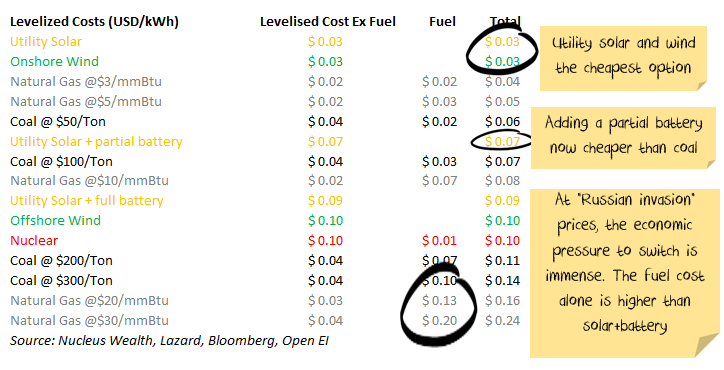 Advertisement
SMRs are the new Carbon Capture and Storage. It is a good story designed to slow the end of fossil fuels.