NSW is fiddling:
The $2.2 billion Housing and Infrastructure Plan includes: $1.5 billion to build infrastructure such as roads, parks, hospitals and schools to support the construction of new homes across Sydney, the Lower Hunter, Central Coast and the Illawarra
$400 million reserved in Restart NSW for the new Housing Infrastructure Fund, to deliver infrastructure that will increase housing supply across NSW
$300 million for Landcom to accelerate the construction of thousands of new homes, with 30 per cent affordable housing
VIC is fiddling:
Prime Minister Anthony Albanese has backed a tax on short stays such as Airbnb and Stayz, with Victorian Premier Daniel Andrews set to reveal the first statewide tax expected to be set as high as 7.5 per cent.
The Financial Review can also confirm the package is expected to include a social housing bonus that will grant a developer a higher density of dwellings if 10 per cent of the project can meet the definition of affordable – rather than social – housing.
Mr Albanese has offered states and local councils $3.5 billion to fast-track the construction of the 1.2 million homes, under a National Housing Accord.
None of this will be anywhere near enough. It is not supposed to be. State governments don't want to end the housing shortage. They depend upon rising property prices for their budgets. NSW:
Taxation revenue is expected to be $44.9 billion in 2023-24 (see Table 4.2), which is $5.5 billion higher than forecast at the 2023 Pre-election Budget Update. Over the four years to 2026-27, taxation revenue has been revised upwards by $17.6 billion. The upgrade to taxation revenue is largely due to improvements in transfer duty revenue driven by the stronger-than-expected recovery in the property market and stronger payroll tax revenue due to continued strength in the labour market.
Advertisement
VIC: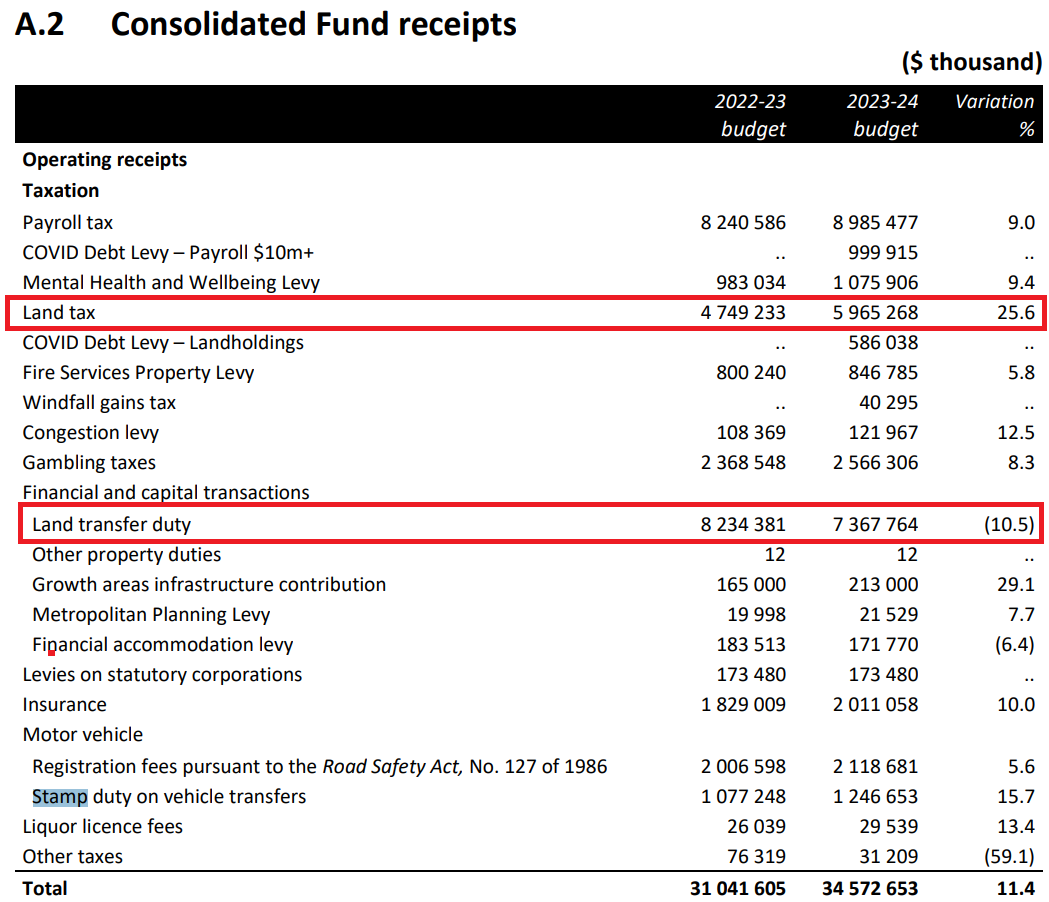 Demand via immigration is far too strong for any supply-side housing solution, let alone these paltry efforts by Labor's state fakes.
We need 1.2m dwellings over the next five years to prevent the shortage from worsening.
Advertisement
These policies will raise costs for investors and reduce incentives to invest while lifting costs for developers who can't make profits now.
The shortage is only going to get worse until Albo stops creating it with quantitative peopling in the first place.