China has all but abandoned the fight against climate change:
Coal power continues to expand in China, despite the government's pledges and goals. In the first half of 2023, construction was started on 37 gigawatts (GW) of new coal power capacity, 52 GW was permitted, while 41 GW of new projects were announced and 8 GW of previously shelved projects were revived. Of the permitted projects, 10 GW of capacity has already moved to construction.

Permitting continued apace in the second quarter and in some provinces, newly permitted power plants are moving rapidly into construction, while in others, developers might be securing permits "just in case" and not hurrying to break ground. Of plants permitted in 2022, about half (52 GW) had started construction by summer 2023.

After the permitting spree of the past year, China now has 243 GW of coal-fired capacity currently permitted and under construction.

If the permitting rush is not stopped until projects that are currently announced or in pre-permit stages have gained permits as well, there will be a total of 392 GW of new coal-fired power capacity in the pipeline.

Unless permitting is stopped immediately, China won't be able to reduce coal-fired power capacity during the 15th five-year plan without subsequent cancellations of already permitted projects or massive early retirement of existing plants.
China has no intention of cancelling coal power. It has other priorities.
During COVID, the nation suffered a power shortage. The CCP knows this is politically dangerous and won't allow it again.
Advertisement
Second, China has lots of coal reserves, and its mate Russia has even more: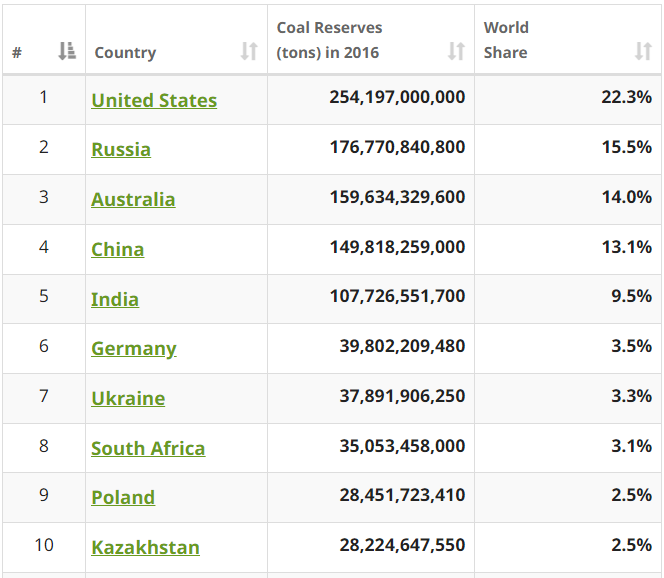 Thus, coal is the most independent energy source when it invades Taiwan, and liberal states blockade maritime trade routes for other energy sources.
Advertisement
This is widely understood if not widely publicised:
China's emissions under current policies remain sky high with no sign of substantial emission reductions before the 2030 peaking timeline, putting one of the country's NDC targets in jeopardy. Energy and electricity demand forecasts continue to grow, prolonging China's dependence on fossil fuels, despite substantial progress in renewables and end use sectors.

The government continues to champion the role of fossil fuels in transitioning its energy sector, with maximising coal production and oil and gas exploration seen as key to providing stability and security. Carbon emissions peaking timelines in high-emitting industry sectors have been pushed back to align with the economy-wide 2030 peaking target. The government appears to have room to raise ambition in its climate, energy and sector targets but geopolitics, energy security concerns, and international diplomacy remain a lingering barrier. The CAT's overall rating for China's policies and targets remains "Highly insufficient".
None of this means we should give up fighting climate change but it does illustrate what we are dealing with in China which will happily cook the planet all by itself:
Advertisement