Australia's unit & apartment completions have collapsed from a peak of 108,000 in 2017 to 63,000 in the year to March 2023:
This is concerning given Australia's population is currently growing at a record pace driven by unprecedented net overseas migration:
Advertisement
Apartment rents are already soaring.
Domain data shows that unit rents are rising seven times faster than wages, with no relief in sight: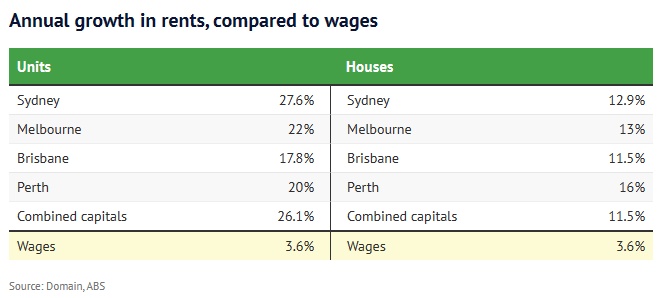 Asking rents for units across the combined capital cities soared by 26.1% in the year to June, outpacing the 3.6% increase in the ABS wage price index over the same period.
Advertisement
The above charts suggested that rising rental demand will be met with diminishing rates of supply, which will cause the rental market to tighten further and rents to skyrocket.
A new report from CoreLogic notes that "the latest National Housing Finance and Investment Corporation (NHFIC) 'State of the Nation's Housing' report forecasts a national housing deficit of approximately 106,300 by 2027 (later upgraded to 175,000), with around 59% of the shortfall expected in the unit market".
Given the nation's population is growing much faster than anticipated by NHFIC, the housing deficit would be even larger.
Advertisement
To add further insult to injury, CoreLogic notes that "the trend in new unit approvals has largely held below the decade average since mid-2018 and well below the trend in house approvals since late 2017":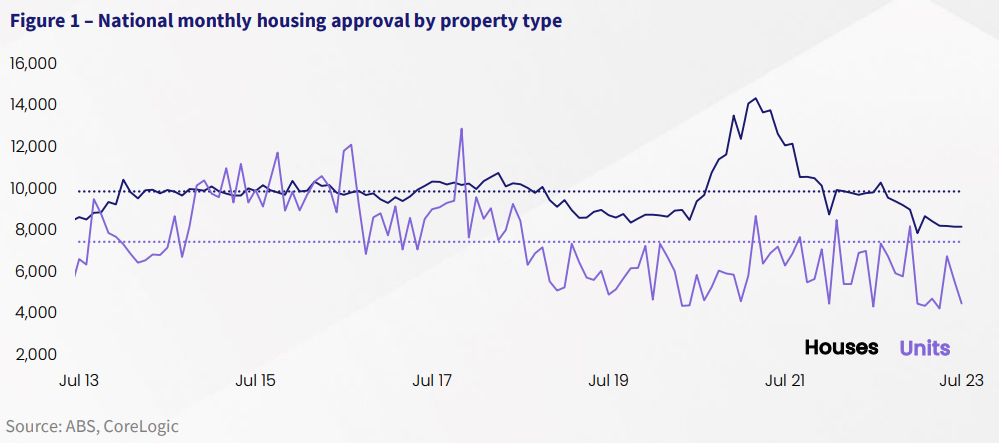 CoreLogic then warns that "with fewer unit projects set to move through the construction pipeline, it's likely completions will continue to ease, with units making up a smaller portion of new housing stock over the coming years".
Advertisement
"On the demand side, a stronger-than-expected level of net overseas migration has seen overall housing demand skyrocket":

"Historically, ABS migration data shows high-density markets in major cities have had higher exposure to uplifts in net overseas migration".
"The majority of recent long-term migrant arrivals rent before buying. The impact of this additional demand has already been seen in the rental market, with capital city unit rents recording a new record high annual growth rate over the year to May (16.5%) before easing slightly over the 12 months to August (14.9%). 
"While worsening rental affordability has seen the pace of unit rental growth ease in recent months, unit rents are likely to remain elevated for some time, especially with net overseas migration expected to remain high through 2023 and 2024". 
In short, the Albanese Government's record immigration program has created a disastrous shortage of apartments, which is worsening by the day.
The inevitable outcome will be rising rents, more Australians being shunted into group housing, and increased rates of homelessness.
Advertisement