The Reserve Bank of New Zealand last week released its Statement of Monetary Policy (SoMP), which included the below chart showing how mortgage rates and the average interest rates paid on existing mortgages continue to rise: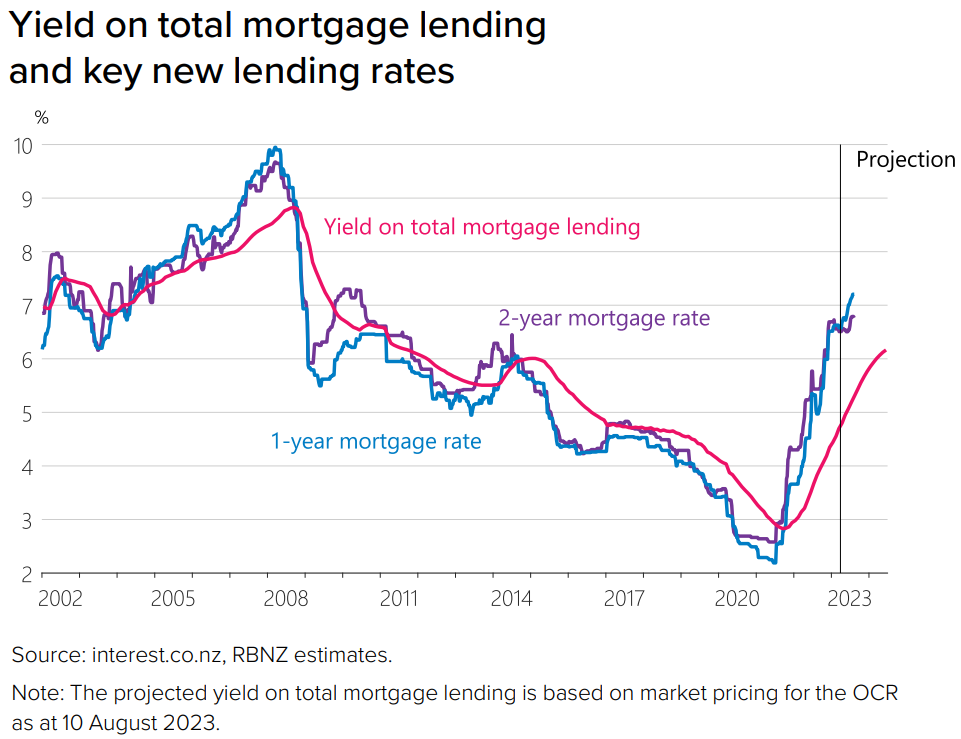 This is despite the Reserve Bank holding the official cash rate steady at 5.50% since May.
"The lagged impact of recent increases in mortgage rates has yet to impact household cash flow fully", the SoMP noted.
Advertisement
"This reflects that the yield on total mortgage lending is expected to increase by 1 percentage point over the coming 12 months as borrowers roll onto higher interest rates". 
Interest.co.nz has released its first home buyer housing affordability report for July, which shows that loan affordability has collapsed to an all-time low against household income:
"Although the Reserve Bank has kept the Official Cash Rate on hold for the time being, higher mortgage interest rates are still flowing into the market, with the average of the two year fixed rates offered by the major banks rising to 6.74% in July from 6.50% in June", Interest.co.nz notes.
"That pushed the mortgage payments on a home purchased at the national lower quartile price with a 20% deposit ($117,400) to a record $702 a week in July, the first time it has ever been above $700 a week".
Advertisement
"That's equivalent to 35.6% of the take home pay of a typical first home buying couple".
As expected, Auckland fares worst given its lowest quartile price is a hefty $624,000.
A typical first home buying household in Auckland would need to cough up 46.5% of their after tax pay in mortgage repayments to own a starter home.
The situation is obviously worse for a typical first home buyer household with only a 10% deposit.
Advertisement
Nationally, they would need to spend 45.1% of their after tax pay to own a typical starter home, with Auckland buyers needing to spend 58.9%:
New Zealand house prices have tanked by 17.1% from their November 2021 peak, according to the Real Estate Institute. Auckland has led the decline, with values plunging by 21.6%:
Advertisement
Therefore, the Reserve Bank's 5.25% of interest rate hikes has more than offset the decline in home values and rising wages.