Earlier this week, I estimated that Australia needs to supply 329 new homes every day over the five years to 2026-27 just to keep pace with the record 1.5 million net overseas migration (NOM) projected in the federal budget.
On Thursday, Domain released its own forecasts on the number of dwelling needed to keep pace with Australia's record NOM: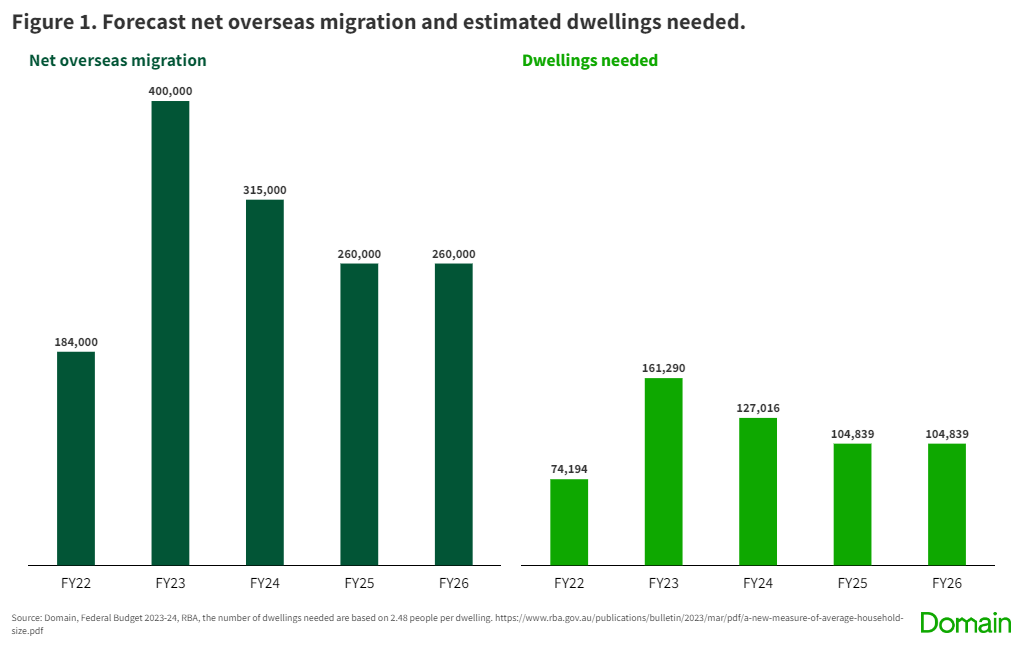 Advertisement
According to Domain, Australia will require 497,984 additional homes over the four years to 2025-26 just to house the 1,235,000 net overseas migrants projected to arrive over the same four year period.
This means Australia will need 341 new homes every day for four years!
"Population growth from overseas migration places greater and more immediate pressure on housing demand than natural increase – as they often need to rent or buy upon arrival. Whereas natural population increase results in a more gradual housing pressure", Domain notes in its report.
Advertisement
"Net overseas migration is estimated to be at a record high over the current financial year and next – we estimate almost 300,000 additional dwellings will be needed".
"Typically, overseas migrants rent on arrival, but, with a tight rental market Australia-wide, we may see some arrivals transition to home ownership sooner as they seek more stable housing alternatives".
"The rise of migrant numbers will also make rentals seem like a better investment option, and the shift to home buying from migrants will exert upward pressure on property prices, particularly in the current under-supplied market conditions".
"Population growth will be a substantial factor pushing property prices higher, particularly with the Albanese government's momentum in lifting temporary and permanent visa grants to alleviate skills shortages".
"Given the recent and ongoing changes to the migration program, around guaranteeing permanent residency to temporary skilled workers, overhauling the system to allow faster visa processing times for all visa classes, and net overseas migration forecast at 1.5 million migrants over the next five years, population pressures will significantly drive housing demand", Domain concludes.
The probability that Australia will achieve these housing supply requirements are miniscule given construction rates are declining amid widespread builder failures and soaring materials and financing costs: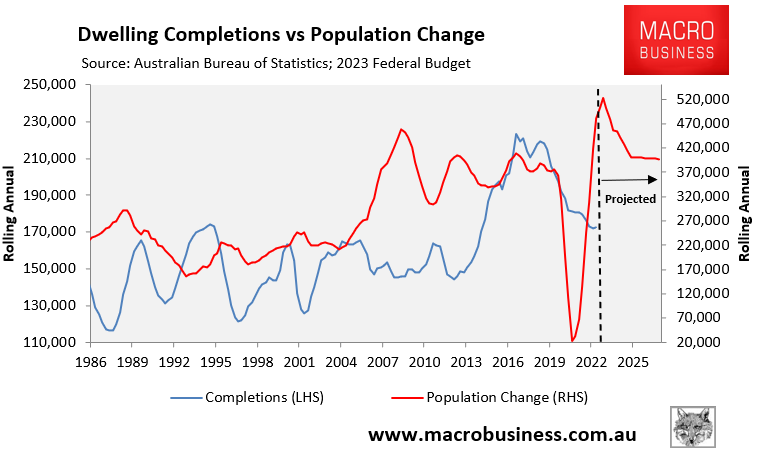 Advertisement
Treasury secretary Steven Kennedy told this month's Senate Estimates hearing that the downturn in dwelling approvals is forecast to continue until 2025, with investment in new dwellings expected to decline by 2.5% this year and a further 3.5% in 2023‑24 and 1.5% in 2024‑25.
It is also worth remembering that Australia needs to build more than the above supply targets to account for homes lost through demolition.
Adding a projected 1,194 people per day (primarily through immigration) when dwelling construction rates are falling means Australia's housing crisis will worsen, resulting in escalating rents and rising homelessness.
Advertisement
Running an extreme immigration policy into a housing crisis is pure policy madness.
Anthony Albanese has kicked vulnerable households to the streets and should be ashamed of himself.