Australia's housing construction industry is facing an "insolvency Armageddon", with the number of construction businesses placed into insolvency hitting a nine year high, according to new data from the Australian Securities and Investments Commission (ASIC).
These collapses include large construction firms like Porter Davis Homes, Mahercorp and Urbanedge Homes, alongside scores of smaller players.
The financial-year-to-date figure is the highest since 1802 in 2014 and a 43% jump on the 2021 total of 953 construction insolvencies: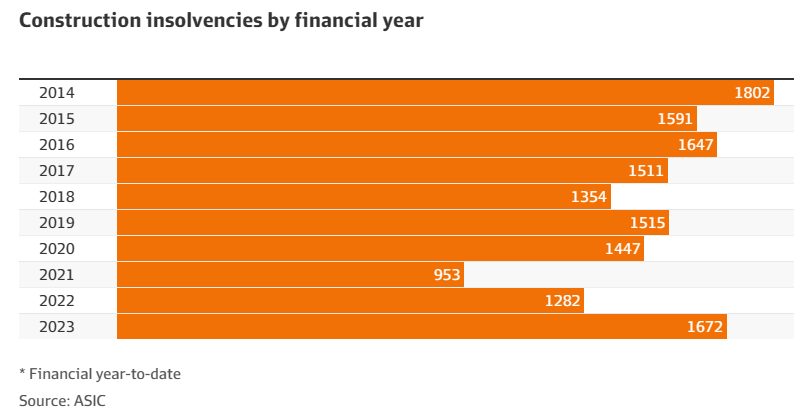 Advertisement
With two months to go in this financial year, the number of insolvencies is certain to exceed the 2014 level.
Scott Taylor, partner at insolvency and reconstruction law firm Taylor David, described the situation in Australia as "insolvency Armageddon".
Patrick Coghlan, chief executive of CreditorWatch agency, blamed "expensive inputs, higher interest rates and rising labour costs, as well as the absence of ongoing government handouts" for the rise in insolvencies.
Advertisement
Whereas McGrathNicol chairman Jason Preston warned "we are seeing property developers, construction companies ranging from home builders to those that build large projects experiencing a higher level of insolvency", adding it was due to rising costs putting pressure on contracted prices.
Association of Professional Builders co-founder, Russ Stephens, labelled the construction industry a "ponzi scheme" and a "house of cards" that is now crashing down.
"They were able to keep operating because of positive cash flow… but that was a bit like a Ponzi scheme – the new cash inflow pays the old debts, but once the cash flow starts to slow down and they don't have money coming in, they can't keep up the pretence", Stephens said.
Advertisement
"That's when the whole house of cards comes down".
"This has been going on for years, but it's this COVID boom that's highlighted how bad it's been", he said.
The housing industry crisis has arrived at the worst possible time, given housing demand has soared due to record net overseas migration.
Advertisement
As demand continues to outpace the industry's ability to supply new homes, the inevitable result will be a worsening of Australia's rental crisis and increased homelessness.
We are watching a housing disaster in the making.