A whiff of panic today in Aussie bank selling:

As US regional banks increasingly fall apart thanks to deposit flight, crushed margins, CRE bad loans, tight liquidity, soaring counterparty risk, equity and capital evaporation.
Moreover, NAB has confessed:
National Australia Bank stepped back from the mortgage wars and let its retail banking profit slide, turning to its business bank to propel first-half earnings, but its share price slumped as the sharemarket opened as analysts flagged a tougher outlook for interest margins due to growing competition, including for deposits.
Advertisement
Cash earnings were up 17 per cent to $4.07 billion for the six months to the end of March, propelled by the higher official cash rate, and NAB will pay an 83¢ a share interim dividend, up from 73¢ in the first half of 2022.
Both figures were below expectations for a first-half cash profit of $4.2 billion and interim dividend of around 86¢, as its interest margin undershot expectations as NAB paid more for savings.
Ouch.
The fundamental overvaluation of Aussie banks remains preposterous. Especially CBA and MQG but noen has properly discounted a downturn:

The relative overvaluation remains bonkers: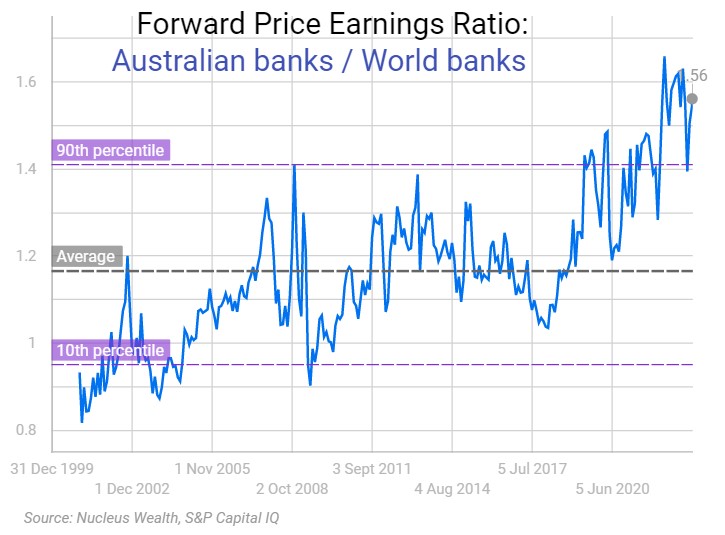 The banking double-shock is underway:
US regionals collapse under pressure from margins.
Credit crunch hammers US economy.
Economy smashes bank assets.
Rinse and repeat worldwide as spreads explode.
Plenty more blood and guts to come here…
Advertisement