Moody's with the note. More of this ahead for banks!
---
Mortgage delinquencies will continue to rise moderately amid high rates and inflation
Australian residential mortgage delinquency rates, which increased slightly over the fourth quarter of 2022, will continue to rise over 2023 as rising interest rates and high inflation erode borrowers' capacities to repay debt. However, delinquencies will only rise moderately, because low unemployment and prudent lending standards will mitigate risks. In December 2022, the 30+ days delinquency rate for residential mortgage-backed securities (RMBS) backed by prime home loans was 1.07%, a slight uptick from 0.96% in September. While delinquency rates increased slightly over the fourth quarter of last year, prime RMBS performance remained robust in the face of increasing risks. The delinquency rate for RMBSbacked by non-conforming and near prime mortgages (like loans to borrowers with adverse credit histories or those where lenders use truncated means to verify incomes) increased by more than for prime RMBS, rising to 3.71% in December 2022, from 3.00% in September 2022. However, the non-conforming delinquency rate was still below its pandemic-era high of 4.80% in April 2020. Exhibits 1-3 show RMBS delinquency rates by issuer and mortgage type.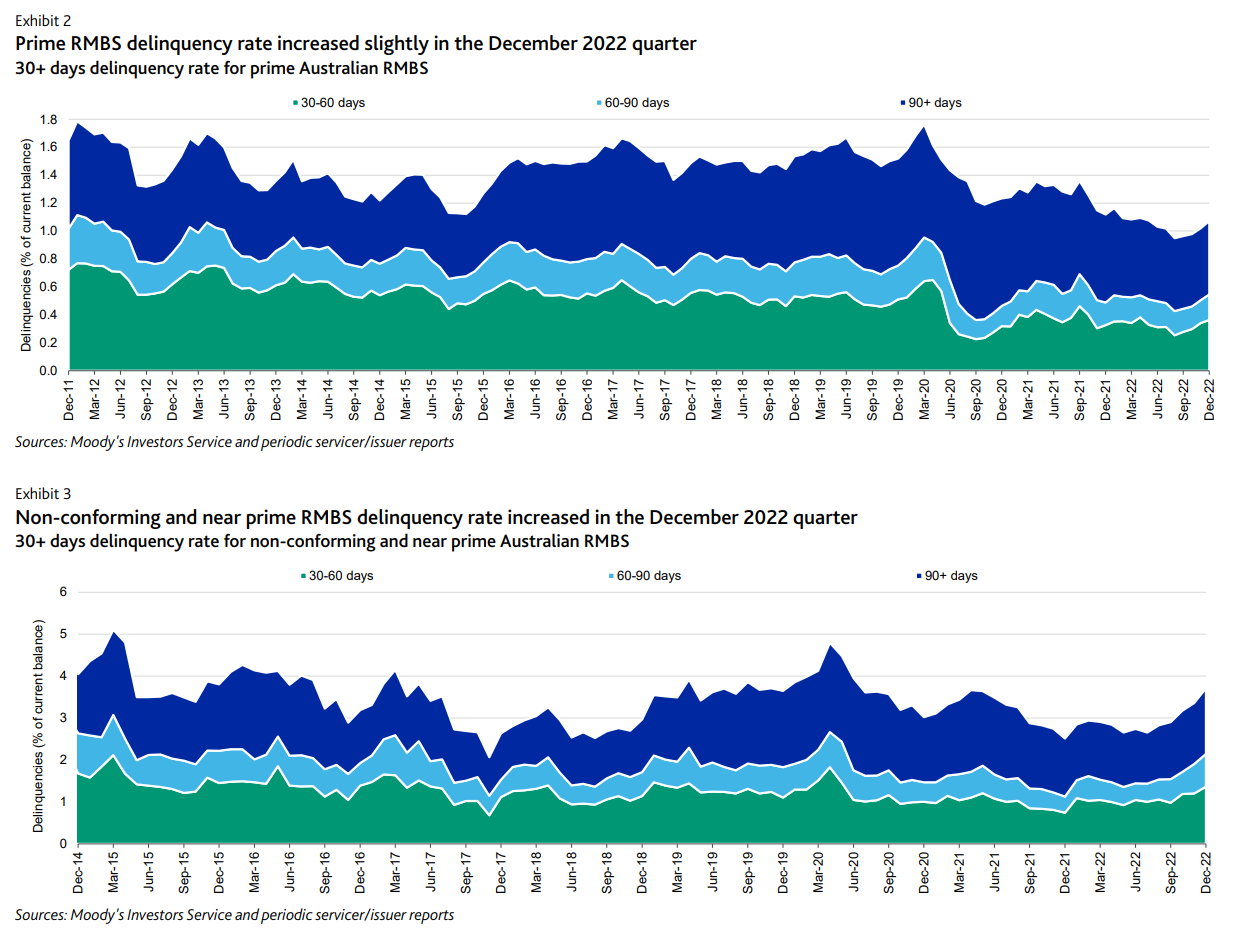 Over 2023, we expect delinquency rates to rise moderately. The Reserve Bank of Australia raised its policy cash rate by a further 0.25 percentage point to 3.6% in March and indicated that it will need to further tighten monetary policy to combat inflation. Rising mortgage interest rates will weigh on borrowers' abilities to repay home loans. Additionally, a large share of fixed-rate mortgage terms will end in 2023, which means rates for these loans will reset at higher levels, adding to risks. Furthermore, Australia's Consumer Price Index rose 7.8%1
in the December 2022 quarter compared with the same period a year earlier, the highest rate of inflation since 1990.
Advertisement
High inflation will erode borrowers' capacities to meet home loan repayments.
We expect delinquencies will only rise moderately this year, because labour market shortages will keep unemployment relatively low despite the weakening economy. Additionally, regulatory oversight will mitigate mortgage sector risks, including the Australian Prudential Regulation Authority's low tolerance for high debt-to-income home loans and its requirement for lenders to assess prospective borrowers' capacities to repay debt using an interest rate buffer that is three percentage points above current rates. Also, financial institutions have substantially cut back on risky mortgage lending over recent years, further mitigating risks.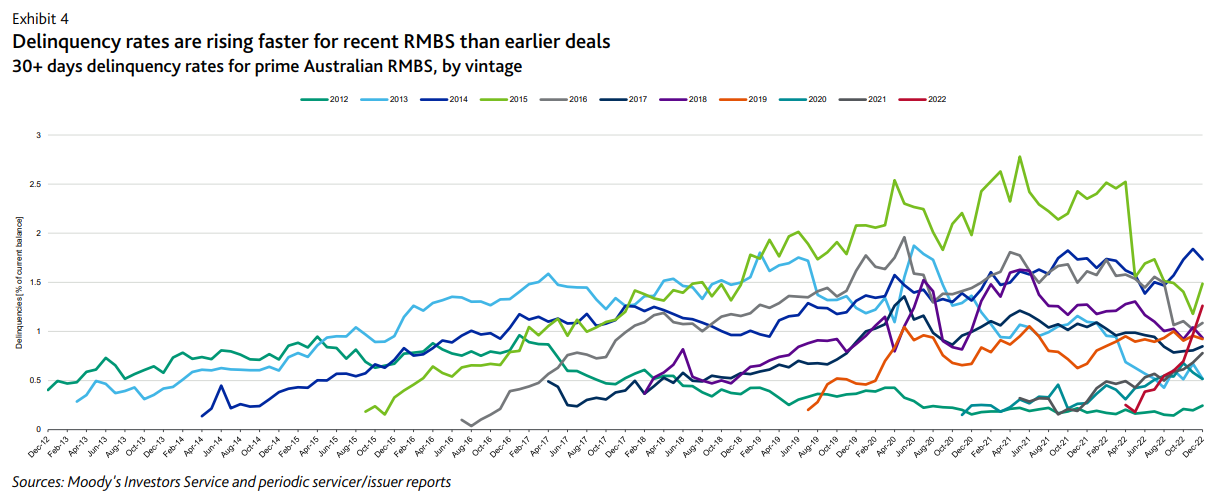 Advertisement
---
Damn, look at that Class of '22 go! A few points:
APRA is not hostile to high debt-to-income. 
LIAR loans are everywhere in Australia.
So, expect this to get much worse before it gets better.
Advertisement
That said, I do not expect a credit apocalypse. Australian inflation is more cyclical than the US given the immigration attack on wages. The RBA and Treasury have plenty of ammo as well. 
Still, we may lose a non-bank or two…