TSLombard with an update on the Ukraine War. I disagree. It looks to me like market tail risks are diminishing as Europe finally gets some luck in warm weather. I don't think anybody is crazy enough in NATO to graduate this conflict from proxy status and any nuclear option would be the last act of Vladimir Putin.
---
The New Year would be a natural time to revisit the Ukraine war endgame question even if this calendar point didn't happen to coincide with the Russian capture of Soledar. The imminent fall of this industrial town on the central Donbas front is Russia's first notable territorial gain since last July and the first important battlefield change since last autumn's Ukrainian successes in the north eastern and south western sections of the front. As summed up in the map and key below, these eye-catching movements stand out against the background of the main fronts remaining stable despite months of fierce daily combat. Any break in the stalemate picture warrants a fresh look at prospects. We draw two conclusions.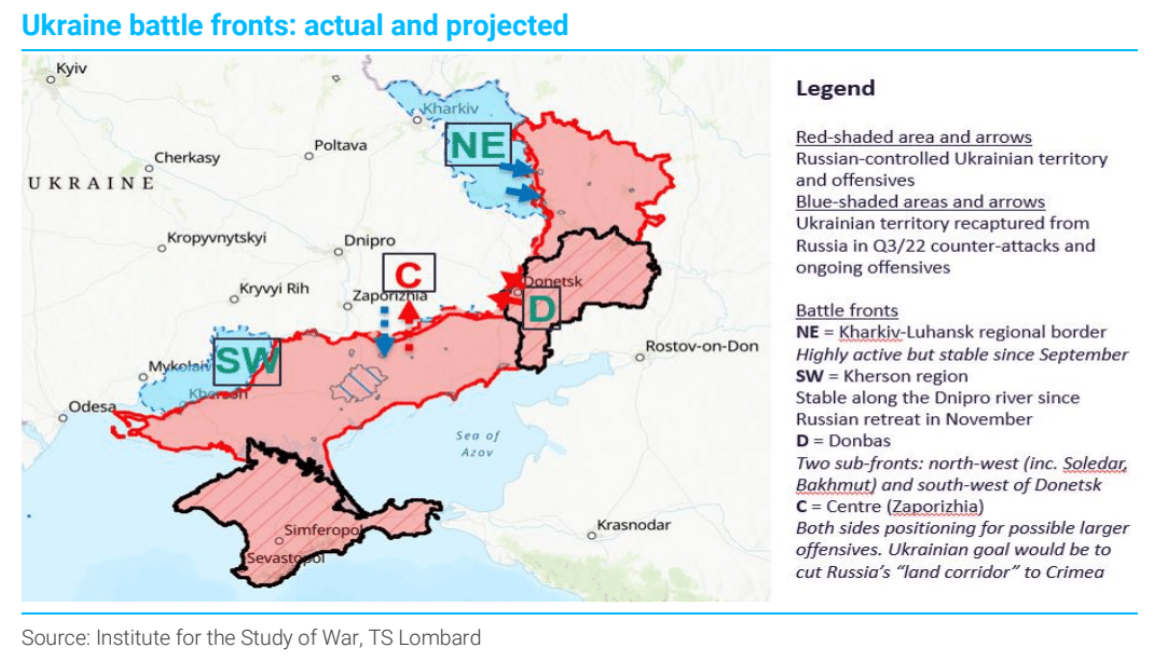 The first conclusion is more like a non-prospect: important economic and financial market impacts – lower commodity prices, a bond rally – would depend on a diplomatic settlement ending both the shooting war and the sanctions war. There is no realistic chance of any such settlement in the foreseeable future defined as years rather months away and, in any case, well beyond most investment horizons.
Advertisement