CoreLogic's latest rental listings data shows that the number rental properties available for rent across Australia's capital cities has plunged to around 70,000, which is nearly half pre-pandemic levels and the lowest level in at least a decade:
The next table also shows that the nation's vacancy rate has fallen to just 1.1%, which is nearly half the 2.1% recorded a year prior, with rental growth also running at a record high 10.0%:
Advertisement
Separate data released last week by SQM Research similarly showed that vacancy rates nationally have plunged to a record low 0.9%, with broad-based tightness across Australia:
SQM's asking rents series also soared 21.8% year-on-year in September, with managing director Louis Christopher describing "a structural issue with the rental market for which increases in construction of new dwellings will only resolve".
Advertisement
Finally, Domain says that "Australian tenants are suffering through the longest stretch of continuous rental price growth on record … the highest growth ever, both annually and quarterly":
The chronic shortage of rents has arisen as the Albanese Government has made a priority of bringing migrants and students into Australia in record numbers via:
Advertisement
Raising the permanent non-humanitarian migrant intake to a record high 195,000 a year;
Turbo-charging temporary migration by:

Expanding work rights for international students via:

Uncapping the number of hours international students can work while studying for another year; and
Extending the length of post-study work visas by two years.

Committing to clear the 'backlog' of "nearly one million" visas awaiting approval.
The Department of Home Affairs has already ruled on more than two million temporary and permanent visa applications in the last four months alone.
Accordingly, international students are already arriving in record numbers, with monthly student visa applications in the first half of 2022 exceeding pre-pandemic levels.
Advertisement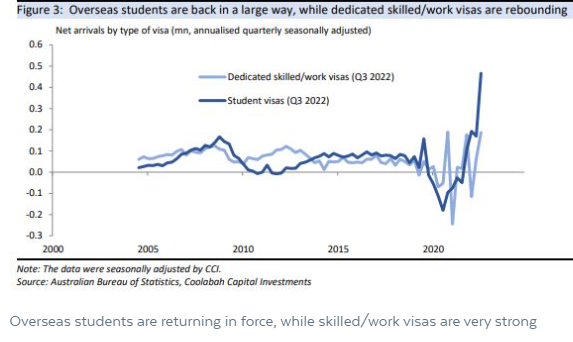 As shown above, 'skilled' and working holiday visas are also rebounding strongly.
The soon to be record numbers of students and migrants arriving in Australia spells further trouble for the rental market, especially in the capital cities which attract most of the students and new migrants.
Advertisement
Blind Freddy can see that the rental market will inevitably tighten further, sending rents into the stratosphere and plunging more people into homelessness.
The Albanese Government's record immigration push is an inequality disaster in the making.
Adding to the population through immigration when there is already a dire shortage of accommodation is just cruel. Unless you are a landlord jacking up the rents over 30% a year!
Advertisement