CoreLogic's daily dwelling values index, which measures price changes across Australia's five major capital cities, fell another 0.22% in the week ended 5 August – the 13th consecutive weekly decline:
Once again, the fall in dwelling values was driven by Sydney (-0.29%), Melbourne (-0.34%) and Brisbane (-0.14%), whereas Adelaide (+0.12%) and Perth (+0.07%) recorded rises:
It has been roughly one quarter since the Reserve Bank of Australia (RBA) first hiked the official cash rate (OCR) by 0.25% on 3 May. Since then, dwelling values at the 5-city aggregate level have plunged by 2.8%, driven entirely by heavy falls across Sydney (-4.8%) and Melbourne (-3.4%):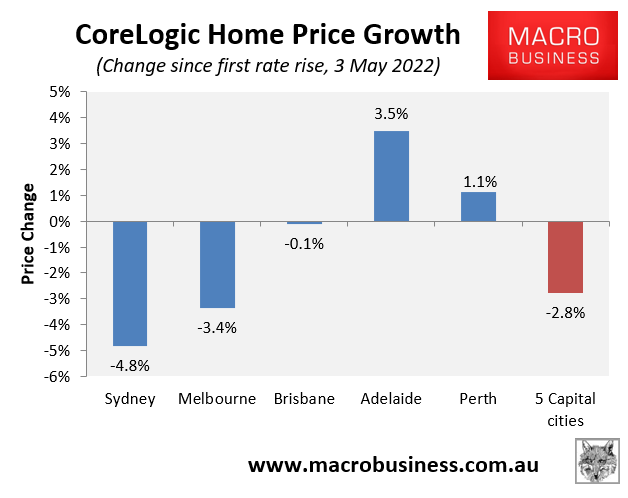 The next chart plots the time series of price movements across Sydney, Melbourne, Brisbane and the 5-city aggregate since the beginning of the year, alongside their declines from peak as at 4 August:
Sydney's dwelling values have fallen 5.4% from their mid-February peak, Melbourne's are down 3.6%, and 5-city aggregate values have fallen 2.9%. Losses across each market accelerated after the RBA's first rate hike.
Brisbane was late to the party and only began falling in late June. Nevertheless, dwelling values are down 1.1% from peak.
With the RBA hiking interest rates four times over the past quarter, by a cumulative 1.75%, it is inevitable that dwelling values will continue to fall, led by Sydney and Melbourne.
Already borrowing capacity has been reduced by 23% because of these hikes, and soon price falls will spread across the other capital cities and the regions.
Ultimately, the magnitude of Australia's house price bust will depend on how aggressively the RBA hike rates. Will it follow ANZ's, Westpac's and the financial market's forecasts and hike the OCR above 3%? Or will it take a more measured approach?
Only time will tell. Pass the popcorn.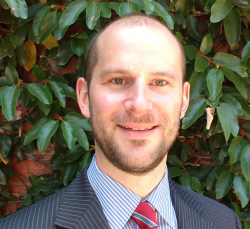 Latest posts by Unconventional Economist
(see all)