SQM Research has released its Stock on Market report for July, which shows that national residential property listings rose in July by 7.1%, amid softer buyer demand: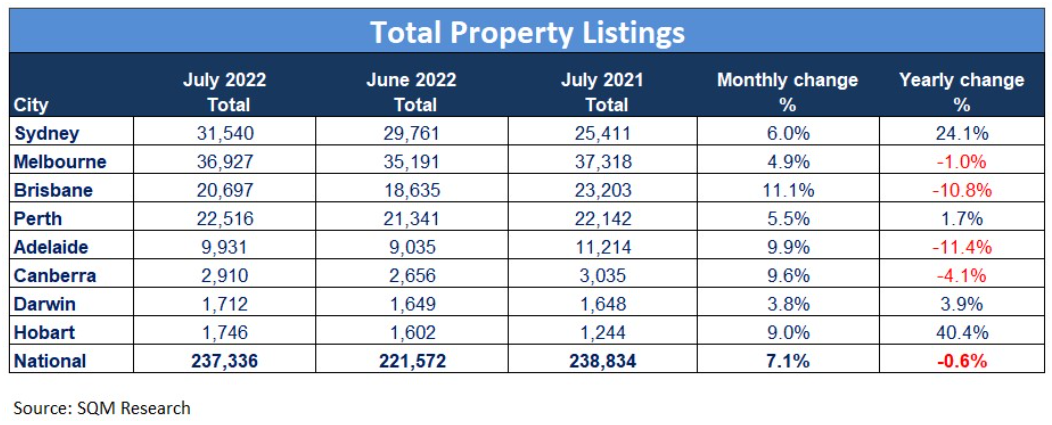 New listings (Less than 30 days) rose 1.8% over July, whereas listings over 180 days rose by 0.6%. Most notably, however, listings between 31 days and 180 days rose by 14.1%, "indicating a surge in unsuccessful sales campaigns for the month and year to date":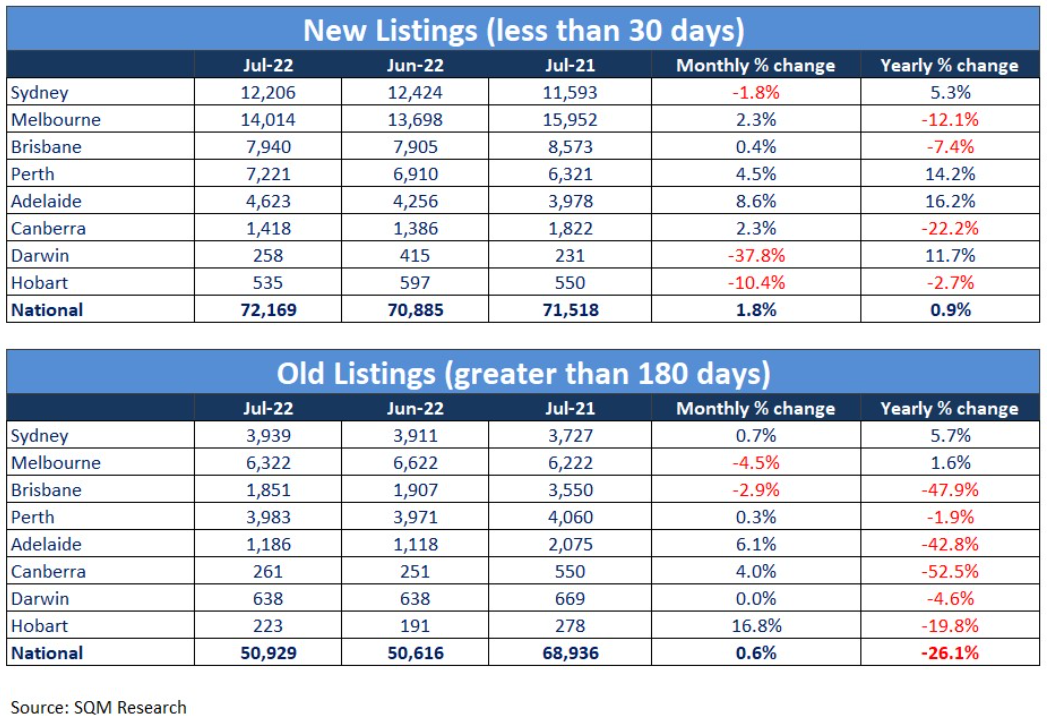 Advertisement
Commenting on the results, SQM's Louis Christopher noted that "lower buyer interest" is behind the rising listings, which means the spring selling season will be difficult for vendors:
"Vendors were largely unsuccessful in their selling efforts over July. There is now a clear trend across all cities of rising listings which is being driven by lower buyer interest and is ultimately symptomatic of the national housing downturn".

"I think the spring selling season is going to be a very tough one for property sellers and their respective agents. While asking prices have been adjusting downwards since February, there will need to be further compromise if property vendors do want to sell this spring".
Separate reporting from Domain explains that buyers are dropping out of the market due to a combination of "rapidly rising interest rates, reduced borrowing power and a fear of overpaying":
Advertisement
"The most common feedback is that their finance conditions have changed," [Sydney auctioneer Jesse Davidson] said. "The banks are calling clients and saying that the approval we gave you is no longer valid, and they have to redo the process again.

"The second thing is the fear of overpaying that has entered the market."

More buyers were getting cold feet as property prices declined, Davidson said, and some had put their plans on hold, in the hope of securing a better price later this year…
Thus, "fear of overpaying" or FOOP has taken over from "fear of missing out" [FOMO]. This makes sense given dwelling values are plummeting across Sydney and Melbourne, and prospective buyers have already experienced a 23% reduction in their borrowing capacity.
The situation will obviously get worse so long as the Reserve Bank continues to hike interest rates.
Advertisement
FOOP will intensify, buyers will stay on the sidelines, and house prices will continue to fall.