At least they had one. Unlike the poor working sods Downunder who have been blamed for a profits-driven inflation cycle. Still, it looks like it's well and truly over in the US as well. Goldman with the note.
---
Fears of an imminent US recession have abated somewhat after the 372k nonfarm payroll gain reported for June. But there is no doubt that a labor market slowdown is underway. Job openings and quits are declining, jobless claims are rising, the ISM employment indices in manufacturing and services have fallen to contractionary levels, and many publicly traded companies have announced hiring freezes or slowdowns. Perhaps most tellingly, the household survey of employment has shown essentially no job gains for the past three months, both on a headline basis and when adjusted to the definitions of the establishment survey. While the household survey is much noisier than the establishment survey on a month-to-month basis, it picks up changes in net new firm creation in real time and therefore often outperforms the establishment survey at cyclical turning points, provided both measures are averaged over several months. This suggests that the still-robust nonfarm payroll prints of recent months probably overstate true job growth.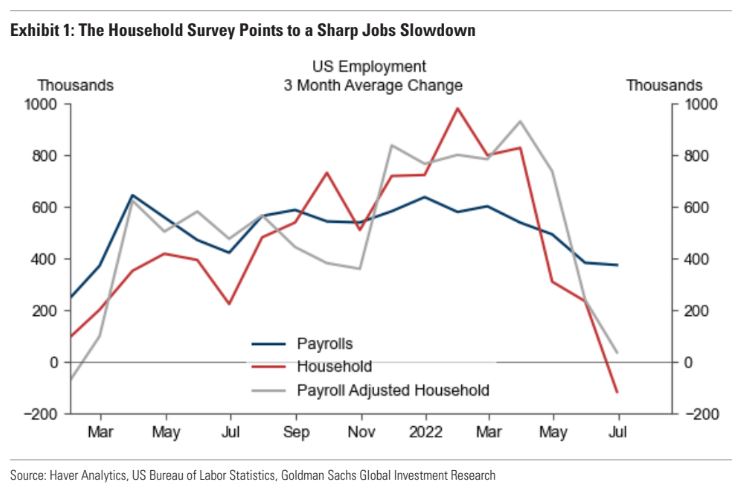 How much adjustment is needed to rebalance the labor market? So far, our jobs-workers gap has only declined modestly to 5.3 million, still the biggest in postwar history both in absolute terms and relative to the population. In estimating the degree of labor market overheating, however, we would also put some weight on the recent wage slowdown. The 6-month annualized growth rate of average hourly earnings has declined from 6.1% in October 2021 to 4.5% in June 2022, probably reflecting a combination of slowing economic activity and waning temporary boosts, including last year's pandemic unemployment benefits and the need to incentivize people to return to work when covid death rates were still high. To be sure, even 4.5% is 1pp above the wage growth rate we estimate is consistent with 2%inflation, but the slowdown suggests that the jobs-workers gap might overstate the imbalance in the labor market. (Another explanation might be that expectations are so anchored that even a large overheating would only have given us a modest wage acceleration had it not been for the special factors of 2021.)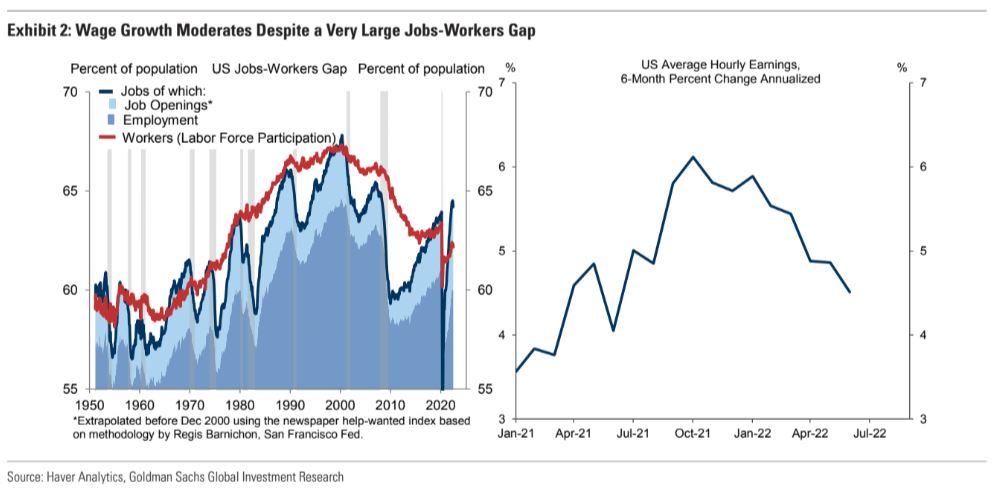 3. Will the labor market adjustment involve a "significant decline in economic activity that is spread across the economy and lasts more than a few months," the official recession definition from the National Bureau of Economic Research? From a backward-looking perspective, real GDP declined in Q1 and grew only +0.7%(annualized) in Q2 based on our latest tracking estimate. However, other indicators used by the NBER such as gross domestic income, industrial production, and payroll employment have remained in expansion mode. From a forward-looking perspective, we see a subjective 30% probability that a recession will start in the next 12 months, as well as a near-50% probability that a recession will start in the next 24 months. But our central forecast is that below-trend growth through 2022 and 2023 will gradually restore labor market balance without an outright recession.
4. The most important determinant of recession risk is probably the path of inflation. Here, the recent news has been mixed. The headline CPI is likely to show another40-year record in June and the rebound in trimmed-mean PCE inflation in May has prompted us to lift our near-term core PCE forecasts slightly as well. At the same time, the combination of slower growth and reduced supply-chain disruptions has increased our confidence that underlying inflation pressure will indeed come down in H2. And while our commodity strategy team projects a rebound, the recent declines in wholesale and (to some degree) retail gasoline prices suggest that the energy impulse to sequential headline inflation will be negative in the next couple of months.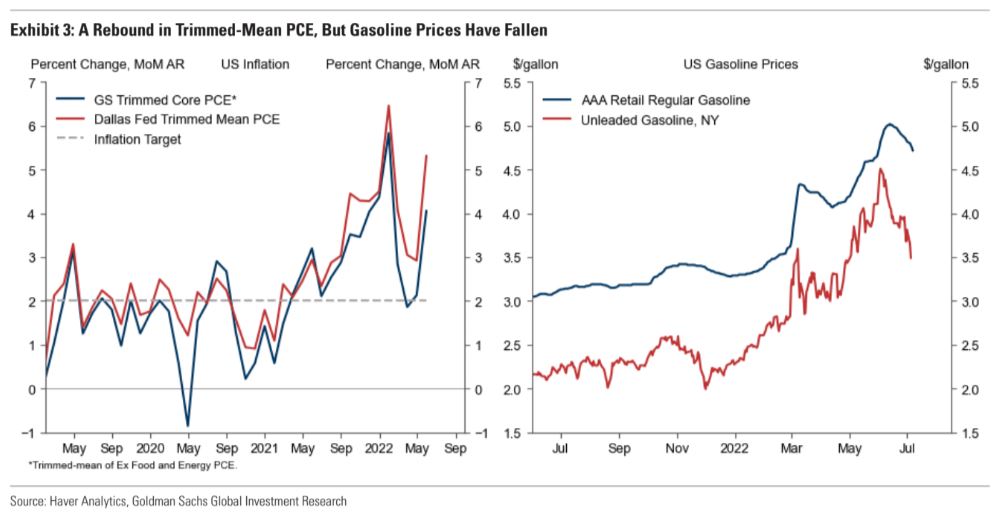 5. The process around the Fed's 75bp hike on June 15—including a) the apparent heavyweight on a preliminary UMich inflation expectations increase that was largely revised away two weeks later, and b) the decision to signal the bigger move via the media during the blackout period—was far from ideal. The move has fueled concerns that Fed officials have become so determined to "whip inflation now" that they will end up triggering an avoidable recession. Thus, markets now project meaningful rate cuts in 2023 and the 5-year 5-year forward breakeven CPI inflation rate has fallen to 2.1%, consistent with PCE inflation of just 1.8% given the historical gap between the two measures. Our own view is less dramatic. The higher CPI and UMich numbers did clearly prompt the committee to accelerate the move to its 2¼-2½% estimate of the"neutral" funds rate, but we don't see a major shift in the longer-term reaction function. We have therefore made no change to our terminal funds rate estimate of 3¼-3½%since the WSJ article that foreshadowed the 75bp move. However, we now expect this rate to be reached as soon as yearend, with another hike of 75bp this month, 50bp in September, and two final 25bp hikes in November and December.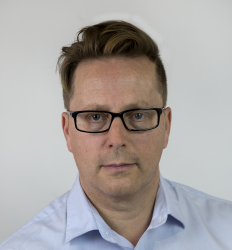 Latest posts by Houses and Holes
(see all)