UBS has released its June CPI preview for the US, which forecasts a peak CPI reading of 9.0%, which will then fall into 2023.
__________________________________________________________________
Headline CPI: UBS US Econ 1.26%, consensus 1.07%.
Next Wednesday's CPI release should show another huge headline CPI increase. We project the second largest seasonally adjusted monthly CPI rise in 40 years (a couple basis points above March this year and behind only September 2005). Energy prices account for a little more than half of the June price jump with gasoline prices rising 11% compared to May. However, according to AAA retail gasoline prices peaked on June 13 and have fallen 22 cents per gallon over the past three weeks, suggesting close to half of the gasoline price surge in June will be reversed in the July CPI. Outside of energy prices we expect the June CPI to show large increases in prices for food, new and used vehicles, rents, and airfares. At 1.26%, our CPI projection is above the current Bloomberg consensus average of 1.07%, and our forecast for the June NSA CPI level, at 296.101, is about 8bp higher than recent CPI swaps fixings.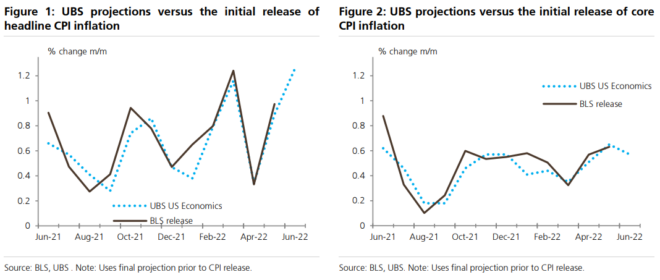 Core CPI: UBS US Econ 0.57%, consensus 0.56%.
We project the seasonally-adjusted core CPI moved up 57bp in June — a few basis points above the average increase since October. One-third of the strong June core price increase is from airfares and motor vehicles, which we think will ease notably in coming months and do not provide much signal for future inflation. Specifically, CPI airfares are projected to have risen another 3¾% in June, though according to Hopper actual domestic airfares peaked in mid-May and have dropped roughly 15% since then. CPI airfares should begin to reflect this decline in the July data. For new and used vehicles,
prices are rising strongly, but production has picked up and that higher production should begin to push vehicle prices down in a few months. We suggest, instead, paying greater attention to the following three categories:
Owners' equivalent rent (OER): OER increased 60bp in May after 8 months in a 40 to 45bp range. Was the May jump a one-off or the start of higher increases? We expect much of that May jump was persistent and have pencilled in a 55bp increase in OER for June. That said, rents for new leases slowed starting late last summer and the usual lags suggest the peak monthly increase in OER was either in May or will occur in the next few months.
Core goods outside of transportation: Prices for non-transportation core goods have contributed notably to the rise in inflation over the past year but have slowed substantially since their peak monthly increase in January. Will core goods prices become a drag on inflation? We expect core goods prices will continue to slow but will not yet become negative.
Core services outside of shelter, medical, and transportation: Rising wages could force greater increases in this relatively persistent category, but the trend has not been clear in recent months.
12-month headline inflation peaks at 9.0%, core slows to 5.8%.
Headline inflation is projected to peak at 9.0% with the June CPI before starting to decline with falling gasoline prices in July. Core CPI inflation, in contrast, peaked in March at 6.5% and is projected to have edged down to 5.8% in the June release. We expect the monthly pace of inflation to slow notably over the remainder of the year, though July and August CPIs should see core inflation temporarily rising back up to 6%. A spreadsheet with additional details of the inflation forecast is available on our website.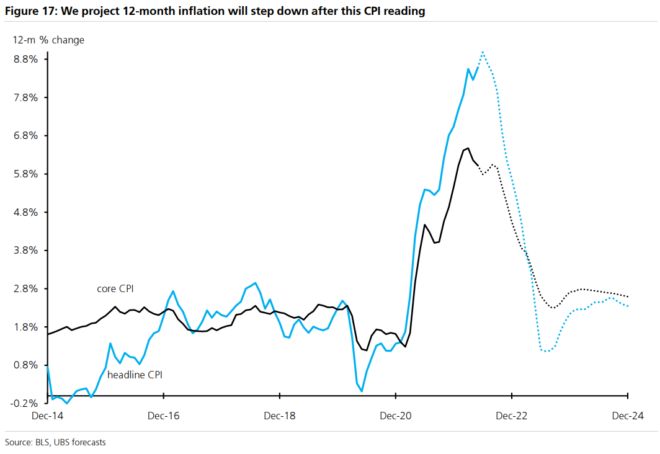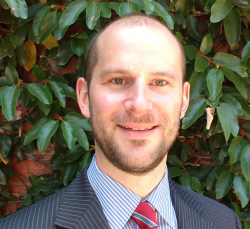 Latest posts by Unconventional Economist
(see all)