The ABS has just released CPI data for the June quarter, with headline inflation lifting by 1.8% over the quarter and by 6.1% year-on-year: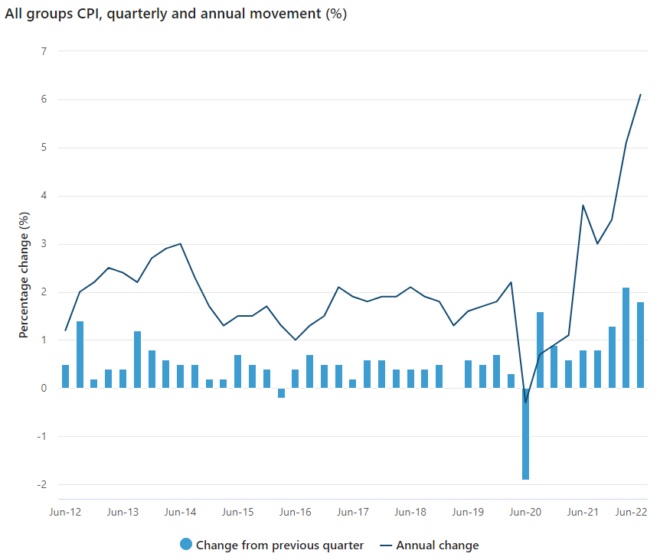 The rise in CPI was fairly broad-based over the June quarter: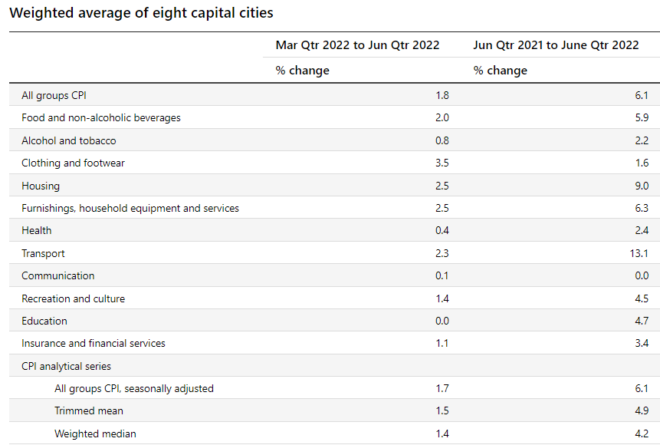 Goods accounted for 79% of the rise in the CPI this quarter, reflecting high freight costs, supply constraints and strong demand: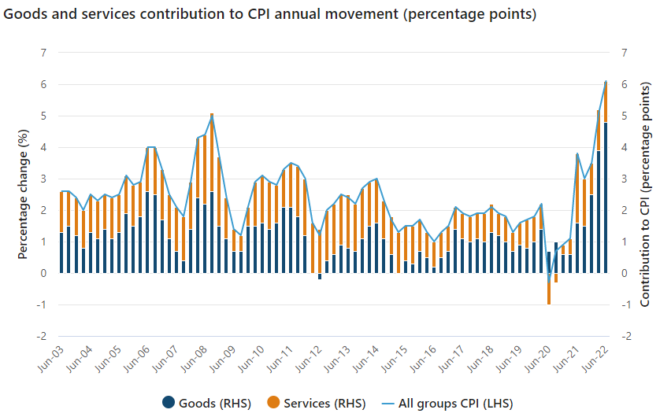 "Underlying" trimmed mean annual inflation, which excludes large price rises and falls, increased to 6.1% – the highest reading since records began in 2003: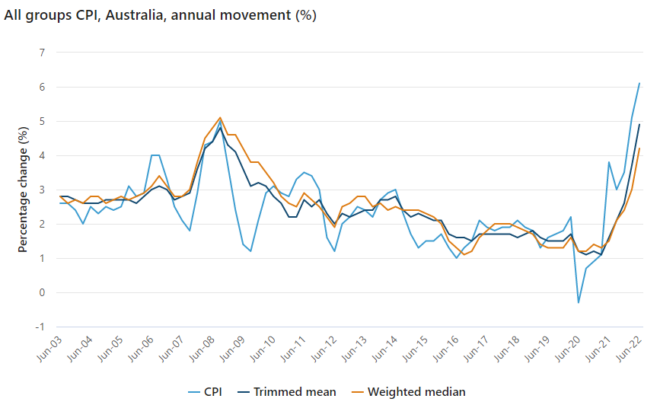 Headline inflation (1.8% QoQ) and trimmed mean (1.5% QoQ) met analysts' expectations.
According to the Head of Prices Statistics at the ABS, Michelle Marquardt:
"The quarterly increase of 1.8 per cent was the second highest since the introduction of the Goods and Services Tax (GST), following on from a 2.1 per cent increase last quarter"…

"Shortages of building supplies and labour, high freight costs and ongoing high levels of construction activity continued to contribute to price rises for newly built dwellings. Fewer grant payments made this quarter from the Federal Government's HomeBuilder program and similar state-based housing construction programs also contributed to the rise".

"The CPI's automotive fuel series reached a record level for the fourth consecutive quarter. Fuel prices rose strongly over May and June, following a fall in April due to the fuel excise cut"…

"The annual rise in the CPI is the largest since the introduction of the goods and services tax (GST)."

"Annual price inflation for new dwellings was the strongest recorded since the series commenced in 1999″…

"Annual trimmed mean inflation was the highest since the series commenced in 2003 and annual goods inflation was the highest since 1987, as the impacts of supply disruptions, rising shipping costs and other global and domestic inflationary factors flowed through the economy"…
These results are all but certain to see the RBA hike rates by 0.5% in August; although I hope that it will wait for next month's wage data before hiking again in September.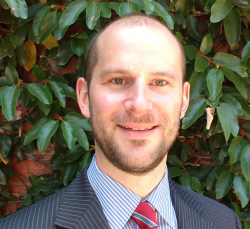 Latest posts by Unconventional Economist
(see all)