Roy Morgan has released its unemployment estimate for June, with the nation's unemployment rate falling to an equal pandemic low of 7.8% and underemployment falling to 8.5%: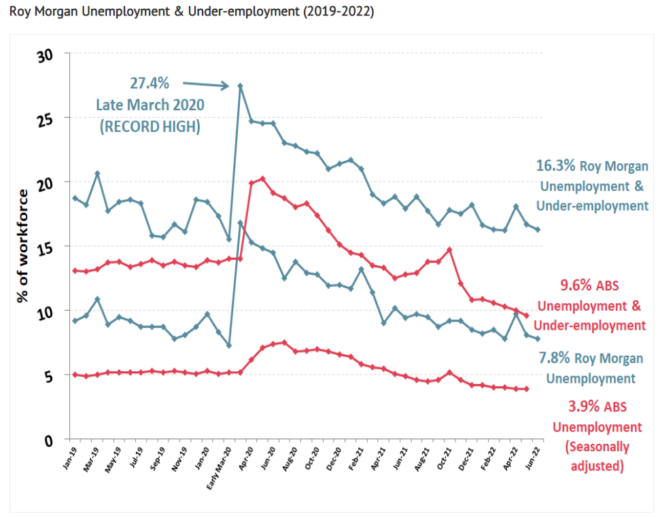 Key changes are as follows:
Unemployment in June fell 44,000 to 1.13 million Australians (7.8% of the workforce) while under-employment was down slightly by 13,000 to 1.23 million (8.5% of the workforce). Overall unemployment and under-employment fell 57,000 to 2.35 million (16.3% of the workforce).
The workforce was up 78,000 in June driven by increasing employment: The workforce in June was 14,491,000 (up 78,000 from May) – comprised of 13,366,000 employed Australians (up 122,000) and 1,125,000 unemployed Australians looking for work (down 44,000).
Rise in employment driven by increase in full-time employment: Australian employment increased by 122,000 to 13,366,000 in June driven by an increase in full-time employment, up 363,000 to 8,876,000. This represents a new all-time high for full-time employment during the first full month of the new Albanese Government. In contrast, part-time employment fell by 241,000 to 4,490,000 in June, falling back near to its level in April prior to the spike caused by the Federal Election during May.
The strong rise in full-time employment led to the decline in unemployment in June: 1,125,000 Australians were unemployed (7.8% of the workforce), a decrease of 44,000 from May with fewer people looking for full-time work, down 68,000 to 409,000, while in contrast there was a small rise in those looking for part-time work, up 24,000 to 716,000.
Under-employment was virtually unchanged down slightly in June at 1,226,000: In addition to the unemployed, 1,226,000 Australians (8.5% of the workforce) were under-employed – working part-time but looking for more work, down just 13,000 from May.
In total 2,351,000 Australians (16.3% of the workforce) were either unemployed or under-employed in June, down 57,000 on May.
Compared to early March 2020, before the nation-wide lockdown, in June 2022 there were almost 200,000 more Australians either unemployed or under-employed (+0.7% points) even though overall employment (13,366,000) is almost 500,000 higher than it was pre-COVID-19 (12,872,000).
Commenting on the results, Roy Morgan CEO Michele Levine warned that the Albanese Government needs to deal with the East Coast energy crisis, or risk unemployment spiking:
"There are clearly several challenges facing policymakers over the next few months including rising inflationary pressures, the RBA increasing interest rates to quell inflation and the reliability (and cost) of the Australian energy market – particularly along the east coast.

"These challenges are all inter-related and can all lead to an increasing level of unemployment in the future if they aren't dealt with. For the foreseeable future the global prices of energy and food are set to continue to increase due to the conflict in Ukraine as well as domestic factors such as the recent floods in Queensland and NSW…

"By stabilising the domestic gas and electricity market the Government can reduce upward price pressure on these key energy inputs which will lower inflation pressures and allow the RBA to end its interest rate increasing cycle sooner than some may expect.

"If the Albanese Government allows Australia's energy situation to deteriorate further over the next few months, and years, they will end up causing persistently higher inflation in the economy which will most certainly put their re-election in three years' time at risk."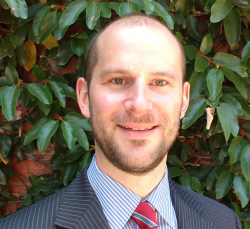 Latest posts by Unconventional Economist
(see all)