This is stark raving mad:
Brisbane's coldest July day for 30 years, a plant outage and cloudy weather that cut generation from solar panels have combined to once again drive extreme spikes in wholesale prices in Queensland that could lead to the renewed suspension of the National Electricity Market.

The Australian Energy Market Operator was forced to urgently call for emergency generation supplies on Tuesday afternoon as it worked to keep the lights on for a four-hour period later in the evening, as reserves fell short amid ongoing outages at coal power plants.
It is not outages or the weather. It is the cost of gas and coal, to which QLD is, ironically, the most exposed in its power grid of all Australian states.
In short, the energy monster of foreign gas and coal cartels has returned to devour its master. Here's the chart: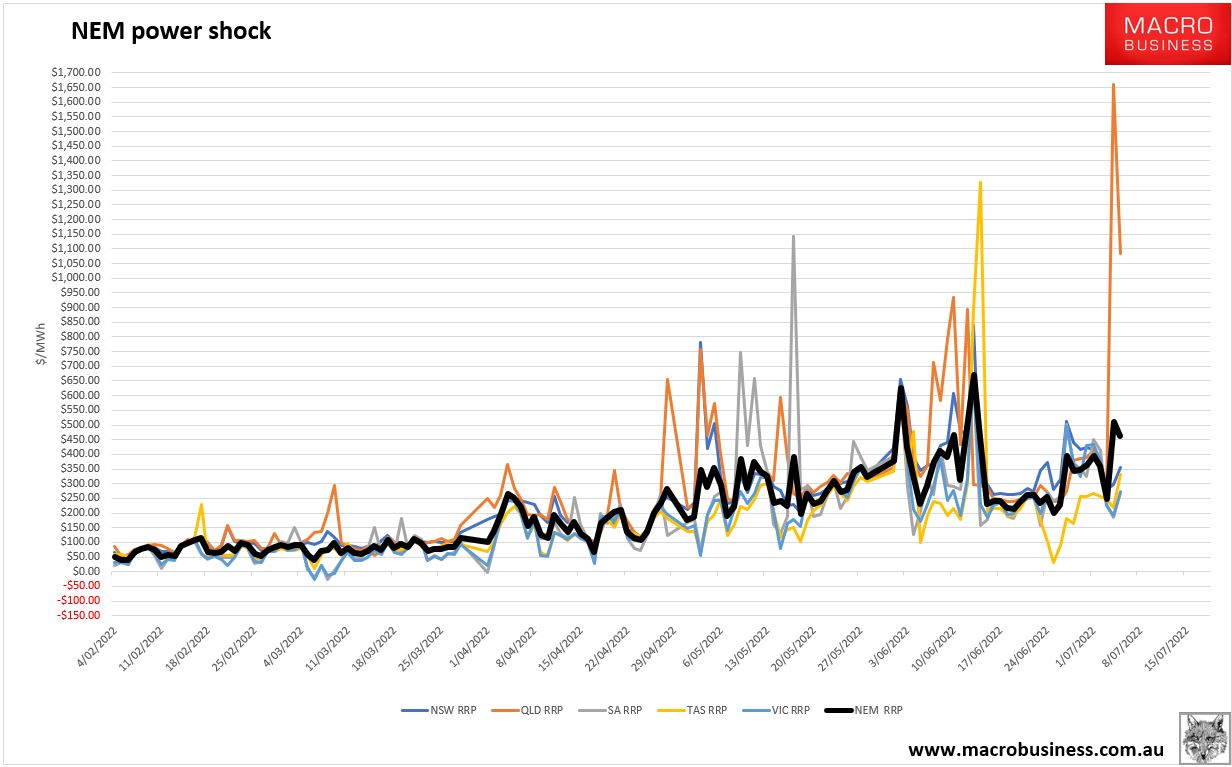 There is NO end in sight to the fuel price shock. Goldman just jacked its global gas price for 2023 by 70% as Russia keeps turning the European tap off
Storage targets at 90% full by end-Oct, 20% by end-Mar. While the EU has published an 80% full storage target for the end of this summer (and 90% full from next year), Germany and France have independently guided towards higher targets, at or above 90% full. Further, TTF price action since the NS1 cuts in mid June suggests the market is positioning to achieve storage levels above the 80% full EU target, contributing to lower supply uncertainty, and lower prices, in winter. The 20%-full storage target Goldman applies at the end of winter is enough to withstand a one standard deviation colder-than-average winter plus a small margin.
Incremental coal and oil generation to reduce NW European gas demand by up to 22 mcm/d. In the NW European region GS includes the coal capacity increases announced in Germany and the Netherlands, adding up to an estimated 8 GW of coal-fired generation added over the course of the next several months, with the bank's gas burn model suggesting 3 mcm/d of gas demand impacted by each 1 GW of energy generated with alternative fuels. While the latest rally in TTF prices has once again taken it above diesel costs in Europe (adjusted for burn efficiency and CO2 cost differentials), leading to lower gas burns at the margin, Goldman doesn't see the potential gas-to-oil substitution for power in Europe as significant. Data for the past several months suggest a swing in oil generation in NW Europe of up to 0.6 GW only (Exhibit 8), equivalent to less than 2 mcm/d of gas demand, which is also embeded in the bank's calculations.
Government-driven reduction in NW European industrial demand for gas of up to 9 mcm/d. The lack of details behind Germany's Emergency Gas Plan makes it difficult to estimate the timing, duration and the scale of potential government intervention in the industrial sector. Scenarios include a 0%-10% reduction in industrial gas demand driven by Government action, with the lowest reductions applied to the scenarios with highest gas availability, and the largest intervention assumed for the scenarios with lowest gas availability.
Decline in residential and commercial (heating) demand for gas of up to 28 mcm/d. Here, Goldman assumes a 0%-7% drop in NW European heating demand for gas, with the highest drop associated with the tightest gas supply scenario. This is not dissimilar to the weather-adjusted swings in heating demand seen this year.
Up to 20 mcm/d of incremental NW European LNG imports. Again, Goldman assumes that the tightest gas supply scenarios in Europe would lift TTF prices to attract the largest incremental LNG imports (up to 12%) into the region. That said, Goldman has low conviction in these estimates as LNG buyers outside of Europe have not responded to LNG prices in a stable manner. For instance, low spot market participation from India, Pakistan and Bangladesh earlier in the year has reversed given the heat wave these regions have experienced. Similarly, the pace of economic activity recovery in China in 2H22 and storage restocking in Northeast Asia ahead of the next winter will likely increase Asia competition for spot cargoes despite high European gas prices. The higher LNG inflows now assumed on balance into NW Europe lead Goldman to lower our Sum22/Win22-23/Sum23 JKM-TTF spread forecasts to $0/$0.40/$0.10/mmBtu from $0.50/$0.90/$0.60 previously.
This will keep thermal coal prices just as high.
If Albo's cowards won't impose domestic reservation, export levies or super-profits taxes then QLD should go it alone. It owns the commodities. IT MUST.
Otherwise, more of this:
Gas and power prices are set to surge for EnergyAustralia customers, with the retailer and generator announcing double digit price rises for most states and territories.

EnergyAustralia said the price hit was being driven by costs in the wholesale gas and electricity market which had "more than doubled" in the past year in some states, as supply issues pinch.

The price rises on gas and electricity set to take effect in August will be strongest in Queensland, while Victoria will see the smallest rise.
And this:
"The cut to the petrol excise led to a decline in Inflation Expectations during April and May but over the last six weeks Inflation Expectations have increased rapidly as petrol prices have again surged. Together with rising food and energy prices the level of inflation throughout the economy has clearly been increasing".
As well as rate hikes that the structure of the Australian economy can't handle, meaning house prices will crash for the sole purpose of accommodating an economically empty, war-profiteering energy shock.
This is stark raving mad.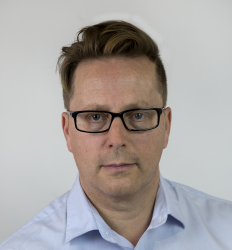 Latest posts by Houses and Holes
(see all)