Despite China's announcement last week of a partial relaxation of Covid restrictions, its restrictions remain among the harshest in the world. TS Lombard believes that zero Covid "will be here for at least 6-9 months". And this policy will "hit consumption, property and stimulus efficacy", hampering the nation's economic recovery.
__________________________________________________________________________________________________
China is experiencing what could prove an economically devastating wave of the Omicron subvariant BA.5.
Despite starting on the slow track to reopening, zero Covid will be here for at least 6-9 months.
Hit to consumption, property and stimulus efficacy makes for a very sluggish recovery.
China is experiencing what could prove an economically devastating wave of the Omicron subvariant BA.5. The number of areas classified as high and medium risk is 483, well above the peak of ~240 in April/May. So far, the regions most severely impacted are less economically important than Shanghai and Beijing, and changes in covid Zero regulations will soften the first order impact of the new wave. However, the full extent of spread is as yet unknown. The outbreak shows no sign of slowing, and until a clear geographical boundary is established, estimating the economic fallout is difficult, caution is  warranted. We can say with confidence that the latest flare-up will certainly knock back the nascent recovery and household spending and thereby continue to make property-sector stabilization difficult and lower the multiplier of monetary and fiscal stimulus.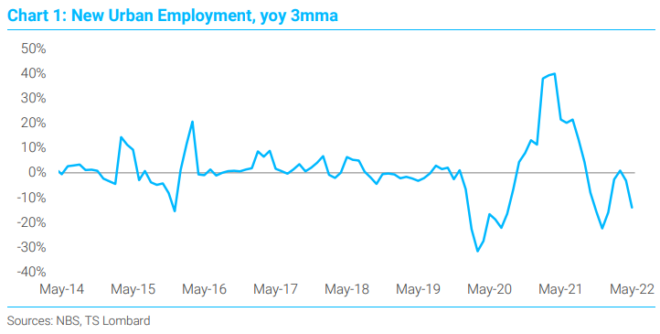 Last week, we downgraded China growth (in the face of market optimism), on our judgment that a significant level of reopening – that is, sufficient to boost mobility/spending/credit demand etc. – was still six to nine months down the road (in late Q1/23). Our EM strategy team took profits on our China equities position two weeks ago and went short reopening stocks on Monday. In what was one positive development earlier this week, Beijing municipality instituted its first vaccine mandate for entry into selected venues. The move aligns with the signs of a gradual exit plan emerging, which we noted early last month. Where the capital leads, the provinces are likely to follow: a national vaccine mandate would set China firmly on a path to fuller reopening over the next six to nine months. Until then, the consumer and wider economy is set for a slow recovery, one that will need and receive a great deal of fiscal and monetary support.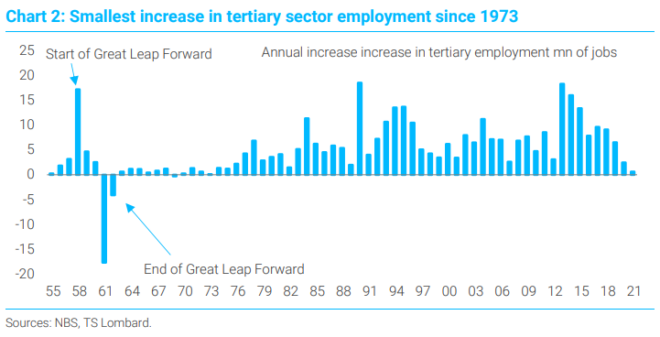 Taking employment as our starting point to assess household health, our partner Globaldata's proprietary employment index points to a larger fall in jobs this year than during the initial Wuhan 2020 Covid outbreak. Official data put youth unemployment at 18.4% (unofficially it is likely several percentage points higher). New job creation has been negative yoy since September 2021 on our calculation of NBS numbers (Chart 1).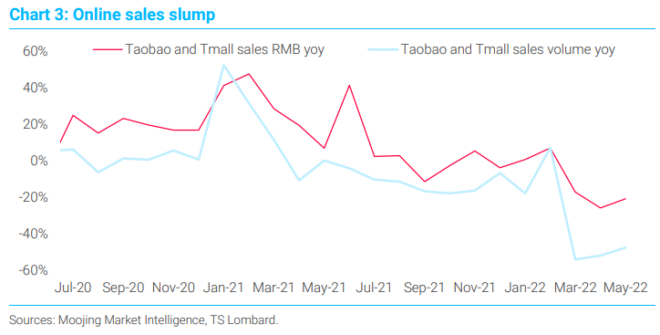 The main reason for labour market weakness is that jobs are not being created in the service sector. In 2019, Covid-at-risk sectors (catering, retail, tourism, accommodation) accounted for roughly one quarter of all registered jobs in China. Last year, tertiary employment grew at just 0.17% yoy, 3.6ppts below trend. The outperformance of export-oriented manufacturing and construction offset tertiary weakness in 2021, marking the first time in 10 years that new manufacturing and construction jobs increased by more than services. This year the property slump and DM slowdown leave China with few job-creation drivers. At the same time, a record number of graduates (10.8mn) are set to matriculate this summer. Employment pressure is a major factor behind our call for continued PBoC easing and a large infrastructure stimulus. Our views on employment are echoed by no lesser figures than Liu He and Li Keqiang, among others, and such policies are likely to be the main focus of President Xi's recent vows to hit "social and economic targets" for 2022.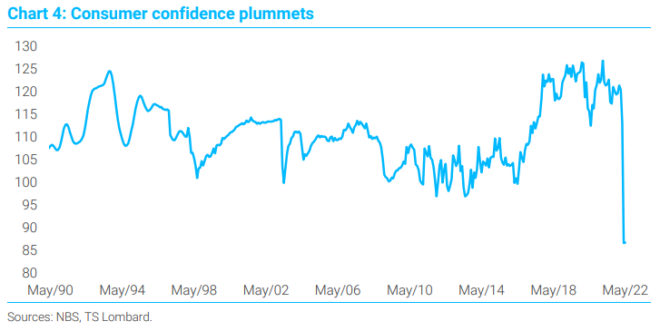 Weak labour demand equals weak wage growth. The latest Zhaopin (major recruitment/job site) employment survey puts the average salary up 2% over Q4/21. The latest official data have nominal income growth at 5.4% in Q1, below the pre-Covid trend of 8%. Unsurprisingly, the Zhaopin survey indicates that within sectors, it is policy favourites and pandemic winners – semiconductors, pharmaceuticals, software and IT – that are significantly raising the national average. In general, those in low-qualification, low-wage jobs, particularly in the service sector, are getting little or no pay increase. New graduate salaries are down 12% yoy.
Covid, macro and labour weakness is inevitably hitting confidence. Official NBS and PBoC consumer surveys are at or near record lows. This is particularly striking for the NBS figures, which are normally suspiciously optimistic (Chart 4). Meanwhile, savings levels are at all-time highs, jumping RMB7.9trn (US$1.2trn) in the first five months of 2022.
The macro conditions outlined above are evident in demand for credit, goods and services. As we have noted, mortgage lending is at a record low. Retail sales fell 6.7% yoy in May, but this likely belies a sharper slowdown, Alibaba sales contracted 20% yoy (Chart 3). Admittedly, most of the data cited above is from May, when Shanghai was still locked down. In the past weeks, there have been solid improvements in travel and catering, and the economy as a whole is recovering from the April nadir. However, the pace is slow, with high frequency indicators and recent PMIs showing employment still weak even before the latest very large outbreak.
For now, China is stuck between Covid containment and a desire to boost growth. Stimulus will continue (50bps RRR and 10bps policy rate cuts along with double-digit infrastructure growth) and there are signs of an exit strategy emerging. But until the zero Covid policy is lifted and household wealth  unleashed, growth will be weak. We forecast full year China GDP at 2.5% yoy.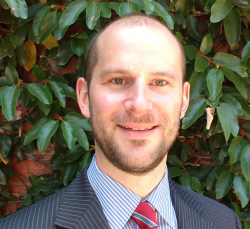 Latest posts by Unconventional Economist
(see all)