SQM Research has released its stock on market report for June, which revealed that listings nationally fell another 1.0% to be 6.2% lower year-on-year:

The decline was driven by new listings (less than 30 days), which fell 5.4% in June:

Advertisement
By contrast, old property listings (greater than 180 days) rose by 1.6%; although they are down 31.1% year-on-year:

Commenting on the result, SQM Research's managing director, Louis Christopher, noted that vendors are less confident to list their homes amid falling prices, whereas older listings rose on softer buyer demand:
Advertisement
The fall in new listings was a result of reduced vendor confidence in the strength of the housing market as well as seasonal factors whereby the winter period normally records a decline in residential property sales activity, particularly for Sydney and Melbourne.

However, older listings rose. This reveals the slowdown in the housing market driven by lower buyer demand. Going forward we expect July to record similar trends of lacklustre activity and more rises in older listings.
Separate listings data from CoreLogic also showed "the flow of new listings added to the market falling as selling conditions becoming more challenging and listings move into a seasonal lull":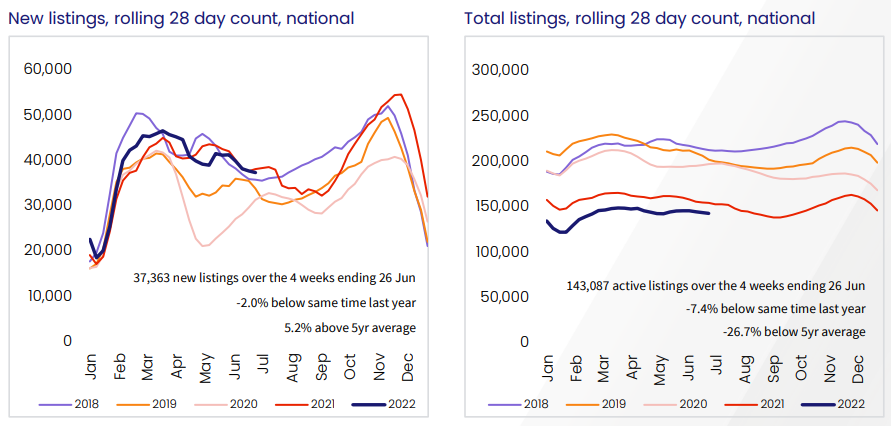 Advertisement
The fall in listings is helping to balance the market, given buyer demand has slumped as indicated by the fall in sales volumes:

If listings were rising at the same time as sales were falling, that would spell danger for the property market.
Advertisement